Video. To celebrate his 80th birthday, the Toulouse painter Elias sets himself a sporting challenge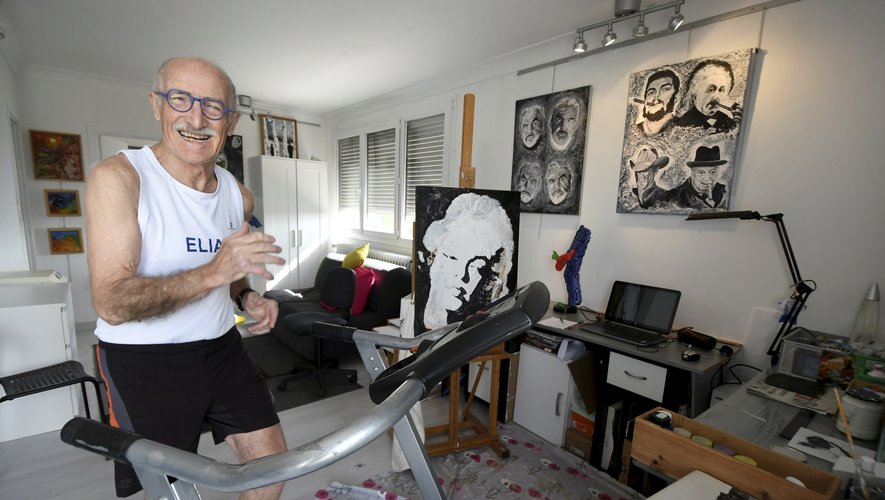 the essential
Toulouse's Elias Elie Beniflah has set himself the goal of performing ten different, individual sports, from competitive running to snowboarding, including triathlon and wakeboarding.
In his painter's studio, located on the top floor of a building on the Côte Pavé, in Toulouse, nothing indicates that Elias Elie Beniflah is also a great sportsman. Nothing except that treadmill he uses on rainy days and his pace. And what a look! With his 56 kg for 1m62, straight as an "i", the man displays an athletic body. Elias Elie Beniflah will celebrate his 80th birthday on November 22. For him, it is "an age of rupture between old and old and I don't want to be old", announces the Toulousain, with dynamism to spare. "I want to demonstrate it through my sporting activities."
This is also why Elias Elie Beniflah chose to perform "at least" 10 different, individual sports, from competitive running to snowboarding, including triathlon or wakeboarding during the year of his 80th birthday. Nothing really insurmountable for him since he regularly runs, cycles, swims, "it's ideal for my triathlon scheduled for September. I also ski, golf, hike, trail run, wakeboard…" he confirms.
Moreover Elias Elie Beniflah has always been a great sportsman. "For me, sport is a pillar of life because it structures everything else: my diet, my way of life, my mind".
It is perhaps not for nothing that the Toulousain has an iron health. He only very rarely takes medication, "my medicine box is mainly made up of products for assault and battery".
"Always seen like this"
What do his relatives think of his sporting challenge at the dawn of his 80th birthday? "My wife is worried. She tells me I'm too old to do that. It's true that sometimes I do things that go beyond my abilities, "admits the Toulousain. During the Odysséa race last March, he covered the 10 km in 59 minutes and 50 seconds. "I wanted at all costs to do less than an hour, sometimes we are sportsmen and my heart was beating at 180 beats per minute", explains Elias Elie, who does not leave his connected watch.
Crossed on the doorstep Claudine, 76, the wife of Elias Elia also looks great. "I've always seen him do a lot of things, he's like that," she slips.
And painting in all this? This is the other passion of his life. Elias Elie began painting shortly before his retirement, to devote himself to it fully afterwards, encouraged this time by Claudine, who "loves what he does". His latest exhibition is called "Vite Viiite" and brings together canvases on the theme of sport. The painter is looking for a new place, after the Poinçonneur in the Faubourg Bonnefoy, to present them. In the meantime, he has to go, he wakeboards in Sesquières. "Life, it's every day that you have to live it," he says.