Soul. Elie Gasc blew out his 100 candles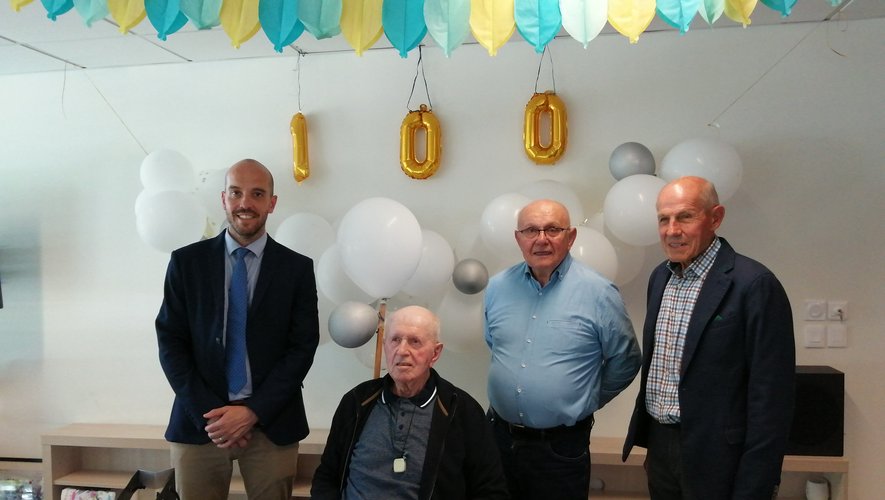 the essential
It was in the residence that bears his name that Elie Gasc celebrated his 100th birthday, surrounded by many people, especially his family.
This May 5 was not a day like the others within the residence. The establishment celebrated that day the 100th anniversary of the man who, with his wife Yvonne, a little less than 40 years ago donated land to the town to build a building dedicated to the elders of the village. The project of what was called "housing homes" was born and is now called the Elie Gasc residence. The centenarian was very moved when celebrating his hundredth birthday. In turn, the Mayor Jean-Luc Alibert, the former first city councilors, Michel Auriol and Jean-Claude Aninat took the floor to salute in particular the generosity of the Gasc couple. Jean-Luc Alibert welcomed the gift of land for school children recently made by the former farmer. Michel Auriol evoked memories shared with Elie Gasc such as his gardening advice. Jean-Claude Aninat, Mayor from 1983 to 2001, recalled the genesis of the project to create the building. Alexandre Costes, president of AFLAS addressed the new centenary "It is more than an act of charity or generosity that you have shown, but a real heritage that we undertake to preserve". Bénédicte Cébula, director of the establishment also contacted the one who was the star of the day and offered him a copy of the article published in La Dépêche du Midi announcing the creation of housing centers in Soual. Before tasting the cake designed by the Soualais cob, the city medal was handed over by Jean-Luc Alibert to Elie Gasc while the whole team offered him a knife engraved by Cocagne Sharpening. The native Soualais thanks everyone and we feel that the emotion is there, very present. All around the dining room, photos of the Gasc couple are displayed bringing back memories. Elie says nothing but surely he must be thinking of the one he loved so much, his wife Yvonne who died last year and would have liked her to be by his side for this memorable day.