R. Saddiki: a new surgeon with new techniques for the hospital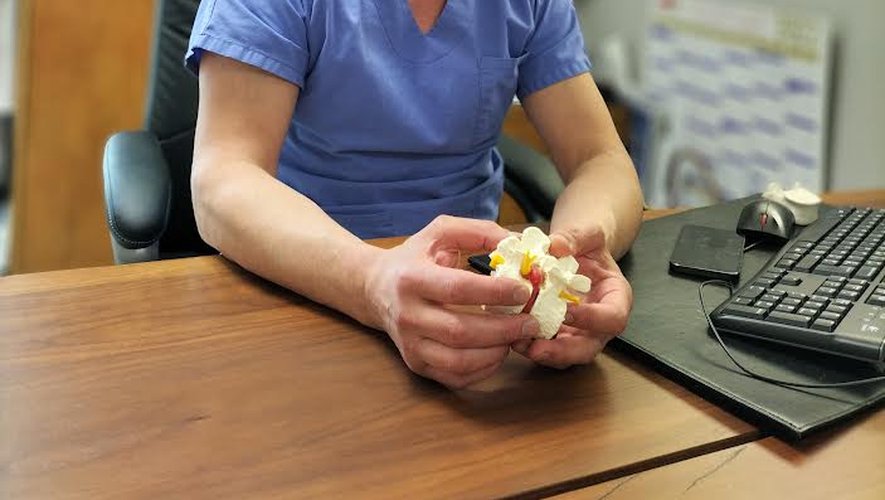 Arrived in November 2022 at Saint-Gaudens hospital, Dr. Rachid Saddiki is a surgeon specializing in spinal surgery. He brings with him new techniques to the Comminge hospital.
Doctor Saddiki, can you tell us a bit more about your background ?
Doctor Saddiki Rachid, 47 years old, installed at the Occitania clinic since January 2022. I have been performing spinal operations for fifteen years with different techniques. It was in 2008 when I was at the University Hospital of Bordeaux and under the aegis of Professor Le Huec that I learned the technique of monoportal endoscopy. But you can't do everything with this technique. When the Koreans invented the bi portal technique in 2017, I trained in it.
What distinguishes this technique from other techniques already used? ?
This technique was initially mono-portal (a single tube) and for five or six years, endoscopy has evolved into a more bi-portal operation (two tubes), with camera access and instrument access, which makes the operation well more practical.
An endoscopy technique that is now done on an outpatient basis, which allows patients to leave the hospital more quickly, as soon as they wake up from anesthesia.
An endoscopy is done, for example, to unclog the nerve in the spinal canal. But we can also use this technique on the area of ​​the lumbar canal A3. Before this technique there was an average of 6 days of recovery. Now it's mostly outpatient.
The result is the same, the goal is to loosen what hurts.
In Occitania there are only two hospitals where this is feasible.
Do you also use other surgical techniques? ?
Yes of course, I also do what is called cementoplasty. It is the fact of injecting cement (the same used in prostheses) contained in a cannula, through a cartridge. And it helps to heal when the column is packed or broken. I also work with thermocoagulation. Allows to irritate a painful joint, for osteoarthritis. After thermocoagulation, it's more medical, it's a kind of improved acupuncture.
What are the advantages of these techniques and in particular bi-portal endoscopy? ?
The idea is to initiate change and respond to local needs. The population pool of the Comminge territory corresponds to the elderly, therefore people likely to need this type of operation.
These techniques on an outpatient basis help to reduce the apprehensions of patients. It's less invasive. And then they expect a big operation, to end up with big bruises and a wheelchair, so when we tell them we only make two small holes. Patients tell themselves that it's not surgery, when no, we performed the same surgical procedure. This makes it easier to accept the intervention. In a few years it will be standardized.
Afterwards, you can't cure everything with that, you can't repair scoliosis for example. They are not the same pathologies. It's a technique to loosen the nerves in the spine.
How was the integration into the medical team ?
Yes, the hospital provided me with the equipment, it is not a big investment, but it is still a budgetary cost.
Afterwards, it is also the hospital's desire to improve its medical offer.
It's innovative. I was able to train the whole team, nurses, assistants, it's a very simple operation but you still have to explain it to do it well. There is also a Hospital Staff Training Night in November in addition to paramedic training.