Dental Imaging Market to Increase by USD 1.28 billion from 2022 to 2027|The use of intraoral scanners and open architecture solutions is the market trend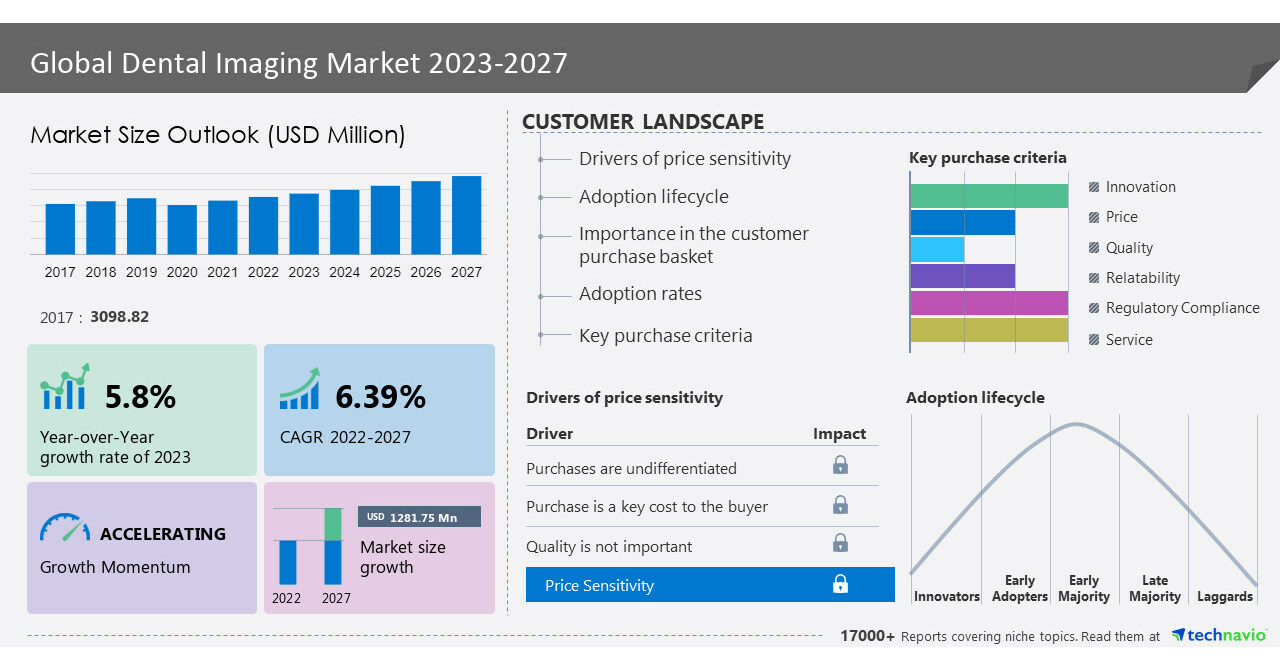 NEW YORK, Nov. 19, 2023 /PRNewswire/ — The dental imaging market is estimated to grow by USD 1.28 billion from 2022 to 2027, growing at a CAGR of 6.39%. The use of intraoral scanners and open architecture solutions is an emerging trend supporting the dental imaging market growth. Dentists are increasingly utilizing advanced intraoral scanners to capture high-speed impressions of teeth. These impressions are then transmitted to dental laboratories for milling and cutting. In the market, there are several options available for intraoral scanners, and manufacturers often provide open architecture software, enabling users to select their preferred milling center. The files generated in the open architecture system can be imported into CAD software and seamlessly integrated with various milling units for manufacturing. The adoption of open architecture software is a rising trend among dental imaging system manufacturers, as it allows for enhanced functionality and interoperability between systems. Open architecture solutions offer affordability and compatibility with different milling systems, making them an attractive choice in the dental imaging market. Therefore, the increasing utilization of intraoral scanners and open architecture solutions is expected to drive market growth throughout the forecast period. For Comprehensive details on the market size of historic period(2017 to 2021) and forecast period (2023-2027) – View the Sample report
Key Developments:
Rapid advances in technology, intense competition, and changing dynamics in the market are the key factors for the intense competition among vendors.
With the rising competition, the market will see consolidation. However, manufacturing complexities and high production costs pose significant risk factors for vendors in the market.
Market Dynamics
Major Drivers & Challenges- 
An increase in dental-related problems among the edentulous and geriatric population is notably driving market growth. Increasing dental problems in the edentulous population significantly contribute to the growth of the global dental imaging market. This issue affects not only the elderly and low-income populations but also the most vulnerable individuals. Multiple factors, including poor oral hygiene, tooth decay, gum disease, tooth wear, injury, cancer, smoking, and age-related tooth loss, contribute to tooth loss in older people. The prevalence of these dental diseases rises notably with age. Furthermore, the global elderly population is rapidly increasing in line with rising life expectancies. The World Health Organization predicts that the number of individuals aged 65 and above will reach approximately 1.4 billion by 2030 and around 2.1 billion by 2050. Complete loss of natural teeth is also becoming increasingly common among older individuals, with approximately 3 out of 10 people aged 65 to 74 having no natural teeth. Additionally, increasing risk factors such as diabetes, poor oral hygiene, stress, and tobacco and alcohol use further contribute to the prevalence of dental diseases. These factors will drive the demand for dental imaging services, fostering market growth during the forecast period.
The high cost of advanced dental imaging equipment and procedure are challenging the market growth. Small and medium-sized dental offices and dental laboratories often hesitate to invest in advanced dental imaging equipment like dental CBCT and digital dental X-ray systems due to their high cost. Developed countries offer minimal reimbursement for dental imaging procedures, while reimbursement is scarce in developing and underdeveloped countries, further impacting the adoption of these technologies. On average, a CBCT machine can cost around USD 150,000, with prices ranging up to USD 300,000 depending on advanced upgrades and imaging software. The imaging or diagnostic cost for each procedure typically falls between USD 300 and USD 600, varying by clinic. Dental care is mostly non-refundable in many countries, and even in countries where reimbursement is available, the coverage is often limited. Moreover, digital dental X-ray systems, which are more advanced than analog systems, come with a higher price tag, ranging from USD 120,000 to USD 280,000 on average. Consequently, the substantial cost of this equipment is expected to hinder the growth of the market during the forecast period.
Technavio has identified key trends, drivers, and challenges in the market, which will help clients improve their strategies to stay ahead of their competitors. – View Sample Report
Vendor Landscape
The dental imaging market is fragmented; the vendors are competing with competitors and are trying to get a greater market share. The market is growing, and the chances of new entrants cannot be overlooked. The major vendors have well-established economies of scale and market presence and generally rely on positioning technological advances, and the price of the products –The report provides a full list of key vendors, their strategies, and the latest developments, Buy Now. 
Company Profiles
The dental imaging market report includes information on the product launches, sustainability, and prospects of leading vendors including 3Shape AS, Align Technology Inc., Asahi Roentgen Ind. Co. Ltd, BIOLASE Inc., Carestream Health Inc., ClaroNav, Danaher Corp., Dentsply Sirona Inc., Ewoosoft Co. Ltd., Finapoline SAS, Freedom Technologies Group LLC, J. Morita Corp., Midmark Corp., Ningbo Runyes Medical Instrument Co. Ltd., Owandy Radiology, Planet DDS, Planmeca Oy, Planmed Oy, THE YOSHIDA DENTAL MFG. Co. Ltd., and VATECH EWOO Holdings Co. Ltd.
Competitive Analysis
The report includes competitive analysis, a proprietary tool to analyze and evaluate the position of companies based on their industry position score and market performance score. The competitive scenario categorizes companies based on various performance indicators. Some of the factors considered include the financial performance of companies over the past few years, growth strategies, product innovations, new product launches, investments, and growth in market share, among others.
 Market Segmentation
 The market segment by end-user (dental clinics and laboratories, hospitals and diagnostic centers, dental research institutes, and others), application (diagnostic, cosmetic, and forensic), and geography (North America, Europe, Asia, and Rest of World (ROW)).
The market share growth by the dental clinics and laboratories segment will be significant during the forecast period. Dental clinics offer independent dental services and often collaborate with insurance companies to provide dental insurance to their patients. The growing influx of domestic and foreign investments has led to a rise in the number of private dental clinics. This increase in investments is expected to drive the demand for dental procedures, consequently creating a higher need for dental imaging in the market. Consequently, the market is anticipated to experience growth during the forecast period.
Geographical Analysis
North America

is estimated to account for 42% of the global dental imaging market during the forecast period. Technavio's analysts have elaborately explained the regional trends and drivers that shape the market during the forecast period. Advanced medical infrastructure, high patient awareness, a reliable reimbursement framework, and a high prevalence of dental caries contribute to the growth of the dental imaging market in

North America

.
Register for a trial today and gain instant access to 17,000+ market research reports.
Technavio's SUBSCRIPTION platform
Related Reports:
The dental X ray market size is estimated to grow at a CAGR of 8.66% between 2022 and 2027. The market size is forecasted to increase by USD 948.01 million.
The global dental radiology equipment market size is estimated to grow by USD 1,925.07 million between 2022 and 2027 accelerating at a CAGR of 10.77%. 
Table of contents
1 Executive Summary
2 Market Landscape
3 Market Sizing
4 Historic Market Size
5 Five Forces Analysis
6 Market Segmentation by End-user
7 Market Segmentation by Application
8 Customer Landscape
9 Geographic Landscape
10 Drivers, Challenges, and Trends
11 Company Landscape
12 Company Analysis
13 Appendix
About US
Technavio is a leading global technology research and advisory company. Their research and analysis focus on emerging market trends and provides actionable insights to help businesses identify market opportunities and develop effective strategies to optimize their market positions. With over 500 specialized analysts, Technavio's report library consists of more than 17,000 reports and counting, covering 800 technologies, spanning across 50 countries. Their client base consists of enterprises of all sizes, including more than 100 Fortune 500 companies. This growing client base relies on Technavio's comprehensive coverage, extensive research, and actionable market insights to identify opportunities in existing and potential markets and assess their competitive positions within changing market scenarios.
Contact
Technavio Research
Jesse Maida
Media & Marketing Executive
US: +1 844 364 1100
UK: +44 203 893 3200
Email: [email protected]
Website: www.technavio.com
SOURCE Technavio