Castres. Micro-Madness: the digital museum moves to the Foyer protestant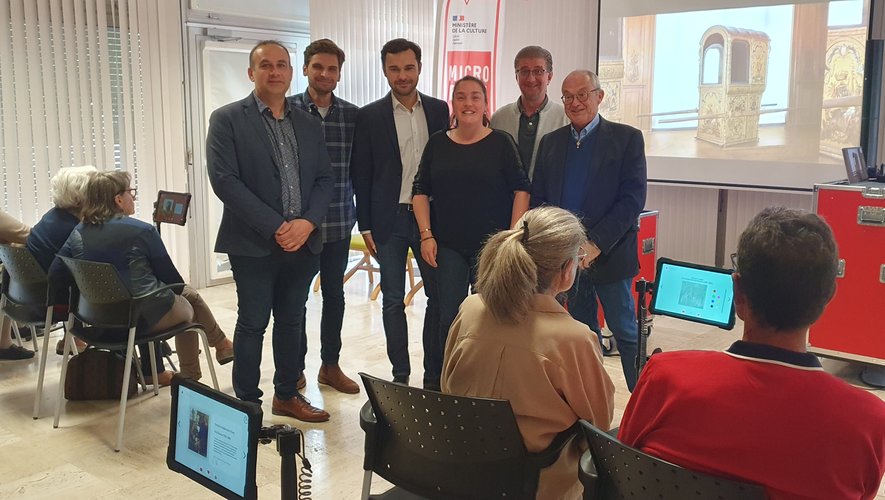 the essential
The modular digital museums stop at the Foyer protestant for two weeks. Residents of the EHPAD are taming their tablets to travel to museums; they will be helped by schoolchildren!
Device supervised by the Ministry of Culture, the Micro-Madness has been deployed in the department since last September, after being stopped by the health crisis. This equipment is a cultural platform at the service of the territories, which consists of integrating a digital museum at the heart of an already existing equipment. It was installed this Monday at the Protestant Foyer for a period of fifteen days. It consists of around thirty tablets, a large screen and virtual reality glasses!
It is carried in the Tarn by the community of communes of the Monts de Lacaune and Montagne du Haut Languedoc, chaired by Daniel Vidal: "We responded to a call for this national project, it is the first mobile equipment in the Tarn, which responds on demand, both in the educational field and in health and social matters."
"Bringing digital into EHPADs, with subjects that interest"
Pierre Clanet, project manager with the MLMHL community of municipalities, set up Micro-Folie in the Castres establishment run by Jean-Jacques Llopart and whose association is chaired by Pierre Marque. This visit was initiated by Doctor Guillaume Arcèse, coordinating doctor of the EHPAD: "During Covid, culture was locked down and we wanted to bring life back to the establishment, open it up to The platform will be an important moment for patients, who will have the pleasure of discovering or rediscovering museums, historical or tourist sites through digital technology. This is to break the codes, change the visions we have of old age, sharing between residents, also with the younger generations."
Because this Micro-Folie fortnight will also stimulate meetings between establishments and between generations. A mission entrusted to Cindy, the host of the Foyer: "To understand digital through culture, museums, school visits will allow young people to interact with seniors."
Autonomous at almost 99 years old, Simone comes regularly to the Foyer protestant. She discovered the tablet with apprehension and will appreciate being helped by the schoolchildren: "It's pretty, I can see the Palace of Versailles again, I've been there three times. We like to see it all again and we're going to discover new 'other stuff."
The arrival of the Micro-Folie at the Foyer protestant is a first for the seniors, who quickly mastered their touchscreen skills!
"Today, we are carrying out several demonstrations of the device in the Tarn, specifies Daniel Vidal. The first outing was carried out at the Jean-Jaurès college in Castres, in September, while the local authorities are also asking us. The objective of the ministry is to create four to five devices per department. In this sense, our equipment will be presented to the prefecture in Albi, on June 13. An inaugural demonstration in the presence of representatives of La Villette, which coordinates this project."