Carcassonne. A traditional grocery store to discover the flavors of Romania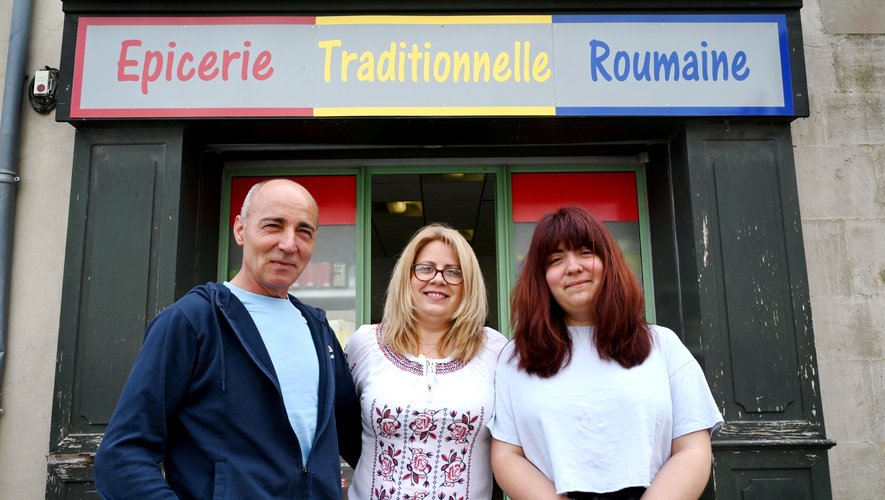 the essential
For more than a year, Liliana Artene's traditional Romanian grocery store has been delighting Romanian-speakers in Aude, but not only many customers of all nationalities find happiness there.
"Bună ziua", greet a customer by pushing the door of the grocery store in the colors of the blue, yellow and red flag. This Romanian has heard about the grocery store on social networks, and has come straight from Narbonne to find products of her cabbage leaves in brine to cook sarmales (a Romanian national dish made of small stuffed cabbage rolls), zacuscă (a kind of cold ratatouille to spread), and of course palincă (an eau-de- traditional life)… Liliana's grocery store, located at 58 allée d'Iéna, is full of foodstuffs from the country of Dracula.
But how did this idea of ​​opening a traditional Romanian grocery store in Carcassonne come about? It was Costica, her mason husband, the first to go to Carcassonne in 2010. He, who worked for a long time sometimes in Israel, sometimes in Italy, chose to settle in Carcassonne with his family after having worked there. Originally from Târgu Neamț, in the județ (region) of Neamț in the east of the country, the family therefore left everything behind. "We were all four in a Clio II", rewinds Andreea, the younger of the two sisters studying in Aix-en-Provence. With Victoria, the eldest now a pharmacy assistant, they were then aged 8 and 11 and went directly to a school in the city, supported by a teacher for foreign students. "Today Andreea spent more time in France than in Romania and sometimes she doesn't speak Romanian well", laughs Costica. After having been an employee of a Romanian grocery store that was not "taking off", Liliana decides to take over. This store is a big family story where everyone has gotten involved and is still getting their hands dirty.
A cosmopolitan clientele
"Of course we have a lot of Romanians who come, and that allowed us to meet people, but we also have people from other eastern countries because we have products that are similar. We have customers from the neighborhood and French people who come to pick up packages (Editor's note, the grocery store is a relay point) who are sometimes curious to discover our products"explains Liliana who will not fail to give culinary advice to those who are tempted to simmer traditional dishes. "What we sell the most is meat and beer", smiles Andreea, happy to be able to bite into cașcaval again (a semi-hard ripened cheese made from sheep's milk or cow's milk) that marked her childhood. Very famous in Romania, pufuleți (popped corn chips) with multiple flavors take up an entire shelf. "That's really the basic product in Romania, these are chips that melt in your mouth", explains Andreea, holding out the package. Liliana's traditional Romanian grocery store in Carcassonne, and the Chez Dorina restaurant in Castelnaudary, are the only shops in Aude where it is possible to discover Romanian gastronomy.