Toulouse. Wahiba Beldjilali, aesthetics and commerce closely tied to the body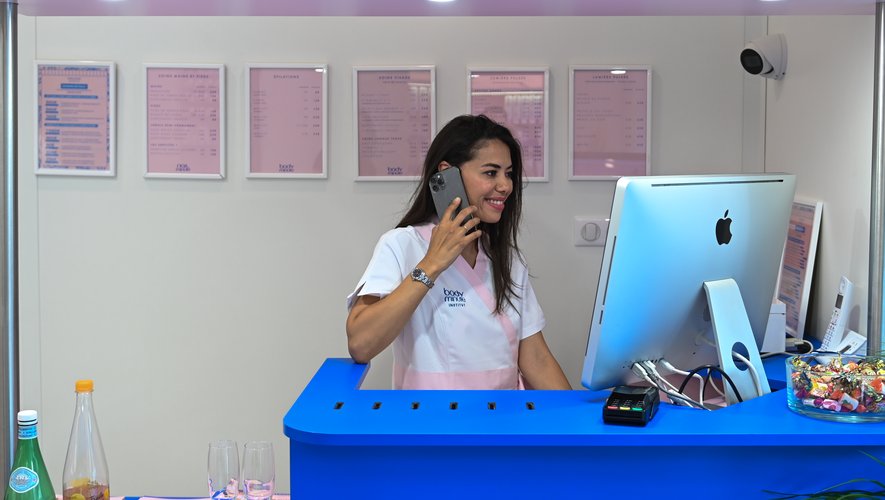 the essential
Wahiba Beldjilali opened her first beauty institute, BodyMinute, under franchise, in 2011, in Esquirol, in the heart of Toulouse. Since then, she has managed nine of them, the last being at Joan of Arc. And always with the same pugnacity.
She has that rare business spark in her eyes. To the point that one wonders what could stop Wahiba Beldjilali? At 37, this Toulouse native has just opened her ninth BodyMinute under franchise, in Jeanne d'Arc, in the heart of Toulouse. Knowing that the business manager set up her first beauty institute in 2011, in Esquirol. "Today, it's one of the biggest in France," she says, not a little proud. On the strength of this first resounding success, Wahiba Beldjilali immediately created an annex on rue des Lois, still in Toulouse. Then, it invests the shopping malls: Saint-Orens, Auchan-Gramont, Portet-sur-Garonne, Blagnac and Fenouillet. Last year, it even set up in Bordeaux-Bègles.
Which makes us nine BodyMinute in total, the account is there!
"I hadn't expected to grow so quickly, even though I've always had a lot of ambition," Wahiba admits bluntly.
Born in Algeria
Wahiba Beldjilali is a bit of a formidable woman. At the same time sympathetic, considerate, dynamic, passionate, hardworking, demanding, resilient. And even fierce when necessary. The one who clashes as much as she surprises would see herself in 10 years, "at the head of around fifty beauty salons. No, I'm kidding but only halfway. I'm pretty careful. I don't have this desire to pile up stores without goals or foundations. Until then, I had a controlled growth. I think we'll end the year with ten entities. I want to continue to develop. To create jobs. To make a living from this profession", continues Wahiba.
For this, the head of the company does not save herself. She always ends her days as she begins them, her nose in her emails. The boss of the Toulouse BodyMinute maintains a daily link with "the girls" who run her nine institutes. Moreover, from her mobile phone, she can, at any time, connect directly to the stores to see what is happening there, thanks to the cameras. But do not think that she has cut the link with the practice. Quite the contrary.
Frail silhouette under her white work tunic, brown hair gathered in a ponytail, when Wahiba descends into her BodyMinute, she merges with her employees. "Voluntarily. This is very important because I was not born a company leader. I am very often in my shops, which allows me to have a very strong credibility, while being at the heart of my subject. Moreover, this Tuesday afternoon, it is she who welcomes customers to Joan of Arc.
When Wahiba Beldjilali embarked on this profession in 2007, after studying business and having obtained her professional certificate, it was to "restore aesthetics to its former glory. At BodyMinute, we respond to exclusively female demand immediately, without an appointment, for waxing, facial and body treatments, slimming services or even dedicated to nail beauty… All at the lowest price, for make them accessible to all. »
Born in Mostaganem, Algeria, Wahiba arrived in France at the age of two. She grew up in Jolimont, with her mother, an entrepreneur who ran a driving school.
Her ambition and her extended days did not prevent her from becoming a mother in turn, to a girl who is now 6 years old. "I don't make a difference between personal life and professional life, I have a very short life where work plays an integral role. My daughter and my husband, who is also an entrepreneur, know this and understand this. Nevertheless, since she became a mother, Wahiba admits having eased off. "I assume to leave earlier to be able to pick up my daughter". However, she has not lost her business motto, which is: "You don't get a second chance to make a good first impression".
In dates…
01/15/85: Birth of Wahiba Beldjilali in Mostaganem, Algeria.
July 2007: Obtaining his aesthetics BP.
2009: Meeting with her husband
2011: Opening of his first Body Minute in Esquirol.
2016: Birth of his daughter.
2023: Opening of its 9th institute at Joan of Arc.