Therabody Named to TIME's List of The TIME100 Most Influential Companies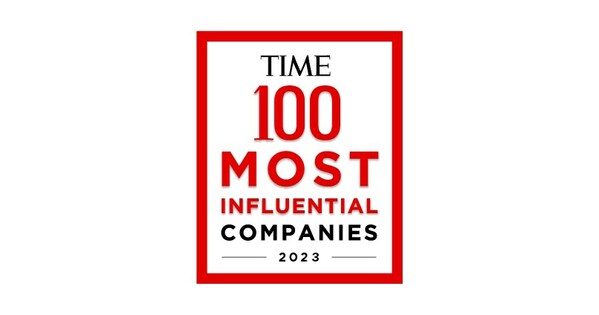 The Nod Confirms Therabody as Clear Leader in Wellness
LOS ANGELES, June 21, 2023 /PRNewswire/ — Therabody, the global pioneer in wellness technology, proudly announces its inclusion in The 2023 TIME100 Most Influential Companies, a list that celebrates companies that are making an extraordinary impact around the world.
The TIME100 Most Influential Companies list is compiled through nominations from TIME's extensive network of contributors and experts, followed by rigorous evaluations on key factors such as impact, innovation, ambition, and success. The result is a diverse group of 100 businesses leading the way in charting a transformative path forward. Therabody's presence on this esteemed list further solidifies its position as the leader in wellness technology and proves the company's progress in providing solutions for pain beyond those with professional access.
Indeed, Therabody is revolutionizing modern health and well-being through its research and science-backed technologies, ensuring access for as many people as possible while earning the trust of health professionals and individuals seeking advanced wellness solutions around the world. By providing personalized solutions for pain, performance, sleep, stress and beauty, Therabody empowers individuals to enhance their overall well-being and lead healthier lives through a diverse range of products and services, including consumer devices, whole-body wellness centers, and content.
"Therabody's Theragun changed how we manage muscle pain, democratizing massage guns previously reserved for athletes and medical professionals. But the company was just getting started," declares TIME.
Therabody's commitment to innovation and growth has garnered widespread acclaim, receiving over 20+ prestigious awards in recent years.
"We are honored to be recognized as one of TIME100's Most Influential Companies. At Therabody, we believe that everybody deserves access to innovative wellness solutions that can help them move – and feel – better. This recognition fuels our determination to continue pushing boundaries, conducting cutting-edge research, and collaborating with industry leaders to make wellness more accessible and impactful for individuals around the world," said Monty Sharma,  Therabody CEO and president.
Therabody's journey has been marked by remarkable accomplishments, and the company remains dedicated to progress. With a deep sense of responsibility for its industry influence, Therabody remains committed to expanding accessibility to its products, investing in research and development, and fostering partnerships to develop innovative technologies that will shape the future of well-being worldwide.
To learn more about Therabody, please visit therabody.com and follow @therabody on social media.
About Therabody
Therabody® is the wellness technology leader with a mission to inspire and enable every body and mind to keep moving. Founded by Dr. Jason Wersland who invented the category-defining percussive therapy device, Theragun®, to alleviate his own debilitating pain after a traumatic accident, the company's product and content ecosystem has expanded beyond muscle recovery into hardware, proprietary software, digital content, and biometrics, that have proven benefits for body and mind.
Science is in Therabody's DNA; products and services are validated using modern science combined with internal and external research. Therabody's products and content are embraced by the medical community, sports and beauty industry leaders, and millions of consumers worldwide. Currently available in more than 60 countries, including at company-owned retail stores and at Reset®, a whole-body wellness and recovery center, the product line includes proprietary technologies and leverages biometrics for personalized real-time therapies. For more information, please download the Therabody App for iOS or Android, visit www.therabody.com, or follow @therabody on social media.
Logo – https://mma.prnewswire.com/media/2108061/Therabody_Logo.jpg
Logo – https://mma.prnewswire.com/media/2108062/TIME100_Most_Influential_Companies_2023_Logo.jpg
SOURCE Therabody