The new fashionable criterion on dating sites? Announce your financial situation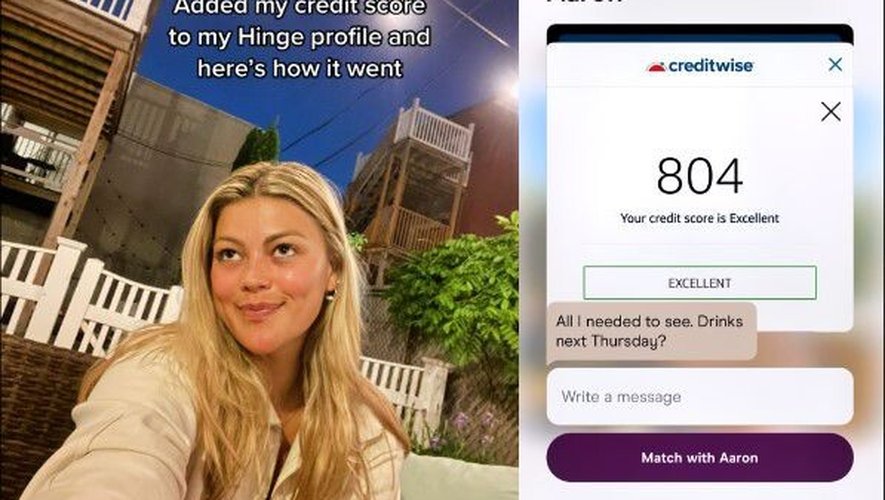 (ETX Daily Up) – How to be more successful on dating sites? Singles would have found a trick: display their financial situation. If she is comfortable, then they would attract more partners.
On the Hinge dating app, a new trick has emerged lately, that of displaying your credit score. The latter is supposed to represent the financial situation of a person. A score below 500 would reflect an average level of wealth. Beyond that, the person would likely have a well-stocked wallet.
In a recent video that has gone viral, love-seeking accountant Shannon Groffie, who goes by the pseudonym spreadsheetshan on TikTok, had the idea to display his score of 804 among his beautiful selfies. According to the young woman from Boston, this allowed her to get appointments more easily and more fluid discussions. One match even offered to marry her.
Other users of the Hinge application were quick to follow this trick, which reportedly brought them a shower of compliments. From now on, on TikTok, the hashtag credit score hinge, has 750 million views.
You have to go back to last February to understand the origins of this trend. A surfer named Leah Nicewander couldn't stand out on the dating app. So she decided to post the status of her finances on her profile. With a credit score of 811, the young woman garnered over 100 likes on her photo and managed to land 17 dates in a month. In an interview for Newsweekthe young woman assured that she wanted to make her profile more unique and creative, and attract better profiles.
Nevertheless, this trick raises questions about the criteria of attraction. Some find this trick harmful to establish a real attraction: "Personally, if a man wants to have a date with me because of my financial situation, this man is not for me". According to the young woman, displaying a super credit score can arouse the jealousy of men who have a lower score. She continues: "Men can feel insecure in front of a woman who earns much more than them".
Other people are ironic about the personal content that you can put on your Hinge profile. "I'm about to add my 520 and obsessive compulsive disorder diagnosis just for fun," "My credit is 829, but I feel like that would get all the broke," reads comments. Because even if the approach seems creative, what about women who do not have very high scores? And let's not talk about scammers and jealous people who would only be attracted by a good financial situation. Others suggest that men do the same for more transparency and avoid these kinds of traps.This is not the first time that money has become a criterion on dating apps. eToro research, reported in 2022 by CNBC News, suggested that owning cryptocurrency and placing it in your online dating profile made singles more desirable.