Sun Life U.S. annual high-cost claims report shows 45% increase of million-dollar+ claims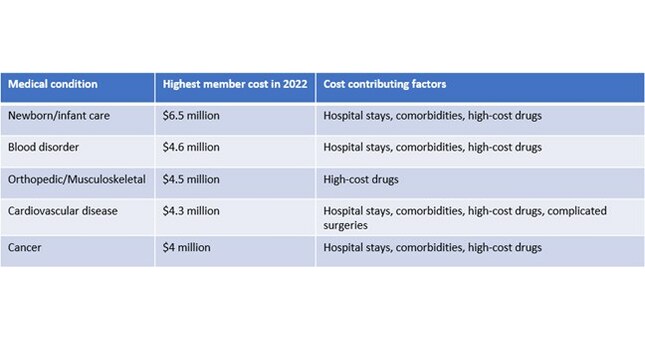 Million-dollar+ claims rose from 109 claims per million members in 2019 to 158 claims per million in 2022
WELLESLEY, Mass., May 17, 2023 /PRNewswire/ — Sun Life U.S., the largest independent provider of medical stop-loss insurance in the country, has released its 11th annual High-cost claims and injectable drug trends analysis report, analyzing its extensive claims database and highlighting trends in healthcare and medical costs. Sun Life's claims data showed that million-dollar+ claims increased 45%, from 109 claims per million covered members in 2019 to 158 claims per million covered members in 2022. Million-dollar+ claims appeared across a broad range of medical conditions, from more common diagnoses like cancer to less common conditions like hemophilia. Depending on the condition, contributing factors included long-term hospitalizations, specialty drugs, treatment of comorbid (secondary) conditions and complicated surgeries.
"This research provides valuable insights into the trends that contribute to rising healthcare costs, which helps shape our approach to new benefit solutions and services that help people access the care and coverage they need," said Jen Collier, president, Health and Risk Solutions, Sun Life U.S. "We want employers to be as informed as possible when making their health plan decisions so they can provide the best plans for their employees that help improve health outcomes while managing their medical spending."
As a stop-loss provider, Sun Life covers high-dollar claims for employers who self-fund their employee health plans. According to KFF, an independent non-profit organization focused on national health issues, 65% of covered workers in the U.S. are in a plan that is self-funded. Sun Life's high-cost claims report provides insights that help self-funded employers understand the unique health needs of their employees. This year's report examined 55,000 stop-loss claims from 2019 to 2022, analyzing the overall highest-cost medical conditions and the implications of increasing costs amid physician shortages that reduce access to care.
Report highlights
Injectable drugs continue to be key drivers of high-cost claims; the majority are used to treat cancer. Total Sun Life stop-loss reimbursements for cancer from 2019 to 2022 were

$1.5 billion

.
The most frequent diagnosis among orthopedic and musculoskeletal conditions was spinal stenosis, a narrowing of the spinal column resulting from arthritis. Orthopedic/musculoskeletal conditions are also a leading cause of short- and long-term disability. Total Sun Life stop-loss reimbursements for this condition were

$339 million

during the four-year period.
Cardiovascular disease, which includes heart disease and stroke, represents more U.S. total health spend (12%) than any other diagnostic group, according to research from The American Heart Association. Total Sun Life stop-loss reimbursements during the four-year period were

$444 million

.
Newborn and infant care, which includes premature birth or complications during birth, continued to be among the highest-cost conditions, predominantly due to long-term hospitalizations. Total Sun Life stop-loss reimbursements from 2019 to 2022 were

$338 million

in this condition category.
Medical vs. Rx spend
Treatment of many conditions included both medical (hospital or clinic-based care) and Rx/drug spend.
Conditions like newborn/infant care and COVID-19 were almost entirely made up of medical spend, while conditions like hemophilia were heavily based on Rx spend.
Medical spend can still include drugs administered in a clinical setting, while Rx spend includes injections, patches or oral medications.
Certain drugs may have higher costs when administered in a clinical setting, compared to when the patient can administer the drugs at home. Many Sun Life members who have transitioned to more convenient, home-based infusions saw their claims lowered by tens or even hundreds of thousands of dollars.
"While we closely follow the cost trends associated with injectable drugs, we are pleased to see new innovative drugs and treatments coming to market that will save and improve the lives of people facing major medical conditions," said Dan Fishbein, M.D., president of Sun Life U.S. "Our job as a medical stop-loss provider is to help absorb these high costs so self-funded employers are protected and can continue to offer comprehensive benefits to their employees. Availability and cost of treatment can be barriers to healthcare access, so we are constantly looking for ways to help members get the care they need when they need it."  
Sun Life's Health and Risk Solutions business, which provides stop-loss coverage, also offers Health Navigator powered by PinnacleCare, a healthcare navigation service that offers personal care advisors to help people access the right diagnoses, treatments, and care for their needs.
Sun Life's annual high-cost claims report analyzes a rolling four years of medical claims data from a member database of 5.5 million people, covered by 2,800 self-funded employer clients. Sun Life is the largest independent stop-loss provider in the U.S. according to data from the National Association of Insurance Commissioners. An independent stop-loss provider does not sell medical claim administration services.
About Sun Life
Sun Life is a leading international financial services organization providing asset management, wealth, insurance and health solutions to individual and institutional Clients. Sun Life has operations in a number of markets worldwide, including Canada, the United States, the United Kingdom, Ireland, Hong Kong, the Philippines, Japan, Indonesia, India, China, Australia, Singapore, Vietnam, Malaysia and Bermuda. As of March 31, 2022, Sun Life had total assets under management of C$1.36 trillion. For more information, please visit www.sunlife.com.
Sun Life Financial Inc. trades on the Toronto (TSX), New York (NYSE) and Philippine (PSE) stock exchanges under the ticker symbol SLF.
Sun Life U.S. is one of the largest providers of employee and government benefits, helping more than 50 million Americans access the healthcare and coverage they need. Through employers, industry partners and government programs, Sun Life offers a portfolio of benefits and services, including dental, vision, disability, absence management, life, supplemental health, medical stop-loss insurance, and healthcare navigation. Sun Life U.S. and affiliated companies in asset management employ approximately 5,500 people in the U.S. Group insurance policies are issued by Sun Life Assurance Company of Canada (Wellesley Hills, Mass.), except in New York, where policies are issued by Sun Life and Health Insurance Company (U.S.) (Lansing, Mich.). For more information visit our website and newsroom.
Media contacts
Devon Fernald
[email protected]
781-800-3609
Anjie Coplin
[email protected]
781-446-1693
Connect with Sun Life U.S.
https://www.facebook.com/SLFUnitedStates   
https://www.linkedin.com/company/sun-life-financial  
https://twitter.com/SunLifeUS
SOURCE Sun Life U.S.