Small emergencies: a doctor in just a few clicks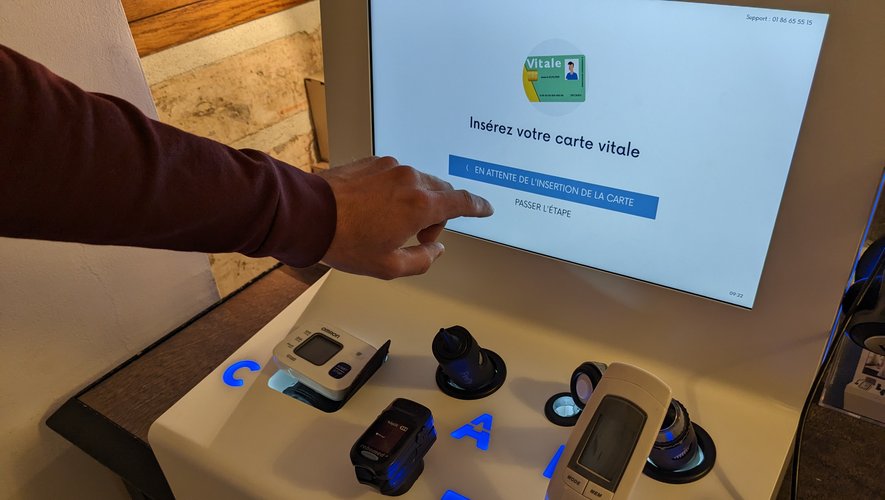 the essential
A pharmacy in the center provides a teleconsultation terminal. An alternative solution in case of difficulties to make an appointment quickly.
The Villefranchois know it, it is not always easy to make an emergency appointment with your doctor. According to a study on health in rural areas, presented at the Congress of Rural Mayors of France at the end of 2022, there would be a shortage of at least 12 doctors in the Villefranche-de-Rouergue basin. The authorities are struggling to attract professionals from the sector.
Prescription renewal
Faced with this situation, a pharmacy in the center has made available, since the beginning of April, a teleconsultation terminal. In a few clicks, on the Doctolib site, an appointment can be made by video with a doctor. Stethoscope, thermometer, blood pressure monitor, several tools are available to the patient to provide information directly. The consultation is not accessible for a child under three years old.
"It does not replace a doctor"
"We can take customers who come to see us in pharmacies for minor emergencies to this tool, when this does not require hospital intervention. The appointment is made between ten to thirty minutes of waiting", indicates the manager. "It can be convenient for a prescription renewal, allergies or a toothache. During the summer holidays, it could also be an option for tourists. Sometimes it can be difficult to find an appointment in two days".
At the end of the appointment, the patient receives a report and a prescription, if necessary. However, this terminal does not ensure any follow-up of patients, the professionals at the end of the line being different. "The goal is to meet a need," continues the manager. "It in no way replaces a doctor, but completes a health offer".