SK pharmteco doubles viral vector production capacity in Europe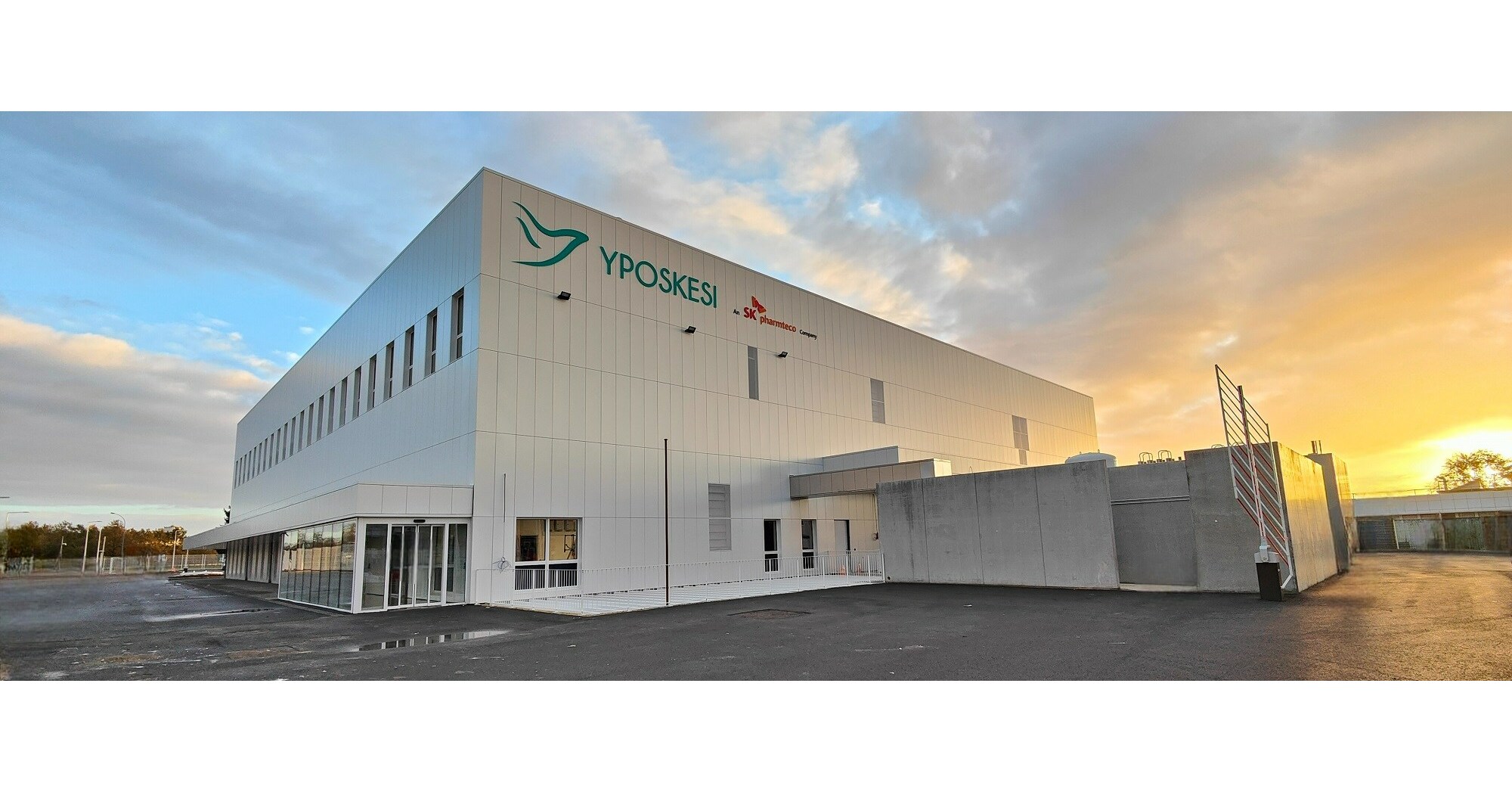 Yposkesi, SK pharmteco's clinical and commercial viral vector manufacturing subsidiary for Cell and Gene Therapy (C>), completes its second bioproduction facility and doubles its manufacturing footprint to

10,000m

2, one of the largest in

Europe

Operation of the second facility to kick start in 2024
SEOUL, South Korea, June 22, 2023 /PRNewswire/ — SK pharmteco, SK Inc.'s contract development manufacturing organization (CDMO) for pharmaceuticals, successfully completed its second facility for Cell and Gene Therapies (C>) manufacturing in Europe. With this milestone, SK pharmteco is rapidly expanding its presence in the global market.
SK pharmteco announced on June 22nd that Yposkesi, its commercial viral vector manufacturing subsidiary for C> in France, successfully completed the construction of its second industrial bioproduction site for C> manufacturing.
Yposkesi's second bioproduction site is situated in its Genopole campus, the largest biotech cluster in France. The newly completed site is a 5,000 m2 facility designed in accordance with current Good Manufacturing Practices (GMP) guidelines of the US and Europe. Together with the first bioproduction site, which is also located in the Genopole campus, Yposkesi now boasts one of Europe's largest biomanufacturing facility for C> that spans 10,000 m2.
The new site specializes in the bioproduction of Adeno-associated virus (AAV) and Lentiviral Vector (LV) – the widely used viral vectors in the field of cell and gene therapies, spanning from clinical to commercial applications.
Yposkesi is among only a small group of global CDMOs with decades of bioprocessing experience and expertise. It is one of the few in Europe to operate two bioproduction platforms for the most used viral vectors: Adeno Associated Virus (AAV) and Lentiviral Vector (LV). It has more experience than most players at producing viral vectors at an industrial scale.
With commitments from multiple clients already secured for the second facility, the company is preparing for mass production in 2024. According to the global research firm MarketsandMarkets, the global viral vector market, estimated at $5.5 billion (KRW 7.5 trillion) in 2023 and forecast to reach $12.8 billion (KRW 16.5 trillion) by 2028, is projected to increase by a compound annual growth rate (CAGR) of approximately 18%.
Yposkesi is poised to enhance its global presence due to the increasing demand for viral vectors and few cGMP-compliant facilities for large-scale production.
Furthermore, Yposkesi is rapidly expanding its presence in the anti-cancer and immune cell therapy market with the introduction of LentiSure™, a CAR T-cell platform designed to optimize higher yields. The facility is designed with six USP (Upstream Process) and two DSP (Downstream Process) clean rooms. This more than triples Yposkesi's bioreactor capacity from 2,000 L to 7,000 L and reduces the turnaround on projects from 18- to 12-months. It has fill and finish capacities with semi-automated suites for a total of 12,000 vials per year.
Lentivirus, a prominent viral vector utilized in gene therapy and cell-based immune anticancer drugs, has experienced a surge in demand, driven by the expanding CAR-T cell therapy* market. Yposkesi, leveraging its high-yield cell culture/harvesting capabilities and cost competitiveness, has successfully ensured exceptional quality and time to market delivery of Lentiviral Vectors.
"It is with great pleasure and pride that today we open the new Yposkesi viral vector manufacturing facility," said Alain Lamproye, CEO of Yposkesi. "This twin site enables us to stay up to pace with demand by producing larger quantities of C> products approved for commercialization. The facility's state-of-the-art design will allow us, in collaboration with our clients, to manufacture advanced therapies more efficiently and cost-effectively in line with their C> pipelines and commitments, making these treatments more accessible to patients."
"We anticipate Yposkesi to become a leading global Cell and Gene Therapy Contract Development and Manufacturing Organization (CDMO) through the synergy achieved with the Center for Breakthrough Medicines (CBM), a US-based cell and gene therapy CDMO and a subsidiary of SK pharmteco," said Yeontae Kim, Head of the Bio Investment Center at SK Inc.
In 2019, SK Inc. established SK pharmteco, a globally integrated contract development and manufacturing organization (CDMO) for pharmaceuticals. SK pharmteco operates seven production facilities and five R&D centers strategically located across the United States, Europe, and Korea. As a subsidiary of SK Inc., SK pharmteco expanded its presence in the rapidly growing biopharmaceutical industry by acquiring Yposkesi in 2021, gaining entry into the cell and gene therapy market. Furthermore, in 2022, SK pharmteco became the second largest shareholder of the Center for Breakthrough Medicines, a leading cell and gene therapy CDMO in the United States, thereby securing state-of-the-art production facilities for cell and gene therapy in both Europe and the United States.
About Yposkesi
Yposkesi, an SK pharmteco company, is one of Europe's largest CDMOs for viral vector manufacturing in Cell and Gene Therapies (C>). Yposkesi's 30+ years' expertise in viral vectors enables it to partner successfully with both biotech companies and big pharma in producing quality preclinical to commercial batch drug therapy products within a full-service environment. The company sustainably invests in bioprocessing innovation in order to deliver high quality gene-modified cell therapies and in vivo gene therapy projects.
Yposkesi employs around 200 people and is headquartered at the Genopole Campus at Evry-Courcouronnes (South of Paris), France. www.yposkesi.com
About SK pharmteco
Headquartered in Rancho Cordova, California, SK pharmteco is a global CDMO and a subsidiary of SK Inc., the strategic investment company for SK Group, South Korea's second-largest conglomerate. SK pharmteco was established in 2019 by consolidating highly complementary CDMO business operations. SK pharmteco has established a well-balanced business portfolio by engaging in small molecule & cell and gene therapy to capture both the robust and exponential growth of each market. Most recently, SK pharmteco became the second-largest shareholder of the Center for Breakthrough Medicines through its investment in March 2022. SK pharmteco currently operates seven global manufacturing sites in the United States, Europe, and South Korea, along with five R&D centers. www.skpharmteco.com
SOURCE SK Inc.; SK pharmteco