PetPartners Introduces OnePack Plan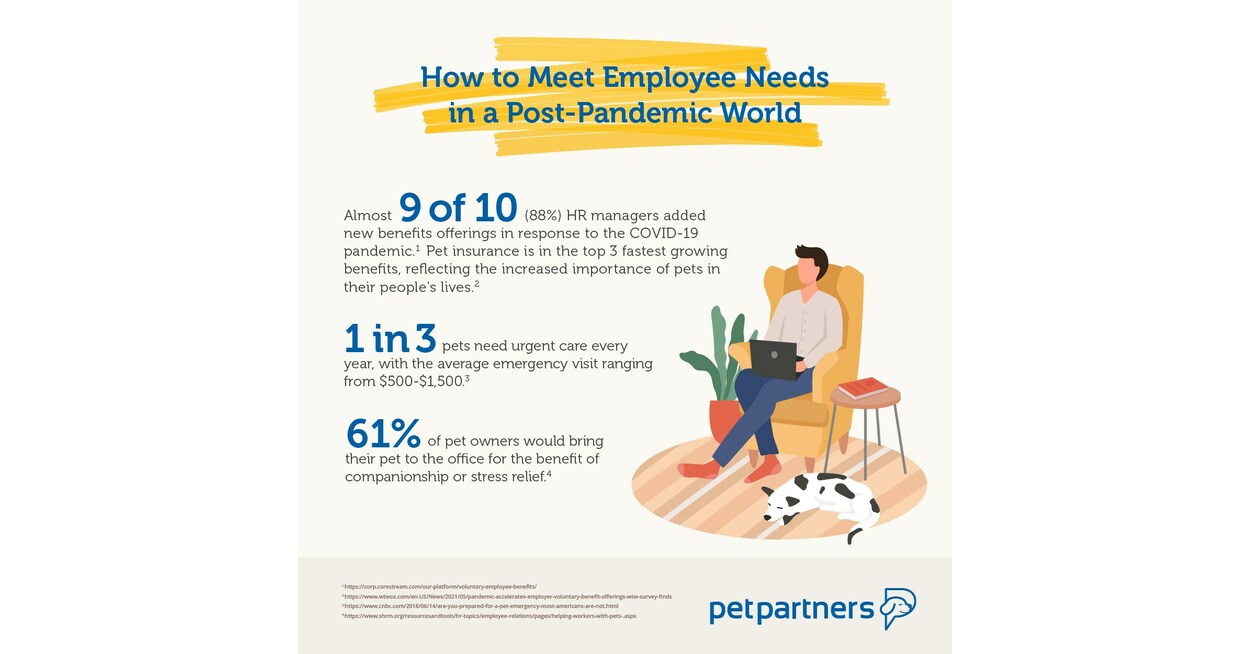 An Industry First, OnePack Seamlessly Integrates With Employer's Annual Group Benefits Offering
RALEIGH, N.C., May 11, 2023 /PRNewswire/ — PetPartners introduced today its newly branded OnePack Plan, an employer-based group pet insurance offering. OnePack provides employers with a customizable "One Group, One Policy, One Rate" plan to meet each organization's needs. Unlike individual pet insurance plans sold through employers, OnePack works like other annual group benefits, meaning the employer is the master policyholder with a single rate for all participants. The Plan offers coverage for cats and dogs, provides the option of accident or accident and illness coverage, and allows employers to contribute to premiums and more.
Pets play an increasingly important role in our lives, and the human-animal bond continues to grow, with 95 percent of pet owners globally considering their pets a part of their family1. With approximately 23 million households having acquired pets during the pandemic2, pet insurance is one of the top 3 fastest-growing voluntary benefits3. By offering pet insurance, employers demonstrate they recognize the significant role pets play in employees' lives and the need to offer employees peace of mind regarding their pets' care.
"The industry is catching on that employees not only care deeply about their pets but having pets has also shown to improve human health outcomes. Offering pet insurance just makes good business sense. It increases employee satisfaction, reduces turnover, and can even be a factor in managing human health costs. As pet insurance industry leaders, we've listened to our customers employers, benefit administration providers, and benefits brokers and have innovated our product to make offering pet insurance easier. We're excited to introduce our OnePack Plan, an industry-first in treating pet insurance like other annual group benefits, making it simpler for employers to manage and employees to enroll," said Michelle Yates, Executive Vice President of PetPartners.  
In addition to providing a customized plan, OnePack is the only employer-based group pet insurance offering that easily integrates with any benefits administration software for onboarding and enrollment, seamless payroll deduction, and more. This direct integration allows employers, brokers, and benefit administration platforms to seamlessly implement, upkeep, and scale the plan, saving time and money. Human Resource managers can now keep everything in one place, enroll employees with confidence, and take advantage of automation to reduce time spent on manual entries.
PetPartners believes all pets—regardless of their breed, age, and medical history—deserve comprehensive coverage as part of our care for employees' health and wellness. That's why each policy comes with unmatched health and wellness coverage that includes pre-existing conditions in addition to a 24/7 vet helpline, Rx discounts, and more.
To learn more about OnePack and PetPartners, visit https://www.petpartners.com/.
About PetPartners
PetPartners provides an employer-based group pet insurance offering. PetPartners is an Independence Pet Group company that offers plans that cover both cats and dogs, provides the option of accident or accident and illness coverage, and allows employers to contribute to premiums and more. Policies are administered by PetPartners, Inc. and underwritten by Independence American Insurance Company (rated A- "Excellent" by A.M. Best). For complete details, visit https://www.petpartners.com/sample-policies.
About Independence Pet Group® 
Independence Pet Group® (IPG) is one of North America's largest pet insurance and services companies. Our impressive family of brands supports insurance for more than 600,000 pets in the U.S. and Canada and provides well-being, safety, resources, and business solutions to the pet industry, including microchip identification and an online pet registry. Learn more at www.independencepetgroup.com.
1 https://habri.org/pressroom/20220116
2 https://www.aspca.org/about-us/press-releases/new-aspca-survey-shows-overwhelming-majority-dogs-and-cats-acquired-during
3 https://www.wtwco.com/en-US/News/2021/05/pandemic-accelerates-employer-voluntary-benefit-offerings-wtw-survey-finds
SOURCE Independence Pet Group Inc.