Odette Barbet celebrated her 100th birthday with her family at the Saint-Clar nursing home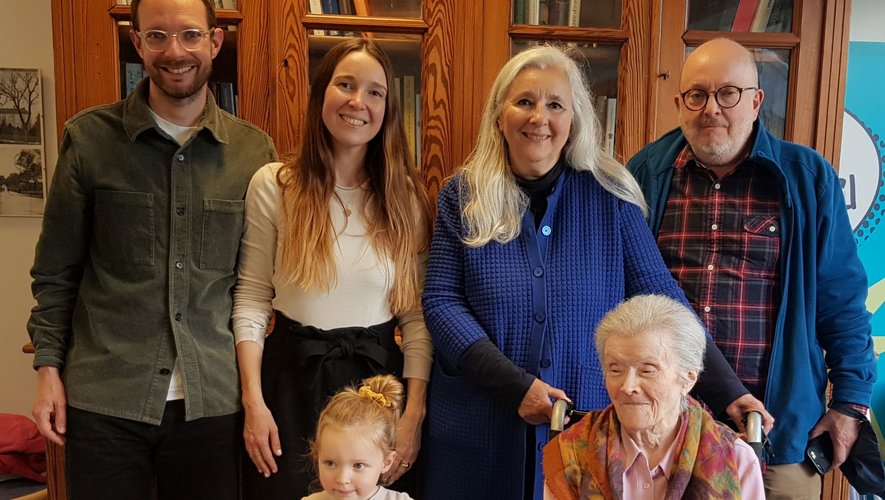 the essential
It was a very nice party that took place last Saturday in the living room of the Cantoloup Lavallée nursing home, in Saint-Clar, around Odette Barbet on the occasion of her centenary.
Her family had gathered around her, the management of the establishment, Nicolas Coudournac and Caroline Giulioli, too, as well as many residents. An accordionist and a snack made everyone happy.
Odette Barbet was born on May 3, 1923 in Drancy in Seine-Saint-Denis. His father, originally from the Gard, was a miner, then a gasman; and her Breton mother worked for private individuals as a maid. She had a younger brother, Jean. After her school certificate, Odette took courses in shorthand typing at the Pigier school. Then, she worked for a few years in Paris, as a worker and shorthand typist.
3 grandchildren and 2 great-granddaughters
The war came and she met Michel, her future husband, who was also living in Drancy under a military airship called "The Sausage". They married quickly in 1941. A first daughter Michèle was born in 1945, the second Dominique arrived 12 years later in 1957 in Asnières in the Hauts-de-Seine, where her father worked in insurance.
Odette lived alone for 6 years after the death of her husband. She was passionate about literature, painting, cinema, music, gardening and knitting, transmitting her artistic tastes to her daughters. She also loved cooking and entertaining her children, her 3 grandchildren and 2 great-granddaughters.
The family arrived in the Gers a few years ago and Odette had to return to the Ehpad in October 2021.