Light Therapy Market to grow by USD 246.87 million from 2022 to 2027 | North America to account for 43% of market growth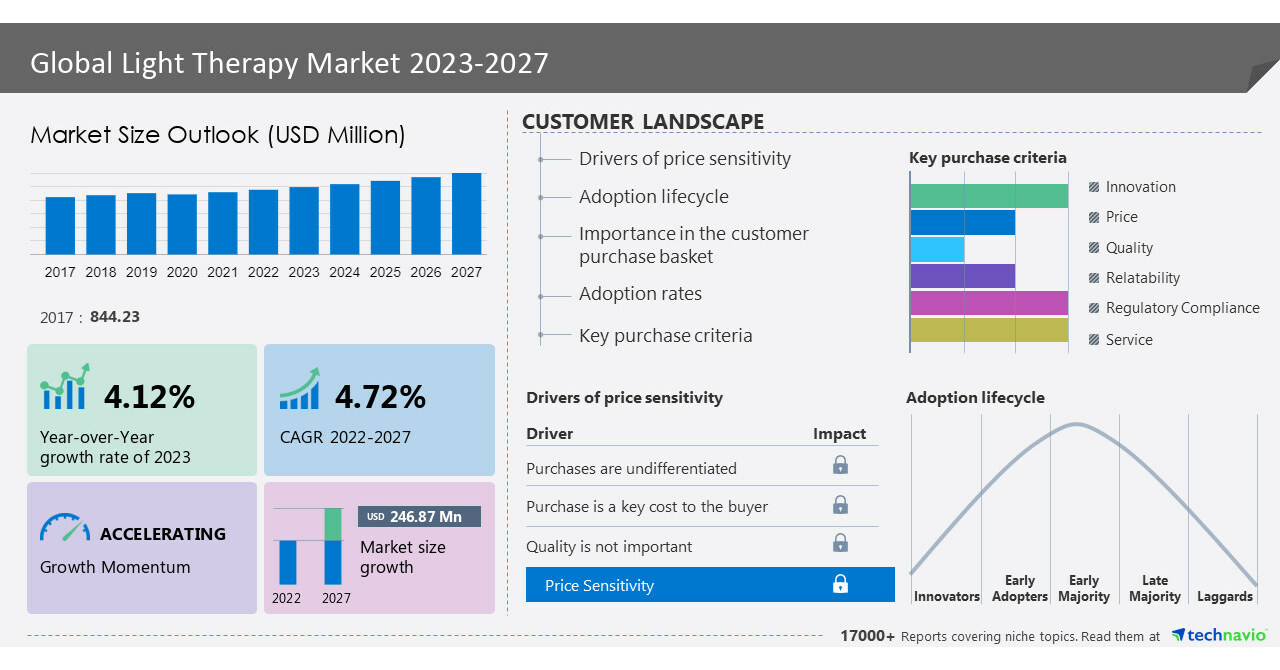 NEW YORK, Oct. 4, 2023 /PRNewswire/ — The light therapy market is expected to grow by USD 246.87 million from 2022 to 2027. In addition, the momentum of the market will progress at a CAGR of 4.72% during the forecast period, according to Technavio Research. The market has been segmented by end-user (commercial, domestic, and healthcare), type (blue light, red light, white light, and others), and geography (North America, Europe, Asia, and the Rest of the World (ROW)). North America is estimated to contribute 43% to the growth of the global market during the forecast period.  The demand for light therapy is increasing due to the region's cold climate. States such as Alaska, North Dakota, and Minnesota in the US experience extremely cold weather, which increases the incidence of winter blues and SAD. Light therapy is chosen by both domestic and business customers for the purpose of avoiding these conditions. Moreover, light therapy products, such as light therapy boxes, are often used by domestic end users as a substitute for sunlight. The growing use of light therapy products offers sellers the opportunity to increase sales. Demand for light therapy products also increases as people in developed countries, such as the US and Canada, gain more disposable income and purchasing power. Hence, these factors are expected to drive market growth in the region during the forecast period. This report offers an up-to-date analysis of the current market scenario, the latest trends and drivers, and the overall market environment. Read Free PDF Sample Report
Company Profile:
Acupressure Health Care International, Aura Medical LLC, Beurer GmbH, Biophotas Inc., Compass Health Brands, Demyk Lightmod Products Inc., Johari Digital India Ltd., Johnson and Johnson, Light Sources Inc., Lucimed SA, Lumie, Nature Bright, Northern Light Technologies Inc., Photomedex Inc., Red Light Man Ltd., Skrip Electronics,  Ultrasun International B.V., Verilux Inc., Zepter International, and Koninklijke Philips N.V.
Aura Medical LLC – The company offers light therapy products such as Aura Daylight Lamp and Aura EnergyUp Wake-up Light with 1000 LUX.
To gain access to more company profiles available with Technavio, buy the report!
Light Therapy Market: Segmentation Analysis
The market share growth by the commercial segment will be significant during the forecast period. Corporate offices, hotels, and spa establishments are commercial end users. Light therapy products, for example, floor lamps and desks, are used as an artificial sun source by these end users. In addition, portable devices that take advantage of light from LEDs are used to power spas and beauty centers.
Learn about the contribution of each segment summarized in concise infographics and thorough descriptions. View Free PDF Sample Report
"Besides analyzing the current market scenario, our report examines historic data from 2017 to 2021"- Technavio
Light Therapy Market: Market Dynamics
Key Driver
Growing prevalence of skin disorders
Growing prevalence of SAD
Availability of compatible products
The growing prevalence of skin disorders is a key factor driving market growth. Skin diseases are sometimes treated with less concern than infectious diseases when health is prioritized, such as pneumonia and tuberculosis. The demand for various cosmetic treatments, such as laser surgery, is increasing as more and more people are concerned about their appearance. Additionally, light therapy products, such as wearables, are used in these facilities during the post-treatment phase and for patient home care services. The dermatologists advise that small LED lights, like Blue and Red Light, should be used to avoid a variety of skin problems. Hence, these factors are expected to drive market growth during the forecast period.
Major Trend
The growing use of lightboxes to avoid winter blues is a major trend in the market.
 Identify key trends, drivers, and challenges in the market. Download to gain access to this information.
Related Reports:
The Duchenne muscular dystrophy (DMD) therapeutics market is estimated to grow by USD 2,397.67 million at a CAGR of 21.2% between 2022 and 2027.
The photodynamic therapy market is estimated to grow by USD 2,053.68 million at a CAGR of 8.22% between 2022 and 2027.
What are the key data covered in this light therapy market report?
CAGR of the market during the forecast period
Detailed information on factors that will drive the growth of the light therapy market between 2022 and 2027.
Precise estimation of the light therapy market size and its contribution to the market in focus on the parent market
Accurate predictions about upcoming trends and changes in consumer behavior
Growth of the light therapy market across North America, Europe, Asia, and ROW
A thorough analysis of the market's competitive landscape and detailed information about companies
Comprehensive analysis of factors that will challenge the growth of the light therapy market companies.
ToC:
Executive Summary
Market Landscape
Market Sizing
Historic Market Sizes
Five Forces Analysis
Market Segmentation by End-User
Market Segmentation by Type
Market Segmentation by Geography
Customer Landscape
Geographic Landscape
Drivers, Challenges, & Trends
Company Landscape
Company Analysis
Appendix
About Technavio
Technavio is a leading global technology research and advisory company. Their research and analysis focus on emerging market trends and provide actionable insights to help businesses identify market opportunities and develop effective strategies to optimize their market positions. With over 500 specialized analysts, Technavio's report library consists of more than 17,000 reports and counting, covering 800 technologies, spanning across 50 countries. Their client base comprises enterprises of all sizes, including over 100 Fortune 500 companies. This growing client base relies on Technavio's comprehensive coverage, extensive research, and actionable market insights to identify opportunities in existing and potential markets and assess their competitive positions within changing market scenarios.
Contacts
Technavio Research
Jesse Maida
Media & Marketing Executive
US: +1 844 364 1100
UK: +44 203 893 3200
Email: [email protected]
Website: www.technavio.com
SOURCE Technavio