Gourdon. Vaccination, a week to convince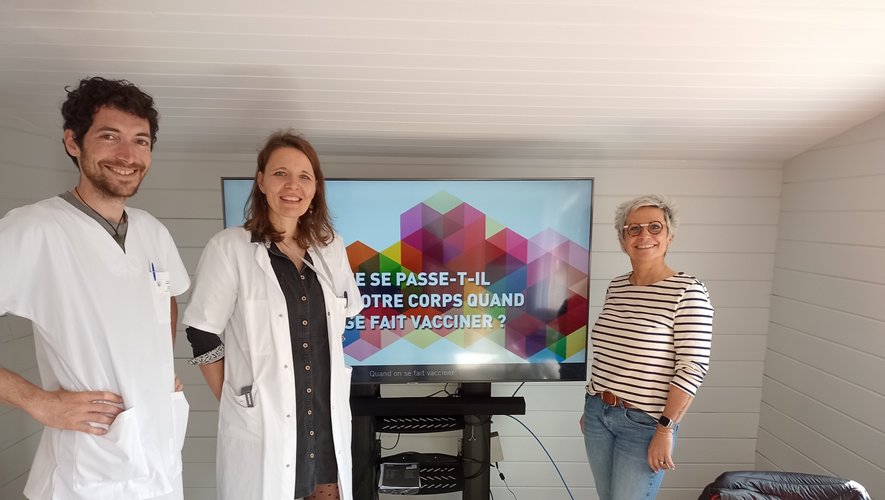 The 19th edition of European Vaccination Week (EVW) created by the World Health Organization (WHO) has just ended. The speakers Isabelle Martel, addictologist, Émilie Boulanger, nurse, and Ludovic Frère, midwife, explained to the visitors the national theme: "Vaccination for all".
Emphasis was placed this year on the importance of vaccination against human papillomaviruses, also called HPV, which considerably reduces the risk of cancer in the long term. However, there has been a marked decline in vaccination in general since the Covid.
The task of the speakers was therefore to inform about the essential vaccines which have saved many lives for decades and which make it possible to protect against various diseases: tuberculosis, diphtheria, tetanus, poliomyelitis, whooping cough, haemophilus, pneumococcus, measles, mumps, rubella , meningococcus C and B, rotavirus, influenza and shingles.
"It is essential to increase young people's knowledge of HPV viruses such as the risk of infection, transmission, protection, risk of cancer… comments Isabelle Martel. We inform them about the existence of an effective vaccine whose protection against HPV is close to 100% and we encourage them to get vaccinated against HPV Vaccination for girls and boys is recommended between 11 and 14 years old, with a possible catch-up from 15 to 19 years old. recommended for men who have sex with men (MSM) up to age 26."
Émilie Boulanger mentioned that throughout history, the two advances that have most increased life expectancy in the world are access to drinking water and vaccination. She said that thanks to vaccination, smallpox has disappeared and other infections such as poliomyelitis have become very rare. At the same time, Ludovic Frère recommended pregnancy and gynecological monitoring for future mothers.
Many people have taken advantage of this European Vaccination Week to find out about the update of their vaccines. It must be said that the very friendly welcome of the speakers and the snack offered greatly contributed to making the visit enjoyable.