CSCO Foundation, Ping An Health Insurance and OrigiMed Announced Strategic Partnership for Innovative Ecosystem of Precision Medicine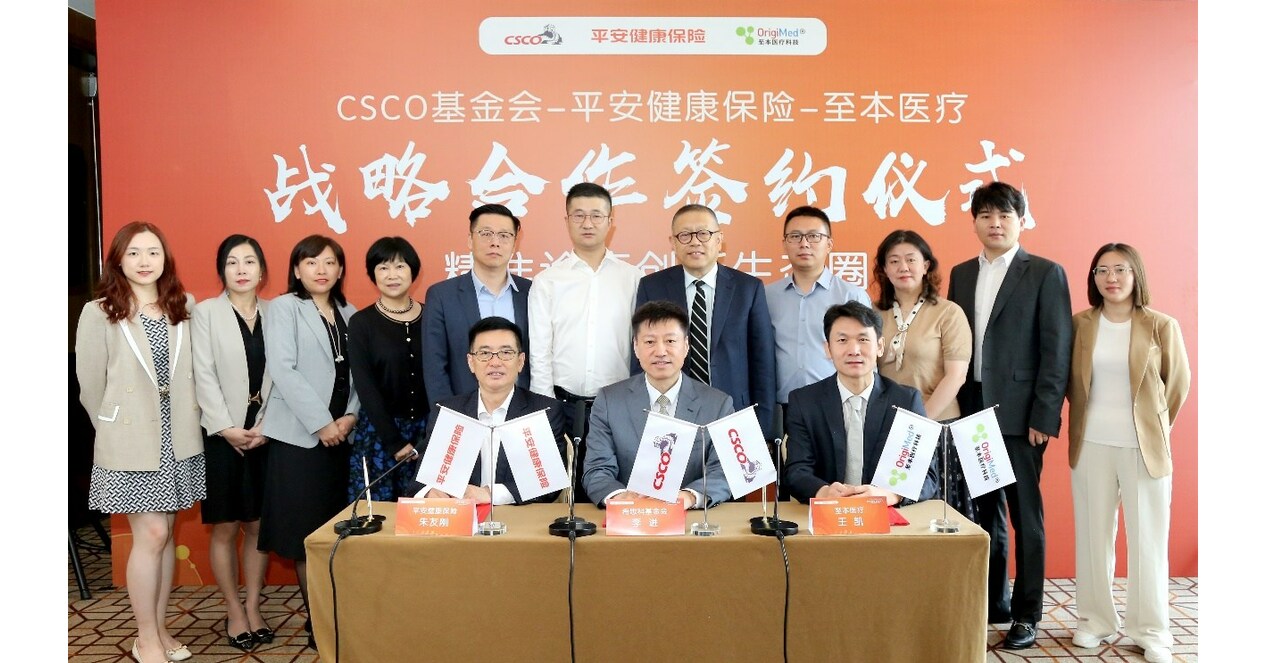 SHANGHAI, May 17, 2023 /PRNewswire/ — Beijing Xisike Clinical Oncology Research Foundation (hereafter referred to as "CSCO Foundation"), a professional academic foundation with high reputation in the field of oncology education and research in China, Ping An Health Insurance Company of China, Ltd., (hereafter referred to as "PAH"), a pioneering health insurance company in the world under Ping An Insurance (Group) Company of China and OrigiMed Shanghai Ltd. , (hereafter referred to as "OrigiMed"), a leading precision medicine company based in China, today announced their strategic collaboration agreement to develop an innovative ecosystem of precision medicine. The agreement aims to provide Chinese patients with an innovative full-cycle medical solution for cancer treatment.
Cancer has emerged as a leading cause of death in China, with a growing burden of cancer patients in recent years. According to statistics released by the National Cancer Center, there were over 4.5 million new cancer cases in China in 2020. Additionally, cancer-related medical expenses in China are estimated to exceed 220 billion RMB annually.
Under the terms of the agreement, the three parties will jointly develop an innovative ecosystem of precision medicine to provide full-cycle medical service for insured Chinese patients. PAH will provide comprehensive medical coverage by utilizing OrigiMed's precision medicine e-hospital service including comprehensive gene testing, online molecular tumor board, clinical trials, patient recruitment and follow-up services. Meanwhile, CSCO foundation will leverage with its professional clinical oncologist network providing online personalized diagnosis and treatment services for Chinese patients.
"The collaboration will enable better clinical outcomes for Chinese cancer patients," said Professor Jin Li, Chairman of CSCO Foundation and Vice Chief Supervisor of Chinese Society of Clinical Oncology. "We believe our new platform, partnered with PAH and OrigiMed, will build up a real-world database for the China Cancer Genomic Atlas."
"We aim to provide Chinese patients with innovative products and services that meet all their healthcare needs," said Mr. Yougang Zhu, Chairman of PAH. "Patients in China deserve the high-quality medical service that enable them to make informed decisions about personalized precision medicine."
"Every cancer patient is unique, and we believe precision medicine contains great potential for cancer treatment in China," said Dr. Kai Wang, Chairman of OrigiMed. "OrigiMed precision medicine e-hospital will serve as a core point connecting insured patients, doctors and healthcare institutions."
SOURCE OrigiMed