Co-Founder of Nurse Practitioner Role Is Honored on Veterans Day at Arlington National Cemetery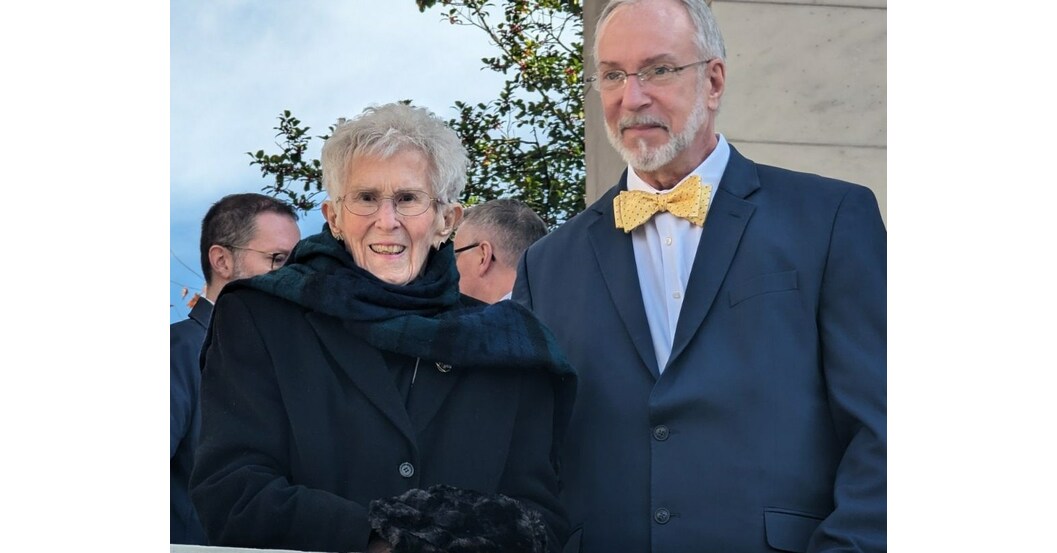 On the Eve of NP Week, Dr. Loretta Ford Is Recognized for Her Service as a Nurse During World War II
AUSTIN, Texas, Nov. 11, 2023 /PRNewswire/ — The American Association of Nurse Practitioners® (AANP) is proud to announce  Dr. Loretta C. Ford, co-founder of the first nurse practitioner (NP) program, was an honored guest at the Veterans Day wreath-laying ceremony held at Arlington National Cemetery in Washington, D.C. Ford, who will turn 103 years old in December, was recognized for her outstanding service as a World War II Army Air Corps Nurse veteran.
"It was a wonderful honor." Dr. Loretta C. Ford, co-founder of the NP role said. "I am proud of the good that we were able to bring to patient care," Ford added.
In 1942, following the death of her fiancé in World War II, Ford joined the U.S. Army Air Force. She served her country as a nurse working at stateside military bases in Florida and Maine.
"AANP is thrilled that our profession's co-founder and champion for improving patient access to care is recognized for her service to the nation," said AANP President Stephen A. Ferrara, DNP. "Thanks to Dr. Ford's vision and determination, the nation's nurse practitioners continue to prioritize the needs of patients. On Nov. 12, we kick off  National Nurse Practitioner (NP) Week, and  I cannot think of a more important health care hero than Dr. Ford. I am grateful for her foresight in founding the first NP program nearly 60 years ago."
After World War II, Ford attended Colorado University (CU) on the GI Bill and graduated in 1949 with an MSN degree. She continued her studies, practiced as a public health nurse and earned her PhD in nursing education from CU in 1961.
During her studies, Ford recognized there was a shortage of primary care access in her community, specifically for children and families, that the nursing profession could help address. By 1965, Ford, now a full professor at the CU College of Nursing, partnered with Dr. Henry Silver, a pediatrician at the CU Medical Center, to create and implement the first pediatric NP model and training program.
"Today, NPs practice in a wide array of settings in communities across the country, expanding access to high-quality health care — everywhere, truly living Dr. Ford's life's mission," said Ferrara.
Dr. Ford is the author of more than 100 publications, holds seven honorary degrees from prestigious U.S. universities and is the recipient of numerous awards, including the Living Legend Award from the American Academy of Nursing. In 1990, the U.S. Department of Health and Human Services Secretary presented Ford with the Institute of Medicine's prestigious Gustav O. Lienhard Award for outstanding achievement in improving health care in America. She is widely regarded as one of the most influential nurses of the 20th century.
Dr. Ford's tireless leadership and foresight have set the example for thousands of NPs who have courageously served in the military. AANP is grateful to our nation's veterans — and those who are currently serving — and thanks them for their service and sacrifice.
The American Association of Nurse Practitioners® (AANP) is the largest professional membership organization for nurse practitioners (NPs) of all specialties. It represents the interests of the more than 355,000 licensed NPs in the U.S. AANP provides legislative leadership at the local, state and national levels, advancing health policy; promoting excellence in practice, education and research; and establishing standards that best serve NPs' patients and other health care consumers. As The Voice of the Nurse Practitioner®, AANP represents the interests of NPs as providers of high-quality, cost-effective, comprehensive, patient-centered health care. To locate an NP in your community, visit npfinder.com. For more information about NPs, visit aanp.org.
SOURCE American Association of Nurse Practitioners