Christina Aguilera Shines At The Latin Grammys In Purple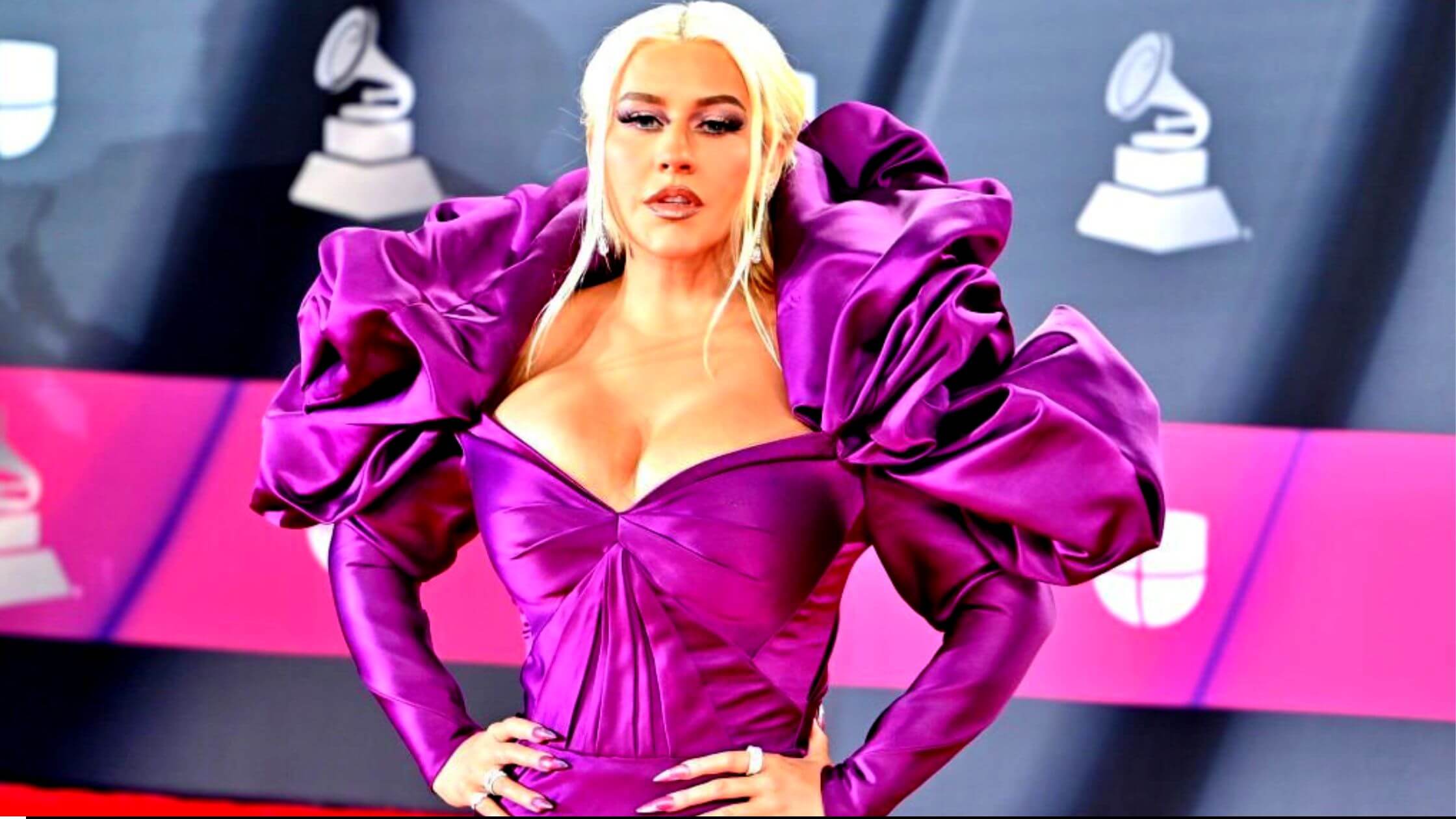 Christina Aguilera, the American songwriter, and singer have always stunned the crowd with her style. Along with composing hit music, Christina is also a television personality and actress. When we talk about her fashion statements, the singer has always been an astute figure.
Whether it was the 2010 Golden Globe Awards or the 2013 American Music Awards, she has stolen the limelight wherever she went.
Now, the singer and actress are garnering all the attention for her appearance at the Latin Grammys. Christina Aguilera donned a gorgeous purple dress on the red carpet and she is looking no less than royalty. Her purple gown was complemented by statement drop earrings and we didn't want anything more.
What elevated her look in this year's Grammy Awards was her signature hairdo in a platinum blonde shade. Christina Aguilera was also looking chic with purple nail paint and lavender eyeshadow.
At The Latin Grammy Awards, Christina Aguilera Dazzles In A Plunging Purple Gown
Christina came to perform at the Latin Grammys that was hosted on November 17. Along with that, the singer was also nominated in seven categories! This list included "Album of the Year". She was placed in the second position while Bad Bunny won.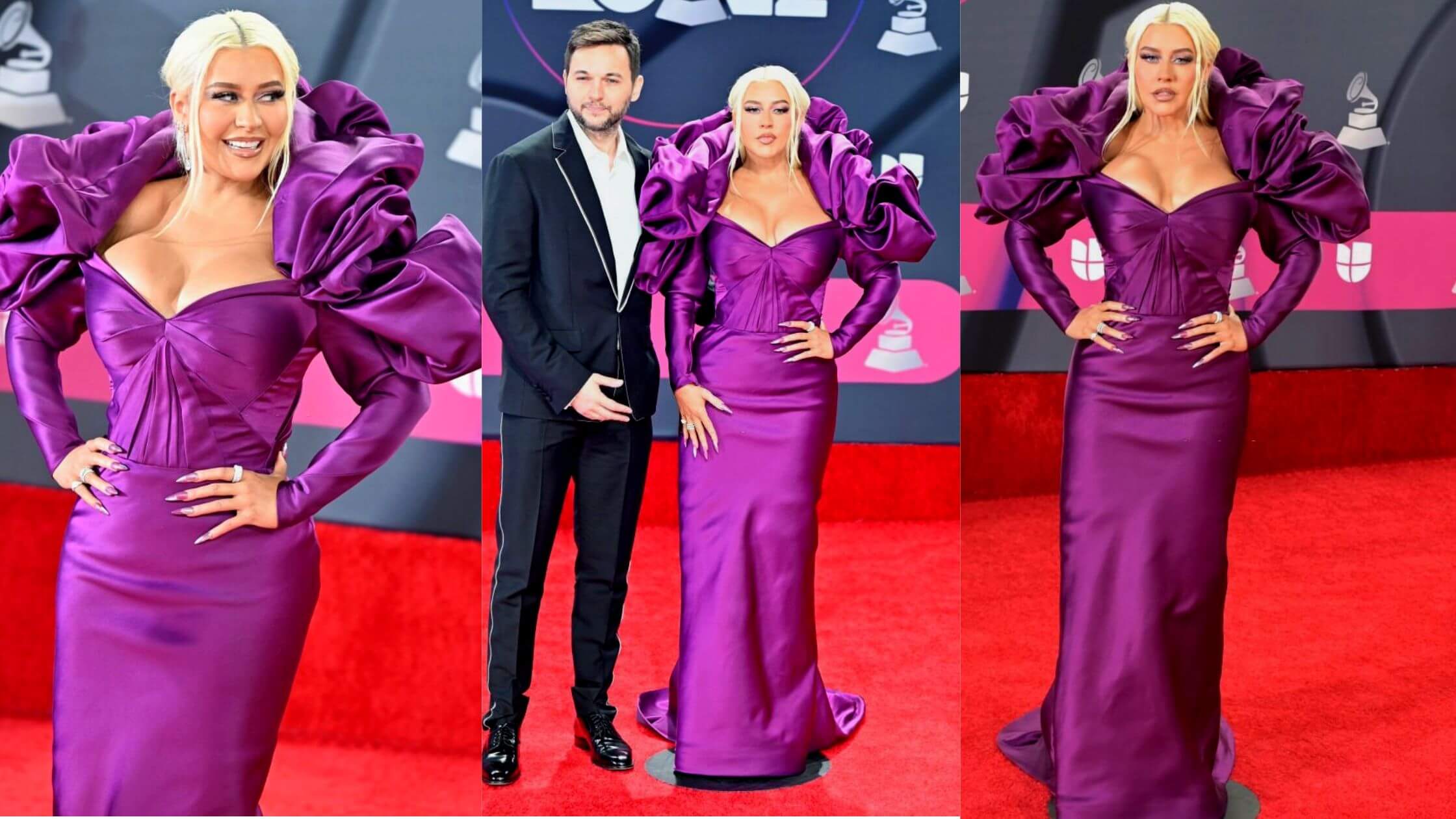 In this year's Latin Grammy, Rosalia won an award for the album of the year. Jorge Drexler won 9 awards last night and his total count of Grammys is now 13!
Many artists, including Jorge Drexler and Elvis Costello, performed at the 23rd Grammy Awards and it was a truly spectacular night!
The relationship between Christina Aguilera and Latin Grammys goes way back to 2000 when the awards were first inaugurated.
There she put fire on stage with her performance. Christina sang Genio Atrapado (the Spanish version of the famous song Genie in a bottle) and Contigo en la Distancia. That time, Christina Aguilera took back home her first and last Latin Grammy. It was for her pop vocal music album – Mi Reflejo.
In one of her interviews, Christina said that Latin Grammy Award is her prized possession and while going back to the show, there is nothing but loads of special memories attached to the Mi Reflejo album.
In 2021, Christina Aguilera performed the anthem – Pa Mis Muchachas. She paid tribute to her roots and the anthem also featured Becky G, Nicky Nicole, and Nathy Peluso.
She also had a candid chat with the media and shared her experience about celebrating her Latin heritage.
She said that paying tribute to the roots is somewhat nostalgic and is a part of Latin history and culture. So, if I have the opportunity to explore myself and my roots musically, the entire experience becomes fun.
As for her dress, the Latino queen delivered what the night asked for. It was a special moment and Christina Aguilera came confidently wearing the purple gown and simply looked majestic. The long sleeves and a plunging V-neckline favored her look while the ruffle detailing at the back added to the charm.
Christina Aguilera is known for her singing and fashion! Her musical work mainly revolves around domestic violence, feminism, and sexuality. Over time, this has captured controversy and critical praise.
Other artists have often termed her as an influence over others but the singer has never let anything affect her. This bubble gum pop artist has released several singles and has become one of the most successful woman singers of all time.
Magazines like Consequence of Sound and Rolling Stone have also ranked Christina Aguilera as one of the top pop music artists. She is a true icon for a lot of people around the world and we can't wait to see what she's up to next!