Castera-Verduzan. The Dental Bus stopped off in Castéra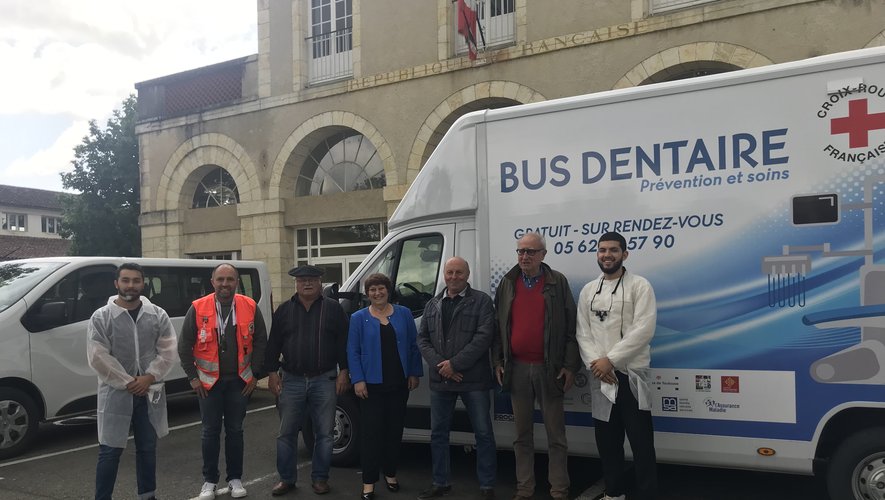 At a time of medical desertification, particularly in rural areas, this is an initiative that should make it possible to find a solution to the dental supply which is also suffering from this situation. Indeed, this idea emanates from Marie-Josée Zago, vice-president of the Gers Red Cross who had the echo by the social Green number of many calls from Gers residents without dental surgeons. After many meetings, in particular that of the dean of the dental faculty of Toulouse, Philippe Pomar who invested 200% in this approach, finding technical solutions with 200,000 € of investment, with an endowment of the latest technologies for integration given the type of vehicle chosen, without forgetting of course the essential human part, for a few days the project has found its realization with the arrival of the dental bus crisscrossing the roads of the Gers around eight villages without dentists, recognized as a white zone by the ARS, of which Castéra is a member. Beyond this proximity to the people of Gers, the project also made it possible to resonate with students at the end of their course with the supervision of seven dentists from the department. These are doctors Viboud, Fourteau, Mouchet, Castro, Galan, Skelton, Daher and Bard who each in turn bring their knowledge to the two young students receiving patients. "This student participation is a way of connecting future dentists with the territory and therefore of encouraging future establishments in the department" rejoices Marie-Josée Zago.
This Monday, the patients were there so that all the scheduled times were full. Don't worry, another bus trip is planned in Castéra, only after making an appointment by telephone on 05 62 63 57 90.
In the same dental idea, prevention days are being studied, including one also in Castéra in partnership with the Bucco-Therm laboratory, which is already a partner of the Red Cross with a significant donation of kits with hygiene products. dental.