Carcassonne. Medical deserts: the communists challenge the ARS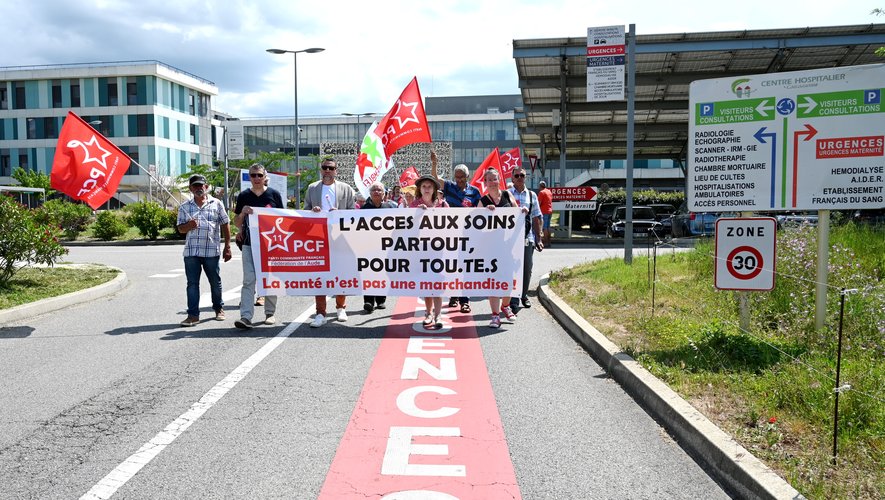 the essential
This Tuesday, May 30, the Aude Federation of the Communist Party demonstrated in front of the Carcassonne hospital, to challenge the management of the Regional Health Agency (ARS).
They were about thirty of the Communist Party to be gathered this Tuesday afternoon, in front of the hospital center of Carcassonne. "We ask that a state of health emergency be declared"assures Didier Renard, one of the members of the federal office. This initiative follows the public meeting that the Communists had organized, at the beginning of May, to warn of the seriousness of medical desertification and the need to mobilize in the face of this disaster. sanitary.
"Our objective is to see general practitioners arrive. Today, a growing number of users and patients find themselves without attending physicians. For this, in order to determine the extent of the needs, one of the challenges of the struggle is to get the ARS to provide reliable information, truly reflecting the lack of attending physicians"he continues.
This Tuesday, the Territorial Health Council (CTS) was to deliberate on the regional health plan (PRS). "This is an opportunity to reaffirm that increasing the number of general practitioners, accessible to the Aude population, must imperatively be included as a priority in the PRS. Aude must declare a state of health emergency: this is the conviction of the PCF"insists Didier Renard.
He adds that in his canton of Haut-Minervois, there are currently eight doctors. "But next year there will be only five for a population of 16,000. We have to react." It now remains to be seen what the ARS will respond to.