Aspect. The old ones return to the school canteen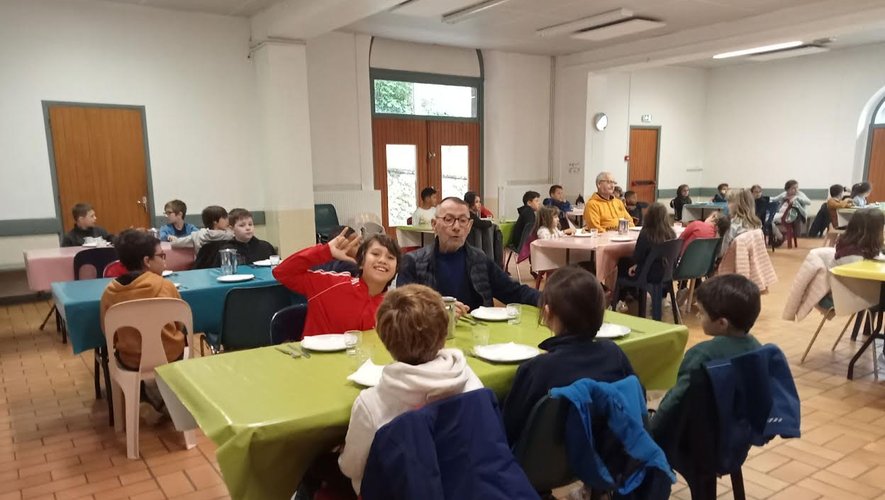 Tuesday, back to school day after the Easter holidays was also a first at the Aspet canteen. Indeed, the town hall has invited residents over 65 to come and have a meal at the school canteen installed in the rural home.
So 6 people played the game and each sat down at a different table to share the meal. Muriel Saget, initiator of the approach with the CCAS d'Aspet, congratulated Patricia, the cook for her enthusiastic support for the project: "You really encouraged us to set up this reception. You did not hesitate despite the extra work it gives you".
No more surprised than that, the children welcomed the elders, happy to discuss various and very varied subjects. The pleasure was reciprocal and the meal took place nicely in peace. At the time of parting, some children asked: "Are you coming back tomorrow, will you come back to our table?". All the staff also welcomed these newcomers very well.
on an experimental basis, 6 people can be welcomed, each school day, to have a meal at the modest price of 5€. Just book at the town hall on 05 61 88 40 22.
The town hall of Aspet benefits from the state system: "The canteen at 1€", granted, on request, to disadvantaged rural communities of less than 10,000 inhabitants. For communities setting up the "€1 canteen" since August 1, 2022, the price of the meal is €1 maximum for families, state aid is €3.
This aid is granted to families whose family quotient CAF is less than or equal to €1,000. In Aspet, 90% of families benefit from it. The town hall is responsible for the premises, the management of the canteen (ordering meals) and part of the staff.