Ukraine: in Lviv, the reconstruction through sport of war wounded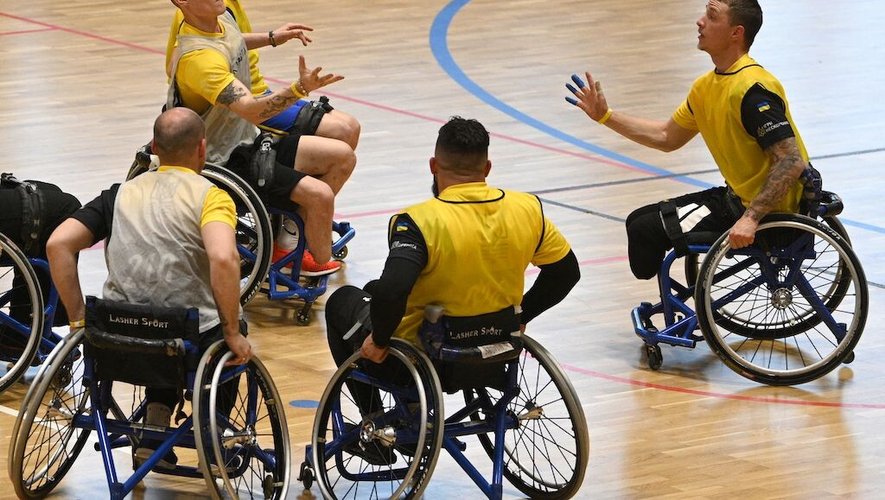 (AFP) – Injured during the defense of their country which suffered the Russian invasion, Ukrainian soldiers are now preparing in Lviv for the Invictus Games, a sports competition bringing together disabled soldiers from all over the world, determined to "move forward". .
They were mechanics, navy soldiers or other soldiers, the conflict against Russia marked them for life in their flesh. They are now war veterans and find themselves in western Ukraine, an area far from the fighting, for their rehabilitation, which they spend doing sports.
"It's really great, I started weightlifting with a personal trainer, volleyball and swimming," says enthusiastic Nazar Nozoviï, 23, a former army mechanic.
While he hardly knew how to swim before, he told AFP now that he can do "half an Olympic swimming pool, (i.e.) 25 meters" and hope to participate in the Invictus Games this year.
These games created in 2014 by Prince Harry for soldiers wounded in combat, take place this year from September 9 to 16 in Dusseldorf (Germany).
In Lviv, in the sports complex where AFP visited, athletes from several disciplines compete, all in a good atmosphere.
Nazar, amputated with both legs, is particularly motivated: "We don't just feel sorry for our injuries. No. We are moving forward, we are improving".
Vitaliï Skidan, 27, a grenade launcher operator, also sees his new life as a "new stage".
This former soldier of the Azov battalion several years ago assures him: "My life is not over". "It's only just begun, with new emotions, new opportunities and new challenges," he adds, a metal prosthesis attached to his left leg.
Ditto for Vassil Stoujenko, 40, who, once injured, said to himself: "+ Yes, you were affected, but life goes on, (you) have to live it to the fullest +". "So I found myself in the sport," he explains, towel on his shoulder, after finishing pool lengths.
For Oleksandre Bichko, 26, a former commander in the Ukrainian army who took up running, participating in the Invictus Games in September "would be a great achievement in my career and in my personal life", he tells the AFP.
Words that echo Serguiï Maïdeniuk, a deputy commander, to the point of estimating that the sports competition that is looming "gives each wounded soldier a chance to believe in himself and in his abilities".
"Whatever the result, they are winners: they have overcome their illnesses and their inner fears," he wants to believe.
Some, however, want to return to their previous life.
This is the case, for example, of Benjamin Nazartchouk, 21, a former navy soldier, who jumped on two mines during the counter-offensive in the Kherson region last fall.
"My injuries are quite recent," he says. "But when I'm cured, I think I'll come back to war," he says optimistically. But "for now, I will represent Ukraine, for a year or two".