Toulouse: against noise pollution at the airport, associations and elected officials demonstrate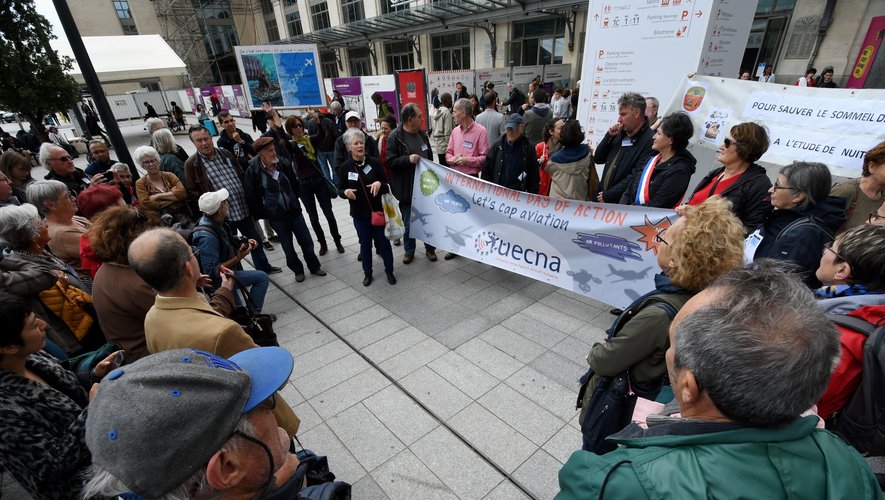 the essential
The collective against air pollution of the Toulouse conurbation and several associations were joined for a demonstration, by elected representatives from the left. They are asking for a cap on the number of annual flights at Toulouse Blagnac airport, and a curfew at night.
"We don't want so many planes over our heads anymore, it's a matter of public health." Residents of the Collective against air pollution in the Toulouse conurbation (CCNAAT) were joined by several associations and elected leftists on Friday, May 12… on the forecourt of Matabiau station. "We are here to, by the way, thank those who take the train", explains with a smile Chantal Beer-Demander, the president of the collective.
Request to cap the number of flights at 100,000 per year
The gathering of around sixty people was part of a European mobilization to demand that the number of flights in airports be capped at 100,000 per year. "Amsterdam got it, why not us?" asks the collective. "We are not against the plane, but we want a reasonable decrease in the number of flights over our heads". The collective has obtained the schedule of flights from the airport, and the number of night flights (3,900) would be greater "than all the historical values ​​we have", explains the collective.
"ATB transforms our airport into a "low cost" place for the night
Local residents also point out that Ryan Air is increasing the number of its night flights by more than 40% for June and July 2023. Take-offs between 10 p.m. and 6 a.m., which "only Ryan Air and Easy Jet companies authorize", are in the sights of local residents.
"These findings confirm that ATB is transforming our airport into a "low cost" place for the night. This company and its main shareholder Eiffage sweep away the commitment, on the 10 p.m. – 6 a.m. range, to reduce by 40% the populations affected by airborne noise, taken in the Noise Prevention Plan of March 2022."