Toulouse: a demonstration by nursing staff against the closure of the La Grave Medical Center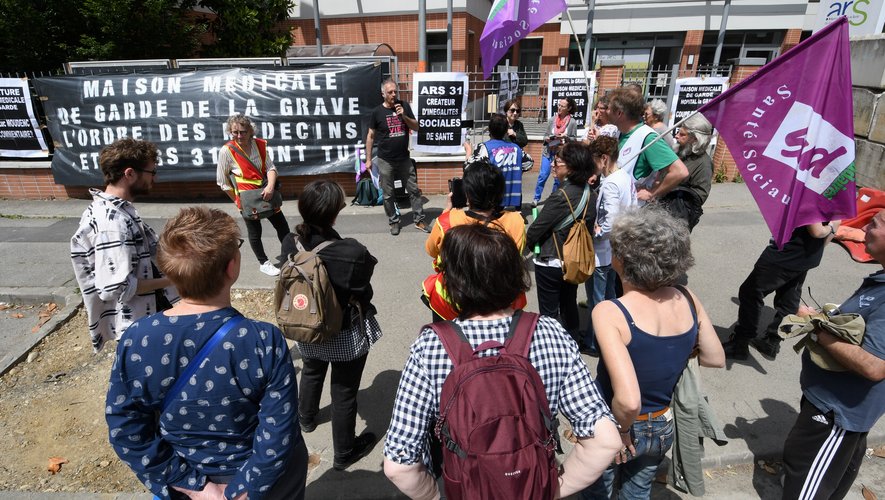 the essential
Many healthcare unions and defense committees demonstrated on Friday May 26 against the closure of the La Grave Medical Care Center on May 31.
Many nursing staff demonstrated on Friday, May 26, in front of the Regional Health Agency (ARS), chemin du Raisin in Toulouse, to oppose the closure, on May 31, of the Medical Guard Center located in the enclosure of the hospital of La Grave.
A rally held at the call of the Defense Committee of La Grave Hospital, Act up southwest, CGT health of Toulouse University Hospital, South social health and the Saint-Cyprien neighborhood committee.
A delegation was to be received at the ARS. Concern is at its peak about the future of this downtown medical structure which plays an essential social health role for people who "cannot afford a bus ticket to go to the emergency room at Purpan," says Sylvie, a caregiver and CGT delegate.
Nearly 11,000 consultations in 2022
In 2022, 10,728 consultations were carried out at the Medical Center on duty, a third of the patients are children under the age of 6, where around thirty general practitioners, nurses, nursing assistants, psychologists, etc
In Toulouse, the subject is very sensitive. For the municipal opposition, the closure of the MMG is equivalent to "fewer caregivers for more gentrification". "While more than one in two Toulouse residents live in a medical desert, with an average of 121 practitioners per 100,000 inhabitants, the ARS has removed operating subsidies from the Maisonmédi cal de La Grave [environ 85 000 euros] which will close its doors definitively at the end of May", denounces Antoine Maurice, municipal councilor and president of the Toulouse Ecologiste, Solidaire & Citoyenne group.
"We learned of the closure on May 31 of the Medical Center in a very abrupt way, protests Sylvie. We often do social medicine for people who can only come in the evening and on weekends for treatment. We should have kept this medical center, there is a lot of precariousness in the city center ".