The Terre de Pastel company unveils its luxurious hotel and well-being complex in eastern Toulouse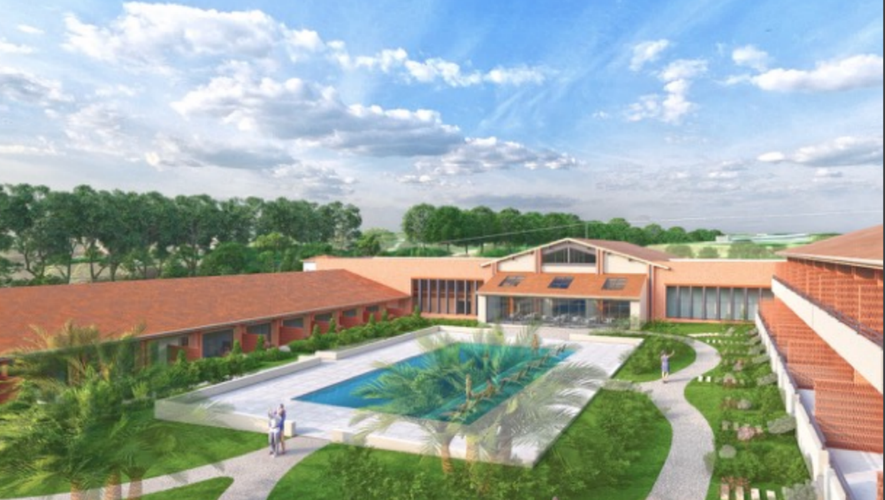 the essential
A pastel culture site and a 5-star hotel complex, complete with a spa and a gourmet restaurant, will see the light of day in Buzet-sur-Tarn by mid-2025, on the occasion of the 10th anniversary of the Terre company. of Pastel.
For 10 years now, Terre de Pastel has been promoting the advantages of pastel in different fields, ranging from cosmetics to well-being and textiles, from its stronghold in Labège. But it is in Buzet-sur-Tarn that his big project will see the light of day by spring 2025, with an area of ​​7 hectares.
The pastel sheet has multiple virtues known to the ancients for centuries, constituting an officially recognized intangible heritage. Within Terre de Pastel, demonstration workshops and a museum highlight the history and uses of this emblematic plant of our territory.
4 hectares of additional crops
For its tenth anniversary, the company will considerably increase its cultivated areas, which will allow it to consolidate the origin of its products and accelerate the development of its product range. Thus, it announces the creation of an agricultural domain, the Bleu par Nature domain. As the founder of the Toulouse brand, Jean-Jacques Germain, points out, "it's a daring challenge, but when we started 10 years ago, we were first guided by a passion for this extraordinary plant and succeeded with Sandrine Banessy to unite a group of actors and craftsmen around Pastel. »
On this estate which will extend over seven hectares, four will be devoted to the cultivation of pastel. Sown last month, the plant must be harvested in the fall.
60 rooms, 3 independent villas with swimming pool
A new 1,000 m2 Spa and a training and research center around treatment protocols will be located alongside a 5-star hotel, with 60 rooms and suites, and 3 independent villas with private pools. Its hotel category aims to welcome customers seeking both high quality services and ethical requirements, particularly in terms of sustainable development. This purpose should thus come into synergy with the nearby Golf de Palmola, of which Bleu par Nature has been a long-standing partner. This human proximity and this culture of development of the territory are an asset which is also combined with the investment of Gilles Joviado, as mayor of Buzet-sur-Tarn and vice-president of the community of communes Val'Aïgo.
A restaurant with a starred chef
The future site could not ignore a famous table. Jean-Jacques Germain entrusted the kitchens to Michelin-starred chef Guillaume Momboisse (1 star in the Michelin Guide).
A space dedicated to business tourism of 900 m2 will complete the service offer, to host professional events. Bordered by the national forest of Buzet-sur-Tarn, accessible by the aptly named Autoroute du Pastel which connects Toulouse to Albi, the Domaine Bleu par Nature will take place in what was its historic cradle. A place that is perfect for prolonging the history of the Occitan plant, long gone, but now resurrected, and looking to the future.