The New Super CJ Animated Series is Launching a Drawing Contest with Three $500 Prizes to Help Raise Awareness for Children's Mental Health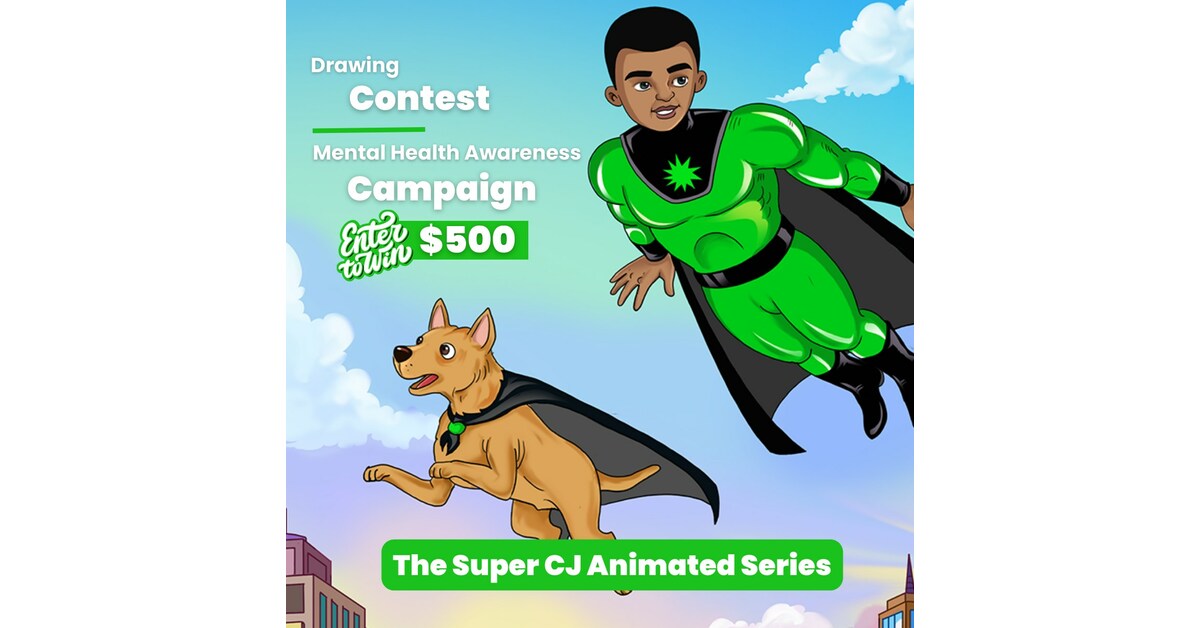 HYATTSVILLE, Md., May 16, 2023 /PRNewswire/ — Super CJ, the strongest boy in the world, is launching a new drawing contest sponsored by the Epic Foundation with one $500 prize for each school level (elementary, junior high, and high school) to help raise awareness for children's mental health.
The contest invites participants to watch the trailer for the upcoming Super CJ animated series @JustLikeMeTV on YouTube or https://www.justlikemeworld.com/justlikemetv, then draw the Super CJ character sharing a message of support for children who may be struggling with mental health issues.
Entries must be posted on social media by tagging @JustLikeMeWorld and @EpicSouthFlorida with #SuperCJ.
The contest is open to all students from grades 3-12. The entries must include grade level, first name of the student, city and state.
"We are excited to use our animated series to help raise awareness for children's mental health. Our books about Super CJ and Princess Briana have already helped thousands of children across the world with mental health issues," said Yaba Baker, the creator and executive producer of the Super CJ animated series. "We want to remind children that they are not alone and that there is help available."
Each winner's drawing will be featured on all the @JustLikeMeWorld social media pages and will receive a personalized message from the show's creator. Additionally, the winner will receive a Super CJ merchandise package, a Super CJ book, blanket, and pillowcase.
The Super CJ drawing contest is the latest initiative from the show's creators to promote mental health awareness and engage with fans. The series aims to be highly entertaining for the entire family with a special commitment to bringing awareness to children's mental health.
The contest also supports mental health organizations working to improve access to mental health services for children. A portion of the proceeds from our book and merchandise sales will be donated to these organizations.
"Children's mental health is an important issue, and we are proud to support organizations that are working to make a difference," said Nathan Aferi, co-producer of the Super CJ animated series.
By entering the contest, you submit to the rules listed on the https://www.justlikemeworld.com/contestrules page. Submit all entries by May 31st.
Contact
Name: Yaba Baker
Email: [email protected]
Phone: 888-622-3022 x700
Website: www.justlikemeworld.com
SOURCE Just Like Me, Inc.