Tampa General Hospital Performs First Living Donor Liver Transplant on Florida's West Coast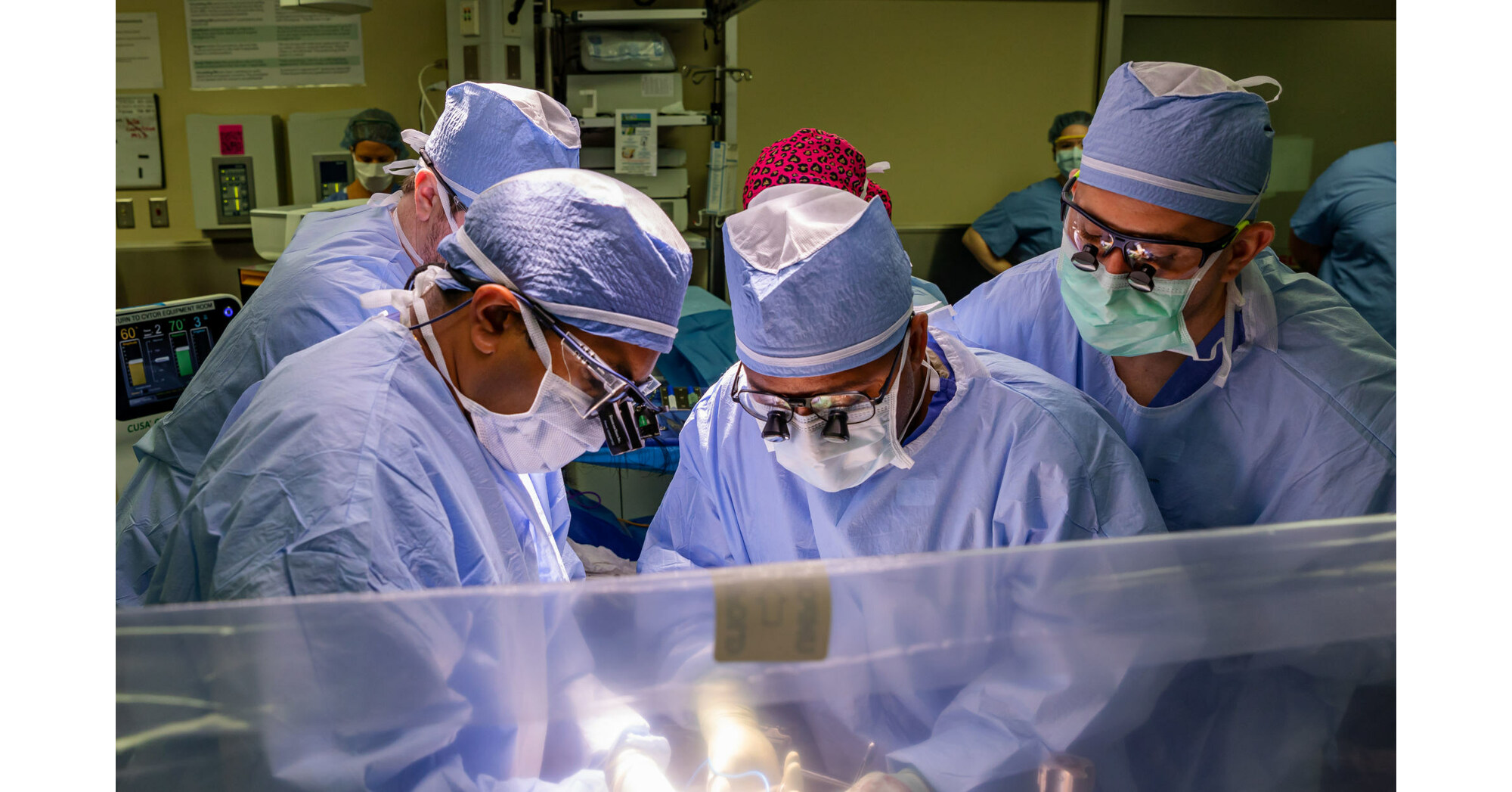 Living donation will expand access to lifesaving liver transplantation for patients with end-stage liver disease and liver cancer.
TAMPA, Fla., May 23, 2023 /PRNewswire/ — Tampa General Hospital (TGH), one of the nation's top 10 transplant centers, wrote a new chapter in its history earlier this month with its first living donor liver transplant, which also is the first such surgery on Florida's west coast.
Previous liver transplants at the hospital have utilized livers from deceased donors. In living donor liver transplantation, a healthy person donates a portion of their liver to an individual with a poorly functioning liver. After the portion is removed, the donor's remaining liver regrows to near its full size and capacity within a couple of months after surgery. The transplanted liver portion grows and restores normal liver function in the recipient.
"Our living donor liver transplant program is a prime example of Tampa General continuing to drive innovation to deliver world-class health care," said John Couris, president and CEO of Tampa General. "This program opens up additional access to patients in need of a liver transplant and has the potential to transform the lives of patients and their families in the Tampa Bay region, Florida and across the United States."
Dr. Kiran Dhanireddy, vice president and chief of the TGH Transplant Institute and surgical director of the Comprehensive Liver Disease and Transplant Center at the TGH Transplant Institute, performed the recipient operation. "Living donor liver transplant is another avenue to save more lives of patients with liver disease in our community," Dhanireddy said. "The profound generosity of living donors circumvents the need for extended periods of time to gain access to lifesaving transplantation."
Live-donor transplantation has many benefits. Most notably, a person who decides to donate a portion of their liver can reduce the waiting time for a recipient to receive a transplant. In addition, a closer match is more likely to occur with a live donor, and surgery can be scheduled more quickly and easily. Research also has shown that recipients of organs from living donors have better outcomes than those who receive organs from deceased donors.
"It's a win-win for everyone," said Dr. Ashish Singhal, director, Living Donor Liver Transplant, who performed the donor surgery for Tampa General's first living donor liver transplant. "This can drastically reduce the time and costs of waiting for a donor organ," Singhal added. "Donor safety is always a priority. At the same time, it most definitely can give very sick people an opportunity to experience improved health."
An entire team of health care professionals participated in the transplant operation, including Dr. Diego Reino, an experienced Tampa General transplant surgeon who assisted Dhanireddy and Dr. Vijay Subramanian, a liver transplant surgeon at Tampa General who assisted Singhal.
The operation itself is complex. During the donor operation for an adult recipient, the right lobe of the liver is removed. The technique can preserve the blood supply from the hepatic artery, the portal vein, the bile duct and the right hepatic vein. As part of the procedure, the recipient's diseased liver is completely removed and the donor's right lobe is put in its place. Blood vessels and bile ducts are then connected to their appropriate counterparts.
The Tampa General Comprehensive Liver Disease and Transplant Center began in 1987 and is now one of the busiest such transplant centers in the country, with a record of more than 2,200 operations. The high patient volumes reflect the uncommon and challenging hepatic diseases the TGH Transplant Institute treats compared to other hospitals. In addition, the time required for a transplant is historically shorter than national averages, according to the Scientific Registry of Transplant Recipients data.
For nearly 50 years, Tampa General has been a national leader in lifesaving organ transplantation. In 2022, the hospital performed 682 transplants, a 20% increase in the number of procedures over the previous year. According to the United Network for Organ Sharing (UNOS), the national rate of transplants grew by 3.7% in 2022 over 2021.
"Tampa General had another record year for transplant volume due to the commitment of our team to the health of the sickest patients in our community," Dhanireddy said. Living donor liver transplant along with other innovative and lifesaving techniques allow the academic health system to continue to have a place amongst the top transplant hospitals in the country.
Visit https://www.tgh.org/services/transplant to learn more about the Tampa General Transplant Institute.
Link to additional photos and b-roll:
https://mediashare.tgh.org/living-liver-transplant
ABOUT TAMPA GENERAL HOSPITAL 
Tampa General Hospital, a 1,040-bed, not-for-profit, academic health system, is one of the largest hospitals in America and delivers world-class care as the region's only center for Level l trauma and comprehensive burn care. Tampa General Hospital is the highest-ranked hospital in the market in U.S. News & World Report's 2022-23 Best Hospitals, and is tied as the third highest-ranked hospital in Florida, with seven specialties ranking among the best programs in the United States. Tampa General Hospital has been designated as a model of excellence by the 2022 Fortune/Merative 100 Top Hospitals list. The academic health system commitment to growing and developing its team members is recognized by two prestigious Forbes magazine rankings – first nationally in the 2022 America's Best Employers for Women and sixth out of 100 Florida companies in the 2022 America's Best Employers by State. Tampa General is the safety net hospital for the region, caring for everyone regardless of their ability to pay, and in fiscal year 2021, provided a net community benefit worth more than $224.5 million in the form of health care for underinsured patients, community education, and financial support to community health organizations in Tampa Bay. It is one of the nation's busiest adult solid organ transplant centers and is the primary teaching hospital for the USF Health Morsani College of Medicine. With six medical helicopters, Tampa General Hospital transports critically injured or ill patients from 23 surrounding counties to receive the advanced care they need. Tampa General houses a nationally accredited comprehensive stroke center, and its 32-bed Neuroscience, Intensive Care Unit is the largest on the West Coast of Florida. It also is home to the Jennifer Leigh Muma 82-bed neonatal intensive care unit, and a nationally accredited rehabilitation center. Tampa General Hospital's footprint includes 17 Tampa General Medical Group Primary Care offices, TGH Family Care Center Kennedy, TGH Brandon Healthplex, TGH Virtual Health, and 21 TGH Imaging powered by Tower outpatient radiology centers throughout Hillsborough, Pasco, Pinellas and Palm Beach counties. Tampa Bay area residents also receive world-class care from the TGH Urgent Care powered by Fast Track network of clinics. To see a medical care professional live anytime, anywhere on a smartphone, tablet or computer, visit Virtual Health | Tampa General Hospital (tgh.org). As one of the largest hospitals in the country, Tampa General Hospital is the first in Florida to partner with GE Healthcare and open a clinical command center that provides real-time situational awareness to improve and better coordinate patient care at a lower cost. For more information, go to www.tgh.org.
Media Contact: Beth Hardy, APR
Senior Communications Specialist
(813) 844-7322 (direct)
(813) 510-6363 (cell)
[email protected]
SOURCE Tampa General Hospital