Sunway Medical Centre Velocity Awarded by Frost & Sullivan for Leading the Malaysian Hospital Industry with Holistic Medical Care and Pioneering Technologies USA – English India – English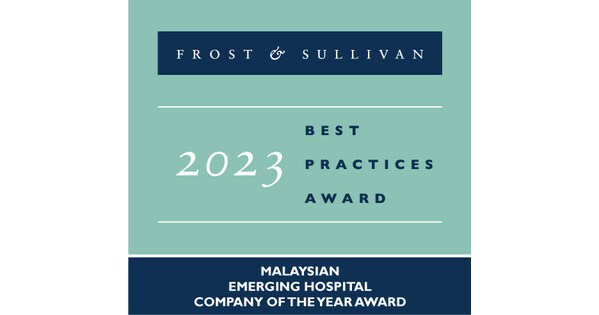 Sunway Medical Centre Velocity in Kuala Lumpur delivers a wide range of medical specialties supported by highly trained professionals and advanced technologies.
SAN ANTONIO, June 1, 2023 /PRNewswire/ — Frost & Sullivan recently researched the Malaysian hospital industry and, based on its findings, recognizes Sunway Medical Centre Velocity (SMCV) with the 2023 Emerging Hospital Company of the Year Award. Since its establishment in 2019, SMCV has been a leading hospital in Kuala Lumpur that serves patients in need of various specialized services, including obstetrics & gynecology, pediatrics, neonatology, fertility, orthopedics, neurosurgery, internal medicine, cardiology, oncology, urology, dermatology, and psychiatry.
The hospital's advanced healthcare facilities and outstanding services help retain its patient base and lead the highly competitive Malaysian hospital industry. SMCV adheres to healthcare best practices to drive and sustain growth. This philosophy has enabled the hospital to rapidly grow and establish a robust brand presence in the Malaysian healthcare community.
Furthermore, SMCV actively invests in staff training to sustain its exceptional patient care, and its management team is working to turn the hospital into a comprehensive health facility for all medical needs in the next few years.
"In addition, SMCV is the first hospital in Malaysia to commit to Race to Zero, a global campaign led by the United Nations to achieve net-zero greenhouse gas emissions by 2050. The hospital supports sustainability goals in energy, waste, transportation, food, and water through various campaigns and initiatives," said Bhaskar Vittal, industry principal at Frost & Sullivan.
SMCV is committed to adopting digital technologies as a pillar of its future growth. Consequently, the hospital has undertaken multiple digitalization initiatives, such as express registration, electronic medical records (EMRs), vital sign machine integration into EMRs, the SunMed Go platform, and its own eCommerce platform.
These initiatives resulted in improved patient monitoring and reduced waiting time, which have substantially improved SMCV's overall patient experience. For instance, the SunMed Go mobile app enables patients to book appointments with their preferred doctors, check live queues, view medical records, and access the latest wellness packages from their mobile phones.
"Patient care is our utmost priority at SMCV, and we strongly believe in leveraging on advanced technologies to elevate the quality and efficiency of our everyday workflow. With this in mind, the team at SMCV is constantly incorporating more initiatives to further enhance the holistic patient experience at our hospital." emphasizes Dr Khoo Chow Huat, Managing Director of Hospital & Healthcare Operations of Sunway Healthcare Group.
SMCV also invested in a robotic exoskeleton machine designed to aid the rehabilitation of patients with mobility impairments, which makes the hospital one of the few facilities in Malaysia with such sophisticated technologies. Additionally, the hospital's medical equipment is connected to digital solutions, meaning that patient data is easily captured and thoroughly analyzed.
"SMCV strongly believes that digital technology adoption will be key to its future growth, especially for workflow efficiencies," noted Vittal.
Each year, Frost & Sullivan presents a Company of the Year award to the organization that demonstrates excellence in terms of growth strategy and implementation in its field. The award recognizes a high degree of innovation with products and technologies, and the resulting leadership in terms of customer value and market penetration.
Frost & Sullivan Best Practices awards recognize companies in various regional and global markets for demonstrating outstanding achievement and superior performance in leadership, technological innovation, customer service, and strategic product development. Industry analysts compare market participants and measure performance through in-depth interviews, analyses, and extensive secondary research to identify best practices in the industry.
About Frost & Sullivan
For six decades, Frost & Sullivan has been world-renowned for its role in helping investors, corporate leaders, and governments navigate economic changes and identify disruptive technologies, Mega Trends, new business models, and companies to action, resulting in a continuous flow of growth opportunities to drive future success. Contact us: Start the discussion.
Contact:
Tarini Singh
P: +91- 9953764546
E: [email protected] 
About Sunway Medical Centre Velocity
Sunway Medical Centre Velocity is situated in the township of Sunway Velocity, Cheras, Kuala Lumpur. The hospital offers comprehensive tertiary healthcare services with a capacity of 237 beds, 62 consultant suites and 6 operating theatres. Its range of medical services include facilities and advanced medical technologies for outpatient and inpatient specialty care, health and wellness programs and 24-hour emergency services.
Sunway Medical Centre Velocity has Centres of Excellence with specialized medical services to its patients. Each centre is supported by experienced medical professionals and equipped with digitally advanced technologies to provide patients with the best possible care. Among the Centres of Excellence in SMCV are Women and Children Centre, Neuro Centre, Heart and Lung Centre, and Orthopaedic Centre.
Sunway Medical Centre Velocity is an Award-Winning Hospital, recently recognized by Frost & Sullivan Best Practices Awards as the 2023 Emerging Company of the Year for its extensive facilities, outstanding services and digitalization approach in delivering the best patient care, aside for its commitment in being the first hospital in Malaysia to commit to Race to Zero, a global campaign led by the United Nations to achieve net-zero greenhouse gas emissions by 2050.
This hospital was also awarded by Globalhealth Asia Pacific Awards 2022 with three awards acknowledging the quality of its healthcare services. Aside from being named Best New Hospital in Asia Pacific, Sunway Medical Centre Velocity was also named Obstetrics and Gynaecology Service Provider of the Year and Wellness Service Provider of the Year.
Sunway Medical Centre Velocity is part of Sunway Healthcare Group which comprises of Sunway Medical Centre, Sunway Medical Centre Velocity, Sunway Specialist Centre Damansara, Sunway Medical Centre Penang and Sunway Medical Centre Singapore. Sunway Healthcare Group is affiliated with the Jeffrey Cheah School of Medicine & Health Sciences, University of Cambridge, Royal Papworth Hospital and Harvard Medical School to further meet the demands of clinical care, education, and research.
For more information on Sunway Medical Centre Velocity, please visit: www.sunmedvelocity.com.my
Contact:
Nurul Ayu Nadia
P: +603 9772 9287
E: [email protected] 
SOURCE Frost & Sullivan