Social networks, a space to talk about illness and death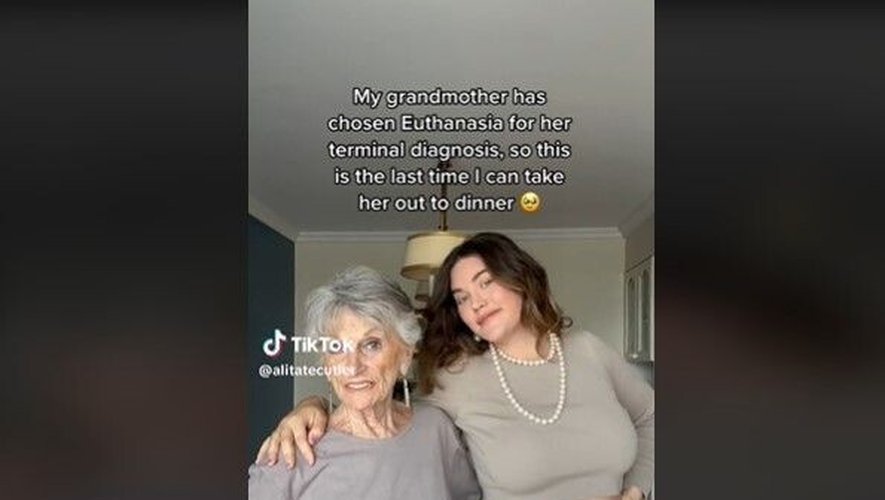 (ETX Daily Up) – Talking about death or illness isn't always easy, especially on social media. Some socionauts have nevertheless decided to go through these channels to talk about it and try to give a more realistic image. Recently, an influencer decided to show without filter the last days of her grandmother before the latter resorted to euthanasia. A criticized gesture, which calls into question the exposure of illness and death on social networks.
On May 18, Ali Tate Cutler, model of Victoria's Secret, was the target of criticism after showing on the social network his last day in the company of his Canadian grandmother. Suffering from terminal cancer, the latter chose to resort to euthanasia to end her life. Euthanasia has been legal in Canada since 2016 for people over 18. Ali Tate Cutler had the idea to capture his last moments with his grandmother. "My grandma chose euthanasia for her last terminal stage, so this is the last time I can take her to dinner," one of her videos about her grandma captioned. Watched near 13 million times, the video initially received positive feedback on its approach. Some praised the grandmother's courage: "It is often said that dying on your own terms is the best way. I wish your grandmother good luck in everything that comes next."
At a time when euthanasia and assisted suicide are at the heart of political and societal debates (a few countries, such as Spain or Portugal, authorize them), the approach of this Texan is still rare. On TikTok, the hashtag #euthanasia more generally refers to videos of animals, particularly dogs.
The American, however, decided to document her grandmother's decision and show her life without artifice through videos in total opposition to her usual posts. Nevertheless, some netizens criticized him for sharing such a tragic moment. "Why post this? It's so bad", can we read for example in the comments. On Twitter, it is misunderstanding too. "An Instagram influencer makes cute videos about her grandmother who chose assisted suicide. I could throw my phone out the window," says a user. Among the reproaches addressed to Ali Tate Cutler, that of "staged" such a tragic event, like of the tendency to dance or sing alongside inanimate people. On a tiktok video, one could, for example, see a young woman dancing next to a baby in an incubator between life and death, following a lack of oxygen.
In an era where people have become accustomed to sharing every bit of their life on social media, illness and death continue to be sensitive topics for many. But more and more socionauts are trying to make these subjects less taboo and open up to discussion and debate. Cancer, for example, is also one of the still sensitive topics that Internet users are trying to discuss on TikTok. The hashtag #cancer alone, not counting its various variants, has more than 36 billion views. Recently, an Internet user filmed herself every day taking care of her sick husband in order to show the reality of the disease within a couple. His video was generally well received by the TikTok community. Another shows a tearful daughter shaving her cancer-stricken mother's hair. In the comments, Internet users show kindness: "She is always beautiful" or "I have tears in my eyes".
Other diseases are also mentioned on the Chinese social network. For example, more and more people with alopecia have decided to talk about it, like the Internet user chloebean, showing off her makeup and hair routines. Today the hashtag "alopecia" has six billion views, helping other people with the condition come to terms with their appearance.