SNF Polychemie Dolton, Illinois Site Awarded Star-Level Recognition by OSHA's Voluntary Protection Program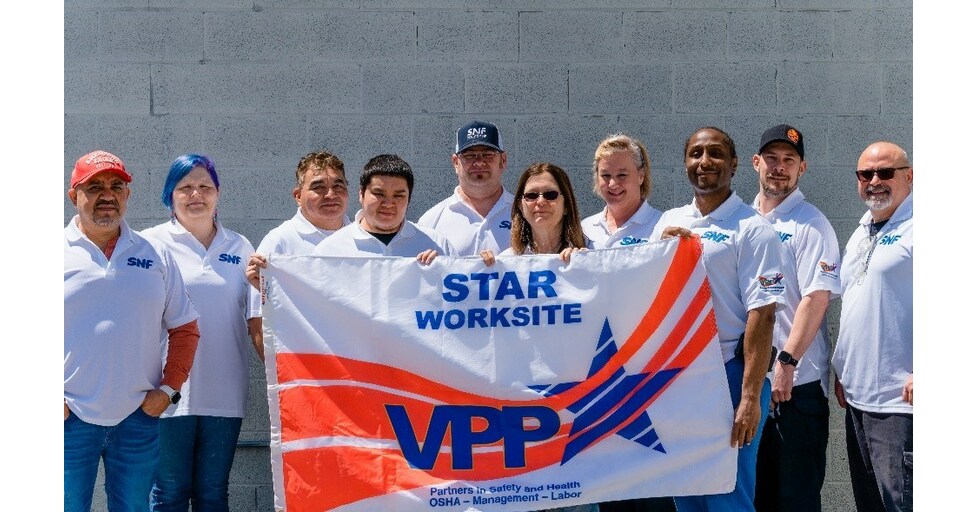 RICEBORO, Ga., May 22, 2023 /PRNewswire/ — The U.S. Department of Labor's Occupational Safety and Health Administration (OSHA) has awarded Star-Level recognition under its Voluntary Protection Program (VPP) to the SNF Polychemie site in Dolton, Illinois. This SNF facility has been commended for its outstanding safety and health programs.
SNF Polychemie (Dolton) has successfully provided water treatment products and services to companies and municipalities in the Midwest U.S. for over 30 years. This SNF site's most significant production is solution flocculants for nearby municipalities. It also serves as a central distribution hub for other SNF products in the Midwest, capitalizing on its proximity to end-users.
Dolton's employees are instrumental in maintaining safety and health programs at the highest level through the SAFESTART® initiative, routine inspections, hazard reviews, process hazard and job safety analyses, and standard operating procedure reviews. Its over 2,000 consecutive injury-free days record further emphasizes their commitment to safety.
OSHA Regional Administrator Bill Donovan lauded SNF Polychemie's (Dolton) dedication to safety, stating, "SNF Polychemie's commitment to creating a safe working environment every day is evident in their achievement of becoming a VPP site." He added, "VPP programs recognize employers and workers with effective safety and health programs and injury and illness rates below national Bureau of Labor Statistics averages for their respective industries."
OSHA's VPP fosters cooperation between OSHA, management, and labor in workplaces with comprehensive safety and health management systems. SNF Polychemie's (Dolton) VPP status is a testament to its continuous improvement efforts (Kaizen, 5S, Lean Program) and the concerted efforts of its employees to prioritize occupational safety and health.
About SNF
SNF is a specialty chemical group based in Andrezieux, France, whose products contribute to treating, recycling, preserving water, saving energy, and reducing carbon footprint. A pioneer in soft chemistry, SNF has long been present on all continents, employing 7,500 people, including 2,200 in the USA. Innovation and movement towards a cleaner, less carbon-intensive world accelerate SNF's growth.
With SNF Group turnover of €4.9 billion ($US 5.17 billion) in 2022, SNF is the world's leading manufacturer of water-soluble polymers and associated monomers. SNF has major production sites in the USA (Riceboro, GA; Plaquemine, LA; Pearlington, MS); Europe (France, UK); and Asia (China, India, Korea), with many smaller plants located throughout the world. 
For More Information, Contact:
John Pittman, SNF Group Board Member and President of SNF Holding Company (USA)
[email protected]
912-884-3366
SOURCE SNF Holding Company