SIBIONICS to Make Debut at the 59th Annual Meeting of the European Association for the Study of Diabetes (EASD)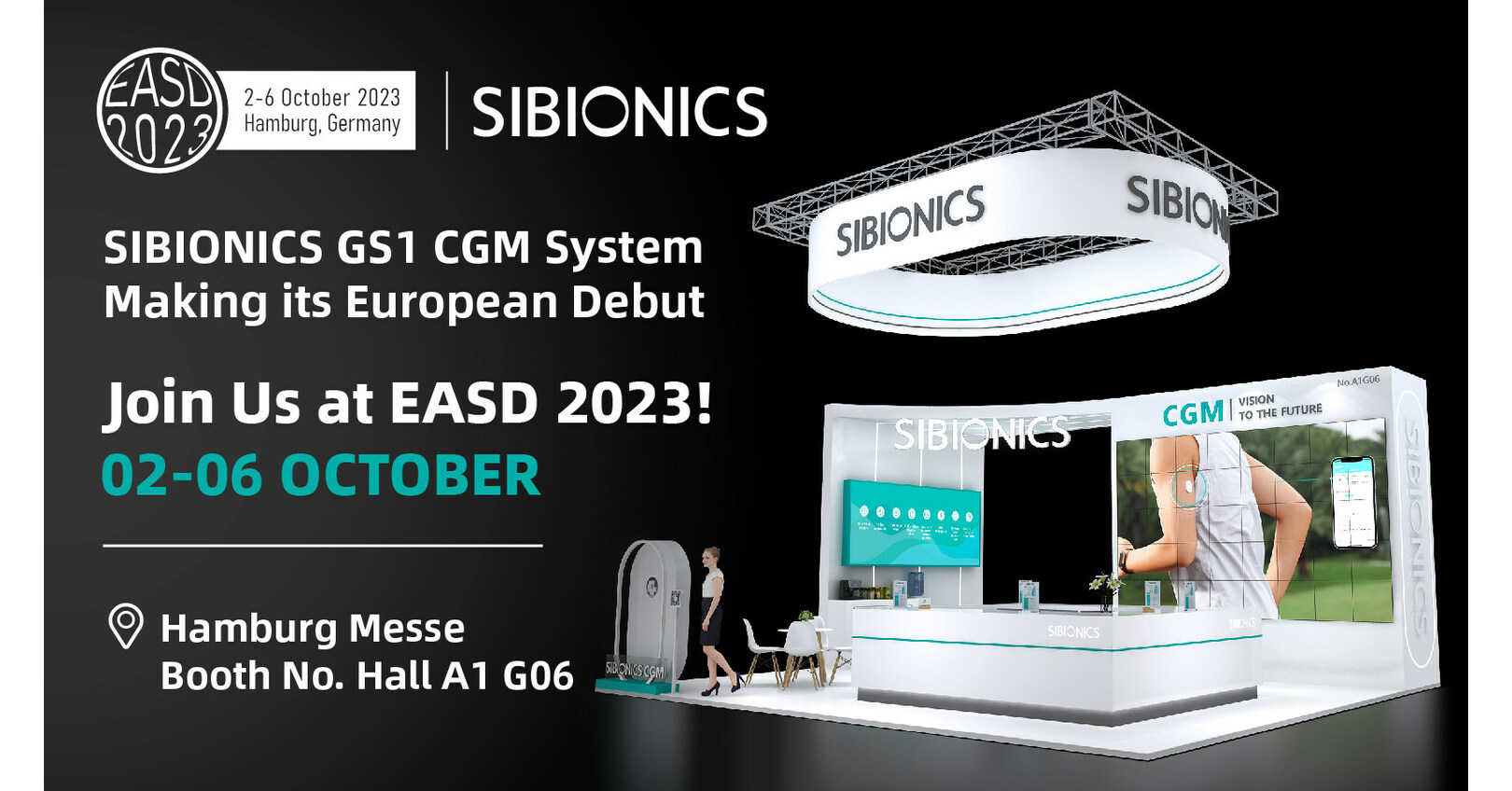 SHENZHEN, China, Sept. 30, 2023 /PRNewswire/ — The 59th Annual Meeting of the European Association for the Study of Diabetes (EASD) is set to take place from October 2nd to 6th, 2023, in Hamburg, Germany. Making its debut at this prestigious event, Shenzhen Sibionics Technology Co., Ltd. (hereinafter referred to as "SIBIONICS") will unveil its flagship product, the SIBIONICS GS1 Continuous Glucose Monitoring System (hereinafter referred to as "SIBIONICS GS1 CGM"), while also sharing its wealth of expertise and cutting-edge glucose monitoring technology with the global community.
Established in 2015, SIBIONICS is a high-tech firm specializing in the integration of implantable medical hardware technology and artificial intelligence algorithms. With its exceptional product quality and a user-centric service philosophy, SIBIONICS CGM captured an impressive market share, reaching nearly 20% within its inaugural year of launch in China, making it the leading domestically produced CGM. SIBIONICS GS1 CGM is the world's second CGM product to adopt second-generation sensor technology, offering calibration-free and scan-free features, as well as 14 days of real-time continuous monitoring. It stands out for its ease of use, accurate glucose levels measure, and comprehensive connectivity in various scenarios. The product is on the verge of obtaining CE certification from the European Union, promising a more scientifical and personalized approach to diabetes management for global users.
Additionally, SIBIONICS will present the SiBio KS1 Continuous Ketone Monitoring (CKM) System, a bio-wearable for metabolic management. Powered by SIBIONICS CGM technology, the KS1 stands as the world's pioneer in combining sensor and transmitter functions, offering continuous real-time monitoring ketone levels up to 14 days.
What sets KS1 apart is its ability to calculate real-time fat-burning rates based on ketone levels, helping those with weight management goals assess their optimal fat-burning state. It is an innovative and groundbreaking product that completely revolutionizes the application of CKM in daily life, achieving the visualization and intelligence of the management process, making CKM even more significant in metabolic management.
As an innovative high-tech company that combines medical artificial intelligence technology with innovative medical products, SIBIONICS is expanding its portfolio to include more innovative medical products with data connectivity attributes, such as CLM, multi-functional sensor systems, capsule endoscopy systems, and insulin pump closed-loop systems. We sincerely invite experts, doctors, and patients to explore our products and exchange experiences.
SIBIONICS GS1: https://www.sibionicscgm.com/
SiBio KS1: https://www.sibiosensor.com/
Contact: [email protected] 
SOURCE SIBIONICS