Severity of Antimicrobial Resistance Threat Drives Sector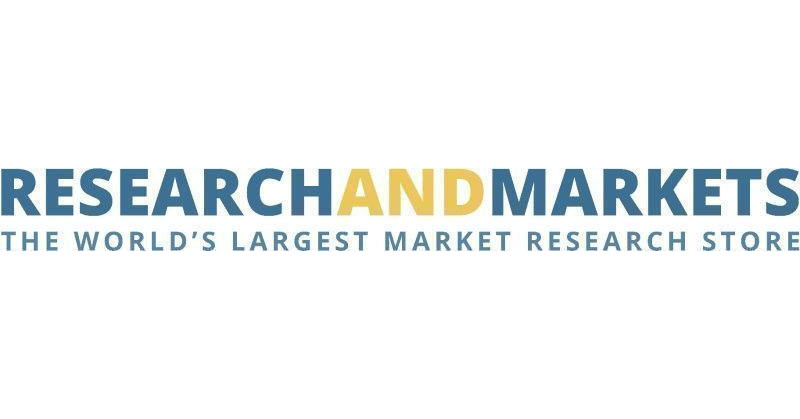 DUBLIN, May 22, 2023 /PRNewswire/ — The "The Global Market for Advanced Antimicrobial Coatings and Technologies 2023-2033" report has been added to  ResearchAndMarkets.com's offering.

The use of advanced antimicrobial coatings and technology (virucidal, bactericidal and fungicidal) has come to the fore recently due to the impact of the Covid-19 crisis, and has greatly increased demand, especially for high touch surfaces in healthcare, retail, hotels, offices and the home.
Antimicrobial resistance (AMR) has been declared one of the top 10 global public health threats facing humanity by the World Health Organization and is projected to be responsible for the death of 10 million people every year by 2050. Antimicrobial surface technologies are considered an important factor in limiting the spread of infectious diseases, as a form of environmental disease control.
Industry interest in these types of coatings products was previously hindered by high price, and mainly limited to food packaging and healthcare settings. However, a significant market opportunity has arisen for companies to develop advanced coatings and surface solutions that can counter the health hazards caused by bacteria and viruses for a wide range of applications.
Their use makes it possible to provide enhanced antimicrobial, antiviral, mold-reducing and TVOC degrading processes, that are non-toxic and environmentally friendly, allowing for exceptional hygiene standards in all areas of work and life. As a result, it is possible create a healthier living and working environment and to offer holistic solutions to people with a diminished immune system. Antimicrobial-based surface coatings prevent the spread of bacteria, fungi and viruses via infected surfaces of so called high-traffic objects, such as door and window handles in public places, hospitals, public buildings, schools, elderly homes etc.
Advanced Antimicrobial Coatings and Technologies have numerous applications, for virtually all surfaces including:
Medical facilities and laboratories
Medical equipment;
Fabrics and clothing like face masks;
Hospital furniture;
Hotels and other public spaces;
Window glass;
Pharmaceutical labs;
Packaging;
Food packaging areas and restaurants;
Food processing equipment;
Transportation, air ducts and air ventilation systems;
Appliances;
Sporting and exercise equipment;
Containers;
Aircraft interiors and buildings;
Cruise lines and other marine vessels;
Restroom accessories;
Shower enclosures;
Handrails;
Schools and childcare facilities;
Playgrounds.
Report contents include:
Current technology and materials used in Advanced Antimicrobial Coatings and Surfaces. These include self-cleaning coatings, photocatalytic coatings, graphene, silicon dioxide nanoparticles, silver/nanosilver, photocatalytic coatings, zinc oxide/zinc oxide nanoparticles, hydrogels, nanocellulose, carbon nanotubes, fullerenes, gold nanoparticles, cerium oxide nanoparticles, chitosan/chitosan nanoparticles, copper particles, adaptive biomaterials, electroactive smart materials, 2D materials and antibacterial liquid metals.
Global market revenue forecasts to 2033, broken down by applications, regions, markets and types of coatings.
Analysis of end user markets for Advanced Antimicrobial Coatings and Technologies including:

Interiors

Stainless steel, glass, plastics and ceramic surfaces.
Medical facilities and sensitive building applications.
Air conditioning and ventilation systems.

Hand rails.

Restroom accessories.
Medical
Medical hygiene-medical devices and surface hygiene.
Wall coatings for hospitals.
Hospital furniture.
Medical implants.
Wound dressings.
Catheters.
Pharmaceutical labs.
Fabric supplies, scrubs, linens, masks (medical textiles).

Packaging

Food packaging.
Polymeric films with anti-microbial properties for food packaging.
Nanosilver coatings.
Antibacterial coatings on plastic films.

Textiles

Antibacterial cotton textiles for clothing and apparel.
Interior textiles.
Automotive textiles.

Food processing

Food preparation facilities.
Food packaging.
Food processing equipment.

Filtration

Water purification.
Air filtration units.

Other
Fitness equipment.
Water coolers and ice-making equipment.
Automotive interiors.
Reusable water bottles, coffee cups and shopping bags.
Consumer goods-children's toys, personal care items and appliances.
Key Topics Covered:
1 INTRODUCTION
1.1 Aims and objectives of the study
1.2 Market definition
1.2.1 Properties of nanomaterials
1.2.2 Categorization
2 RESEARCH METHODOLOGY
3 EXECUTIVE SUMMARY
3.1 Antimicrobial additives and coatings market growing
3.1.1 Advantages
3.1.2 Properties
3.1.3 Applications
3.2 Nanocoatings
3.3 Antimicrobial and anti-viral coatings and surfaces
3.3.1 Self-cleaning antimicrobial coatings and surfaces
3.3.1.1 Bionic self-cleaning coatings
3.3.1.2 Photocatalytic self-cleaning coatings
3.3.1.3 Anti-fouling and easy-to-clean nanocoatings
3.3.2 Anti-viral coatings and surfaces
3.3.3 Nanomaterials applications
3.3.4 Cleanliness of indoor and public areas driving demand for antimicrobials
3.4 Anti-viral coatings
3.4.1 Reusable Personal Protective Equipment (PPE)
3.4.2 Wipe on coatings
3.4.3 Facemask coatings
3.4.4 Long-term mitigation of surface contamination with nanocoatings
3.5 Main market players by antimicrobial technology area
3.6 Global market size and opportunity to 2033
3.6.1 End user markets for antimicrobial coatings
3.6.2 Global forecast for antimicrobial coatings to 2033
3.7 Market and technical challenges
3.8 Market drivers and trends
4 ADVANCED MATERIALS USED IN ANTI-MICROBIAL COATINGS
5 ENVIRONMENTAL AND REGULATORY
6 MARKETS FOR ADVANCED ANTIMICROBIAL COATINGS AND SURFACES
7 ADVANCED ANTIMICROBIAL COATINGS AND TECHNOLOGIES COMPANIES (207 company profiles)
8 REFERENCES
A selection of companies mentioned in this report includes
Addmaster (UK) Ltd.
Advanced Materials-JTJ S.R.O.
Advanced Nanotech Lab (ANT LAB)
Aequor, Inc
Aereus Technologies
Affix Labs Oy
Agienic Antimicrobials
AKALI Technology
Alistagen Corporation
Allied Bioscience
AM Technology Ltd.
Americhem
Amferia Ab
Amicoat A/S
AMProtecTion, LLC
Applied Silver, Inc.
Applied Thin Films, Inc
Artekya
Ascend Performance Materials LLC
AST Products
Atacama Lab
Attonuclei
Avanzare Innovacion Tecnologica S.L.
Axcentive SARL
Bactiguard AB
Biocote Ltd.
Bio-Fence
Bio-Gate AG
BioInteractions Ltd.
Bioni CS GmbH
Bionic Technology Holding BV.
Caparol
Cardinal Glass Industries
Ceko Co., Ltd.
Cellutech AB
CeloNova BioSciences, Inc
Cicada
Clarcor Industrial Air
Cleancorp Nanocoatings
CleanCU
Clearbridge Technologies PteLtd.
Clou
Coating Suisse GmbH
Copyright Future Markets, Inc All rights reserved
Corning Incorporated
Cotec GmbH
Covalon Technologies Ltd.
Cristal/Tronox
CuanTec Ltd.
CuConcepts GmbH
Cupron, Inc.
CytaCoat AB
Cytonix LLC
Dab FLow Nanotechnology
Daicel FineChem Limited
Decorative Products GmbH
Diatomix, INc.
Dortrend
DrivePur
Dry Surface Technologies LLC
DSP Co., Ltd.
DuPont
Dyphox
Enviro Specialty Chemicals (ESC Brands)
EnvisionSQ
Eoxolit
F Group Nano LLC
Flora Coatings LLC
FN Nano, Inc.
Fraunhofer-Institute for Silicate Research ISC
Freshlight Solutions
Fumin Co., Ltd.
Fusion Bionic GmbH
FUTURE MARKETS Advanced Anti-microbial Coatings
GBneuhaus GmbH
Gelest, Inc.
General Paints
Goldshield Technologies
Graphene Innovation & Technologies (GIT)
GrapheneCA
Green Earth Nano Science, Inc.
Green Millenium, Inc.
Grillo Zinkoxid GmbH
GXC Coatings
HakusuiTech Co., Ltd.
Halomine, Inc.
Heidelberg Cement
HeiQ Materials AG
I3 BioMedical, Inc.
Imbed Biosciences, Inc.
Inhibit Coatings Limited
Innovative Surface Technologies, Inc (ISurTech)
Innovotech
Integricote
Interlotus Nanotechnologie GmbH
Ishihara Sangyo Kaisha, Ltd.
Italcementi Group
Joma International AS
Kane Biotech, Inc.
Kastus Technologies Ltd.
Keyland Polymer LLC
KHG FiteBac Technology
Kon Corporation
Kraton Corporation
Kronos International, Inc.
Leibniz Institute for New Materials (INM)
Life Air Iaq Ltd.
Life Material Technologies Limited
LIGC Application Ltd.
Lonza Group AG
MACOMA Environmental Technologies, LLC
Maeda-KougyouCo, Ltd.
Marusyo Sangyo Co., Ltd.
Master Dynamic Limited
Medicfibers
Mica NanoTech
Microban International, Ltd.
Millidyne Oy
Muse Nanobots
MVX Protex
N2 Biomedical LLC
N9 World Technologies PvtLtd.
Nanjing High Technology Nano Material Co., Ltd(HTNano)
Nano Came CoLtd.
Nano Graphene, Inc.
Nano Surface Solutions
Nano-Care Deutschland AG
Nanoclean Global Private Limited
Nanogate AG
NanoLotus Scandanavia Aps
Nanomedic Technologies Ltd.
NanoPhos SA
NanoPhyll, INc.
Nanopool GmbH
NanoPure Technology
Nanosono
Nanotech Surface Company
NanoTouch Materials, LLC
Nanova Care Coat
Nanoveu Ltd.
Nanowave Inc.
Nanox
Nano-X GmbH
Nano-Z Coating Ltd.
NascNano Technology Co., Ltd.
NBD Nanotechnologies
NIL Technology ApS
NILima Nanotechnologies
Nippon Sheet Glass Co., Ltd.
NITROPEP
Nobio Ltd.
Noble Biomaterials, Inc.
NOF Corporation
n-tec GmbH
NTT Advanced Technology Corporation
OrganoClick AB
Panahome Corporation
Panasonic
Parx Materials BV
Pieclex Co., Ltd.
Pioneer Medical Devices GmbH
PPG Industries, Inc.
Prebona AB
Promethean Particles Ltd.
PURE Bioscience, Inc.
PURETi Group, LLC
PurThread Technologies, Inc.
QuatCare LLC
Quick-Med Technologies, Inc.
Radical Materials
Reactive Surfaces, LLP
Resysten
Rohm GmbH
Royal DSM N.V.
Saint-Gobain Glass
Sanitized
Schott AG
Sciessent LLC
Scutum Nano Solutions GmbH
Sharklet Technologies, Inc
Showa Denko K.K.
Signo Nano-Care UK Ltd.
Slips Technology
Sobinco
Sonovia Ltd.
Souma Co., Ltd.
Sparc Technologies Ltd.
Spartha Medical SAS
sUTL
Suzhou Super Nano-Textile Teco Co.
Taiyo Kogyo Corporation
The Sherwin Williams Company
Thomson Research Associates
TitanPE Technologies, Inc.
TNO
Toshiba Materials Co., Ltd.
Toto
TouchPoint Science
Toyokosho Co., Ltd.
Toyota Tsusho Corporation
Troy Corporation
Ube Exsymo Co., Ltd.
UMF Corporation
USA Nanocoat
viRepel Inc.
Yield Co., Ltd.
ZEN Graphene Solutions Ltd.
Zentek

For more information about this report visit https://www.researchandmarkets.com/r/wraw0m
About ResearchAndMarkets.com
ResearchAndMarkets.com is the world's leading source for international market research reports and market data. We provide you with the latest data on international and regional markets, key industries, the top companies, new products and the latest trends.
Media Contact:
Research and Markets
Laura Wood, Senior Manager
[email protected]
 
For E.S.T Office Hours Call +1-917-300-0470
For U.S./CAN Toll Free Call +1-800-526-8630
For GMT Office Hours Call +353-1-416-8900
 
U.S. Fax: 646-607-1907
Fax (outside U.S.): +353-1-481-1716
Logo: https://mma.prnewswire.com/media/539438/Research_and_Markets_Logo.jpg
SOURCE Research and Markets