My Eyelab and Stanton Optical Introduce Vision Boosting Nutraceuticals in Stores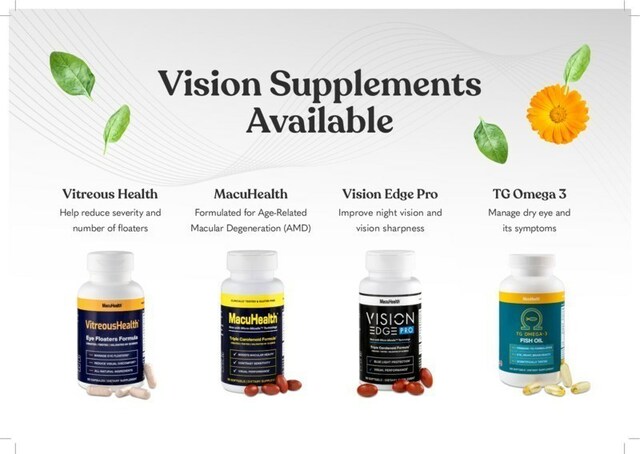 Leading Optical Retailers Expand Holistic Eye Care by Adding Accessible and Affordable MacuHealth Eye Supplements Through Partnership with Physicians Eyecare Group
PALM SPRINGS, Fla., May 15, 2023 /PRNewswire/ — My Eyelab and Stanton Optical, leading retail brands of Now Optics offering accessible and affordable eye care and eyewear, have announced the introduction of Macuhealth over-the-counter eye care supplements through their continued partnership with Physicians Eyecare Group. The addition of the new vision-boosting nutraceuticals falls in line with the brands' commitment to offer accessible and affordable eye health products, as well as moving towards a more holistic approach to eye care.
For over a decade, My Eyelab and Stanton Optical have partnered with Physicians Eyecare Group – a group of independent eye care doctors bringing quality eye care to their patients. Physicians Eyecare Group functions independently from Now Optics' retail stores and is focused on providing a comprehensive vision health assessment for patients and clinical recommendations that improve quality of life.
"To take care of patients in the best way possible, we are always evaluating how to make a patient's journey better," said Dr. Machat, Medical Consultant to the Physicians Eyecare Group. "While surgeries are often recommended to fix certain eye ailments, they are not risk-free. Our approach is to make eye care more holistic. We believe adding supplements to our patient care will show a significant impact in preventing and even reversing symptoms of eye issues and diseases, without the risk."
The lineup of physician-formulated nutraceuticals has been clinically proven to rebuild and maximize macular pigment, aid in the treatment of macular degeneration, benefit in the management of dry eye, and manage floaters. These products stand apart from pharmacy and big box store supplements because of the refinement in their development process. They also include a verified list of ingredients on the bottle – something most supplements do not have. They will now be available at Stanton Optical and My Eyelab stores and can be purchased all in one appointment.
"Most people go to the pharmacy or a big box store and buy the wrong products when on their own. Clinical understanding of what you are buying and putting into your body is crucial. Not all nutraceuticals are made the same, and it's important to know the difference," said Dr. Machat. "All of our supplements are formulated by physicians and hand selected by Physicians Eyecare Group. Thanks to their third-party testing and verified contents, customers will be able to trust they are choosing the best possible product."
The nutraceuticals offered in-store are:
MacuHealth: These supplements optimize visual performance and protect vision over a lifetime. They are scientifically formulated and clinically proven to rebuild macular pigment. While typically prescribed for patients over 50 and who have a family history of macular degeneration, this supplement can aid in all patients, especially when started young.
Vitreous Health: The first scientifically-proven supplement formulated to reduce the severity of floaters. Its patented blend of antioxidants nourishes the eye to protect it against oxidative stress and disease.
Vision Edge Pro: With enhanced bioavailability, this supplement promotes neural health and is proven to boost visual performance, leading to reduced eye strain and strong protection from oxidative stress. It increases macular pigmentation in younger patients, and improves the functioning of the macula leading to sharper and crisper vision and higher visual contrast. This formula was tested on fighter pilots and was proven to improve reaction time as a result of sharper and crisper vision and lead to them seeing better than 20/20.
TG Omega 3: A supplement containing the highest triglyceride form of omega-3s. Omega 3-s are essential for every stage of life and offer benefits from lowered risk of cardiovascular diseases to better cognitive function. This supplement is beneficial for dry eye and is recognized as a key first step in the management of symptoms. This supplement offers a pure and potent formula at 90% concentration, significantly higher than competitors.
"I have benefitted from these supplements in my life, and I would recommend them to anyone," said Dr. Machat. "The average diet today isn't like it was thirty years ago, and on top of that, we are constantly looking at screens. Both of these factors affect eye health, so supplementing the diet with these nutraceuticals is necessary to get the full effects needed to maintain eye health."
Over the next year, My Eyelab and Stanton Optical will continue the rollout of additional eyecare products to further serve their customers, including online availability.
"We are excited about the new direction we're going in and are certain it will make a huge impact on future patient care. This is just the start, but it is a critical part of what we consider holistic eye health," said Nicole Lord, Vice President of Merchandising of My Eyelab and Stanton Optical. "In the future, you'll continue to see an expansion of our over-the-counter and physician-recommended products in My Eyelab and Stanton Optical stores and in our eye care treatment plans."
Under the leadership of founder and CEO Daniel Stanton, My Eyelab and Stanton Optical have led the optical industry in ocular telehealth by leveraging proprietary innovative telehealth technology to provide patients with affordable quality eye exams. Tapping into its national network of affiliated doctors, to date, the company has conducted more than 3 million telehealth eye exams, something no other optical retailer can offer. Moreover, the COVID-19 pandemic has not hindered My Eyelab and Stanton Optical's success, as its telehealth technology minimizes the risk without compromising quality eye care.
Most Stanton Optical stores offer same-day service. You can get an eye exam, and your single vision glasses all made the same day due to onsite labs. For convenience, My Eyelab and Stanton Optical offer same-day eye exams and walk-ins. They accept most insurance and offer buy now, pay later options, and even without insurance, eye exams are free with the purchase of eyeglasses. On top of that, an assortment of over 1,000 eyeglass frames and top contact lens brands to fit both style and budgets allows consumers the ultimate freedom to experiment with unique, stylish designs that fit their personal style and budget.
For more information about the brands, visit www.myeyelab.com or www.stantonoptical.com.
ABOUT NOW OPTICS:
Now Optics is a leader in the eye care industry. Its retail brands, My Eyelab, and Stanton Optical are among the nation's fastest-growing, full-service retail eye care centers. The company continues to expand its retail footprint with almost 300 corporate and franchise locations in 29 states while delivering affordable eye health and eyewear solutions. The company consistently ranks among the largest optical retailers in the country by Vision Monday and was ranked #3 on Entrepreneur's list of Top New Franchises in 2021. Visit myeyelab.com or stantonoptical.com for more information. Find details about franchise opportunities at myeyelabfranchise.com.
SOURCE Now Optics