Montauban. 100 years of Joseph Scavino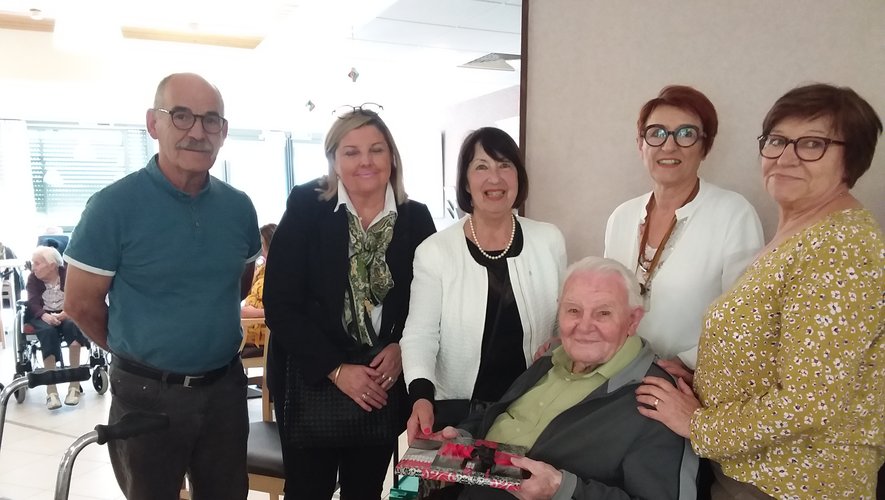 With great discretion, his face eternally lit up with a tender smile, Joseph Scavino is used to flashes and honors. Indeed, in 1995 and then in 1996, he was a finalist in the French petanque championships in the veterans category.
Sporty, as good at shooting as at pointing, Joseph has always had pétanque in his blood. But today, at the EHPAD des Saules residence where he chose to retire from sport, the flashes still crackle around him. 100 spring on May 19, 2023, it's not nothing! His family and loved ones came to surround him and share the pretty cake concocted in his honor by the Acsent du Sud-Ouest team. Edenis was widely mobilized for the occasion, it must be said that Joseph is a bit of the darling of the healthcare teams as his dynamism and benevolence radiate around him. Farmer in the Lot, trader in Caylus then in Montauban, he made some and saw some, which does not prevent him from still looking ahead despite his good age. The director meets him every morning in the corridors of the establishment where he loves to do a little gymnastics, a muscular awakening to talk and start the day, he says. For young caregivers, Joseph is an example of willpower and healthy living. We had to force his hand to agree to celebrate his birthday 3 times. But he ended up resolving to do so, to please those who wanted to honor him, not only Magali, the leader of Les Saules, but also the elected officials of the town hall, Mmes Guillot and Coureau, delighted to come to her meeting on these feast days.
Thank you Joseph for this very beautiful birthday!