Medical deserts: MPs are putting the pressure on!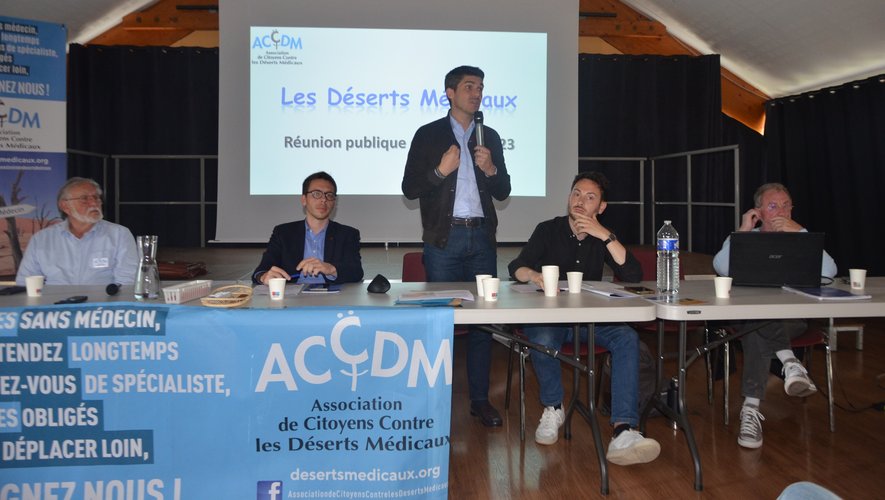 the essential
What is the point of mobilizing so many resources in public health media campaigns? Posters are not enough to make health. To do public health, you need actors.
The Tour de France staged Thursday evening in the Lot. A Tour de France without a caravan, or yellow or weight jersey, but with a peloton of deputies from various political sides who came to present a bill to fight against medical deserts. Since last February, public meetings have been organized all over France to explain this text which aims to regulate in particular the installation of doctors according to the needs of each territory and to influence the Government. After Mayenne, Gers, a few days ago, these exchanges took place in Lot, at La Granja in Soulomès. In front of a provided and attentive public, Jean Rigal the president of the association of citizens against the medical deserts of the Department was pleased to be able to organize a highlight on such a major theme. It was Aurélien Pradié, MP for Lot and host MP who spoke first "We have political and ideological differences, but sometimes we have points of agreement on strong subjects. This is the case for this cross-partisan bill. The divide is between those who do not want to move forward. We cannot stand idly by. This bill may not be perfect, but it is intended to give a big kick in the anthill. Many people do not have access to care. The multiplication of obstetric emergencies continues to increase as well as infant mortality. What is the point of mobilizing so many resources in public health media campaigns? I asks you the question. Posters are not enough to do health. To do public health, you need actors. Everything has been destroyed for years. It's up to us to rebuild. We have taken a big step with this law If there is no change in the legislative framework, we will not be able to find deep solutions. We must press for this bill to be on the agenda in the National Assembly. Alongside him Damien Maudet, 26-year-old MP for LFI-Nupes, elected in the first constituency of Haute-Vienne to continue: "medical deserts are a daily annoyance and a daily drama. More than 6 million of French people do not have an attending physician. Not a week goes by without our fellow citizens asking us about the departure of their attending physician. The Government is too passive. Urgency requires us to act. Only exceptional measures can reverse the trend". Regulating the installation of doctors, developing health centers, democratizing access to medical studies, restoring the permanence of care are all measures proposed by these forty deputies" The rebellious deputy of the 1st district of Haute-Garonne Hadrien Clouet to complete with virulence: "Being in good health is a chance today. All young doctors claim to have an ordinary life, to no longer have administrative hassles. We have answers to give them." This public meeting continued with constructive exchanges. In the public, some welcomed the approach of these young parliamentarians. "Thank you for finally taking into account the health issue", launched a former general practitioner from Figeac. "Each time the medical deserts advance, it is the Republic that retreats. Let's not sit idly by, let's not deny ourselves any solution: let's act!" concludes Damien Maudet.