Medical Active Air Sampling System Market size to grow by USD 109.11 million from 2022-2027| Acquisition Systems Ltd., Aquaria Srl, Bertin Technologies SAS are some of the emerging companies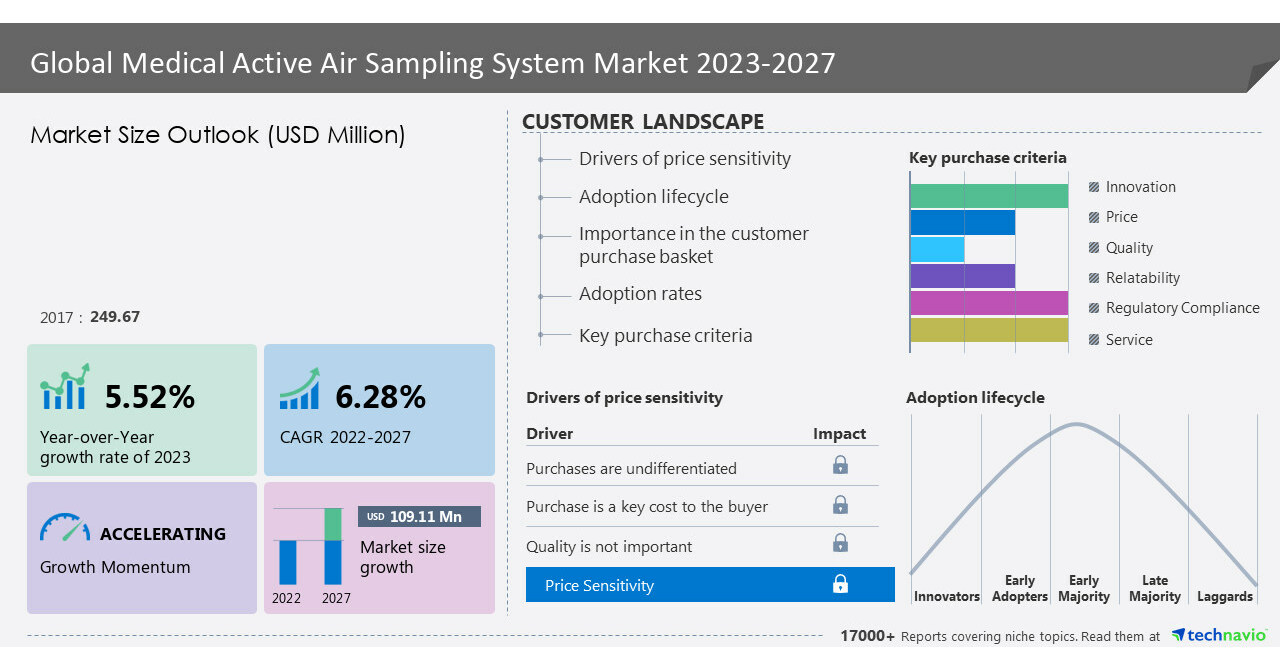 NEW YORK, Sept. 24, 2023 /PRNewswire/ — The Medical Active Air Sampling System Market size is expected to grow by USD 109.11 million, accelerating at a CAGR of 6.28% during the forecast period. Companies are implementing various strategies like forming partnerships, mergers, expanding into new areas, and launching new products to improve their market position. The report also offers detailed analyses of the market's competitive landscape, featuring information on 15 leading companies. Acquisition Systems Ltd., Aquaria Srl, Bertin Technologies SAS, bioMerieux SA, Cantium Scientific Ltd., Climet Instruments Co., Emtek LLC, IUL SA. Lighthouse Worldwide Solutions Inc., Merck KGaA, Neu tec Group Inc., Orum International Srl, SARSTEDT AG and Co. KG, Sartorius AG, SKC Inc., Spectris Plc, Thermo Fisher Scientific Inc., Tisch Environmental Inc., TSI Inc. and Veltek Associates Inc. To gain access to more company profiles available with Technavio, request free sample report now
Medical Active Air Sampling System Market: Regional Analysis
Estimates suggest that North America will play a significant role in driving the global market's growth, accounting for approximately 35% during the forecast period. The key contributors to the growth of the global medical active air sampling system market in North America are the region's advanced healthcare infrastructure, rigorous infection control regulations, and ongoing technological innovations. Furthermore, there is a growing emphasis on patient safety and the quality of healthcare, creating a favorable environment for the adoption of advanced solutions for managing air quality.
Medical Active Air Sampling System Market: Segmentation Analysis
The market is segmented by type (portable microbial sampling system and desktop microbial sampling system), application (pharmaceuticals and biotechnology, hospitals and clinics, and others) and geography (North America, Europe, Asia, and the Rest of the World (ROW))
Learn about the contribution of each segment summarized in concise infographics and thorough descriptions. View Free PDF Sample Report
Medical Active Air Sampling System Market: Driver & Trend:
Driver – One of the primary drivers of the medical active air sampling system market growth is the increased emphasis on microbiological monitoring regulations. Air sampling plays a significant role in ensuring quality control in various sectors, including biotechnology, healthcare, and pharmaceutical industries. Multiple regulatory agencies, such as the Health and Safety Executive (HSE) in the United Kingdom and the Occupational Safety and Health Administration (OSHA) in the United States, have implemented stringent guidelines aimed at reducing the risk of exposure to airborne bacteria and viruses.
Trend – The growth of the medical active air sampling system market is significantly influenced by the increasing number of new product launches, driven by evolving healthcare needs and technological advancements. 
Buy the full report on Medical Active Air Sampling System Market
FAQS
How do the major trends impact the market?
How big is the

North America

market?
How do the key drivers and challenges impact the market?
Related Reports:
Direct to Consumer Laboratory Testing Market: The global direct to consumer (DTC) laboratory testing market size is estimated to grow by USD 9,703.47 million at a CAGR of 31.59% between 2022 and 2027.
Venous Blood Collection Market: The venous blood collection market share is expected to increase to USD 868.11 million from 2021 to 2026, and the market's growth momentum will accelerate at a CAGR of 7.73%.
Table of Contents:
Executive Summary
Market Landscape
Market Sizing
Historic Market Sizes
Five Forces Analysis
Market Segmentation by Type
Market Segmentation by Application
Market Segmentation by Geography
Customer Landscape
Geographic Landscape
Drivers, Challenges, & Trends
Company Landscape
Company Analysis
Appendix
About Technavio
Technavio is a leading global technology research and advisory company. Their research and analysis focus on emerging market trends and provide actionable insights to help businesses identify market opportunities and develop effective strategies to optimize their market positions.
With over 500 specialized analysts, Technavio's report library consists of more than 17,000 reports and counting, covering 800 technologies, spanning across 50 countries. Their client base consists of enterprises of all sizes, including more than 100 Fortune 500 companies. This growing client base relies on Technavio's comprehensive coverage, extensive research, and actionable market insights to identify opportunities in existing and potential markets and assess their competitive positions within changing market scenarios.
Contacts
Technavio Research
Jesse Maida
Media & Marketing Executive
US: +1 844 364 1100
UK: +44 203 893 3200
Email: [email protected]
Website: www.technavio.com/
SOURCE Technavio