Judge Appoints Four Attorneys to Lead 77,000 Zantac Cancer Cases in Delaware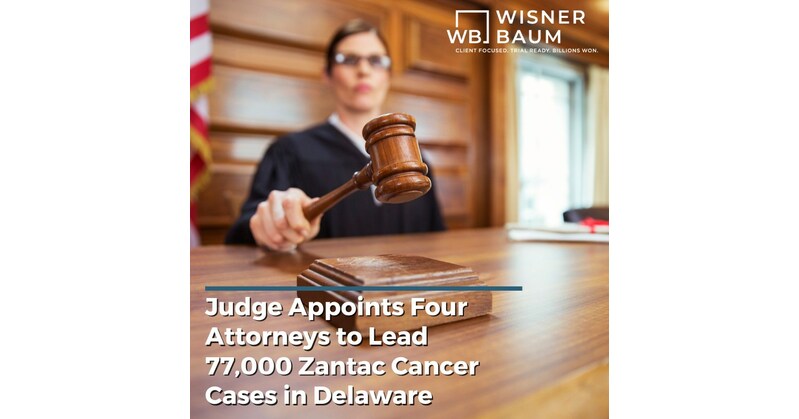 WILMINGTON, Del., May 17, 2023 /PRNewswire/ — Wisner Baum managing partner R. Brent Wisner will be co-lead trial counsel in the Zantac (Ranitidine) Products Liability litigation (Civil Action No. N22C-09-101 ZAN) in Delaware Superior Court.
Judge Vivian L. Medinilla named Wisner and three others to the leadership position in a Case Management Order that applies to all Zantac (generic: ranitidine) cancer cases currently pending in the Superior Court of the State of Delaware. Attorneys Jennifer A. Moore of the Moore Law Group, Raeann Warner of Jacobs & Crumplar, and Justin Parafinczuk of Parafinczuk Wolf will join Wisner in the plaintiffs' leadership, which is responsible for presenting the plaintiffs' position in all pretrial matters, initiating and coordinating pretrial discovery, and more.
"The formation of a new venue for these cases creates more opportunity for our clients and other people throughout the country stricken with cancer after taking a drug that we believe is dangerous," says attorney R. Brent Wisner. "We look forward to presenting evidence at trial that Zantac causes cancer, and that the defendants have known about the risks for decades."
"GSK's own scientists knew the risks Zantac posed to the public even before the FDA approved the drug," says attorney Jennifer A. Moore. "They should have warned about the risks but, sensing the potential for a billion-dollar blockbuster drug, the company chose profits over people. It's time for them to take responsibility for the harm they have caused." 
More than 77,000 people have Zantac lawsuits pending in Delaware state court alleging the widely used heartburn drug contains a known carcinogen called N-nitrosodimethylamine (NDMA). Plaintiffs in the litigation ingested Zantac and developed various forms of cancer.
Cases in Delaware name the following Zantac defendants:
GlaxoSmithKline LLC (GSK)
Pfizer Inc.
Boehringer Ingelheim Pharmaceuticals Inc. and Boehringer Ingelheim

USA

Corporation
Sanofi US Services Inc., Sanofi-Aventis U.S. LLC
Attorneys for the plaintiffs are alleging punitive damages against the defendants for reckless conduct and conscious decisions not to warn or inform plaintiffs about the known dangers associated with Zantac.
In July, Wisner and colleague Jennifer A. Moore will co-lead the first Zantac trial in Oakland, California. The trial of James Goetz v. GlaxoSmithKline, LLC will take place on July 24, 2023 in the same courtroom where Wisner previously won a $2 billion verdict in the Roundup cancer litigation against Monsanto. The trial will be closely followed as the allegations in Mr. Goetz's case share many similarities to cases filed in Delaware.
Read more about the ongoing Zantac litigation in California and Delaware in Wisner Baum's blog.
About Wisner Baum
Wisner Baum represents over 10,000 people in lawsuits alleging Zantac caused their cancer. With more than $4 billion in verdicts and settlements across a broad range of practice area, Wisner Baum has earned a reputation for breaking new legal ground, holding major corporations accountable, influencing public policy, and raising public awareness about important safety issues.
Media Contact:
Robin McCall
Director of Public Relations
Wisner Baum
[email protected]
SOURCE Wisner Baum