JOHN REED MAKES ITS GRAND ENTRANCE TO SANTA MONICA'S THIRD STREET PROMENADE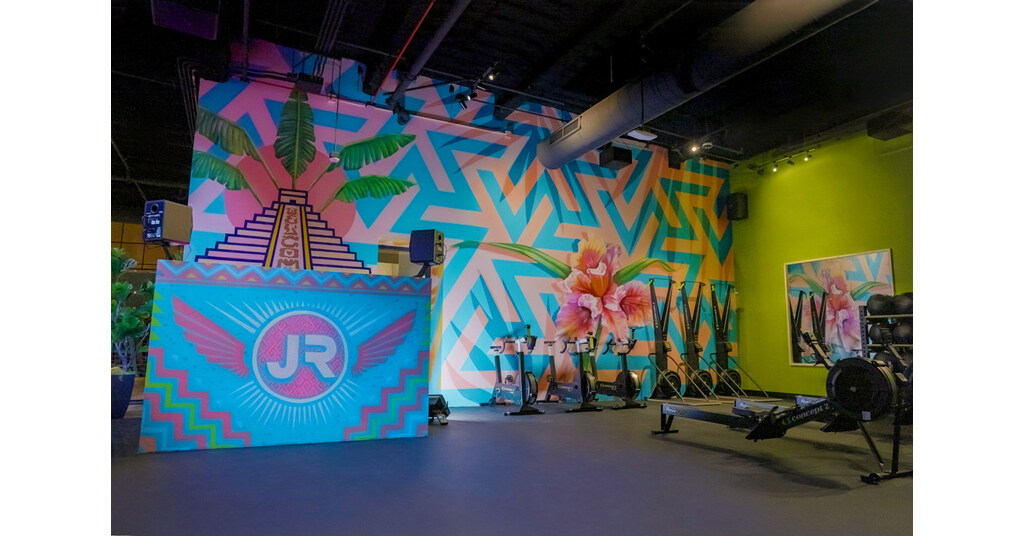 The gym's third US location redefines workout culture through cutting-edge equipment, forward-thinking design, energetic DJ performances and a unique club ambiance fostering a strong sense of community among members.
SANTA MONICA, Calif., June 21, 2023 /PRNewswire/ — JOHN REED, the internationally acclaimed fitness brand known for its cutting-edge facilities, dynamic classes, live DJs, endless training options and a vibrant community atmosphere, is thrilled to announce the Grand Opening of its newest location in the lively city of Santa Monica.
During the Grand Opening weekend from Friday, June 23rd through Sunday, June 25th, 2023, the public will enjoy free club access to experience the space. There will be special programming on Saturday, June 24th from 9AM – 4PM, which includes live DJs, exhilarating classes and exciting activities throughout the weekend such as Cupping Therapy by Myodetox and a piercing station.
Located in the heart of Santa Monica at the corner of 3rd Street Promenade and Wilshire Blvd, JOHN REED encompasses three stories of state-of-the-art facilities infused with coastal vibes and an airy atmosphere. Drawing inspiration from organic textures and finishes, an abundance of natural light, and lush greenery, JOHN REED's design creates a unique and immersive experience for fitness enthusiasts.
"We are thrilled to introduce the JOHN REED experience to Santa Monica," stated Silke Hensel, CMO of RSG Group North America. "This location boasts a vibrant design, top-notch music curation, premium equipment, and a wide range of class offerings. The local community now has a fitness-oriented lifestyle space where members can connect, push their limits, and enjoy themselves."
With its innovative approach to fitness and a focus on fostering a strong sense of community, JOHN REED aims to revolutionise the local fitness scene and inspire Santa Monica residents to embark on a transformative journey of health and wellness.
From the moment members step through the door, they are transported into a world where fitness meets beach vibes, art, and music, fostering an environment that is both invigorating and inspiring. The design showcases the creative work of local and internationally renowned artists, such as @prettymuchyeah, @dripkingla and @ron.miller.berlin. The second floor pays tribute to its beloved identity with nightclub-inspired elements where live DJ performances will elevate workouts to new heights.
JOHN REED SETS THE STAGE FOR HEALTH, WELLNESS AND COMMUNITY CONNECTION
This premiere fitness club offers a full range of fitness opportunities from free weights, an expansive functional training area, an outdoor training deck, relaxation room, machine strength training, cardio, and unlimited classes from HIIT, Pilates, Yoga and more. Enveloped in a captivating soundscape, where music and fitness converge, members can experience live DJ sets every week, creating the perfect atmosphere to meet up with friends while working out. All within the 45,000 square foot club.
FITNESS AREAS
Cardio
Machine Training
Functional Training
Free Weights
Core & Stretch
Relaxation Room
Outdoor Functional Training Deck
Group Fitness and Cycling
ADDRESS
1202 3rd Street Promenade, Santa Monica, CA, 90401
CLUB HOURS (ONCE OPEN)
Monday – Sunday: 5a – 12a
PRE-SALE MEMBERSHIP RATE
To celebrate the Grand Opening, JOHN REED Santa Monica is offering a special pre-opening membership rate at $100/ per month through June 25. Prices will increase beginning on June 26
For further information about John Reed Santa Monica visit us.johnreed.fitness/join/santamonica
ABOUT JOHN REED
LIFE'S TOO SHORT FOR BORING GYMS. Part of RSG Group, with locations from Istanbul, Budapest, Paris, Prague, Los Angeles—and now Dallas, JOHN REED has been leveraging the power of sound and design to motivate and move people across the world since 2016. Not just an ordinary gym, JOHN REED is an immersive international fitness club that boasts unexpected design elements, music programming with live DJs, and top-of the-line equipment waiting around every corner. Walk into any of JOHN REED's 43 worldwide locations and be ready to be inspired by eclectic interior design influenced by local artists, cultures, and the city's urban metropolis. Members get access to studio workouts, boutique-style cycling, free weights, cardio, barre, Pilates, yoga, and a variety of amenities.
SOURCE JOHN REED Fitness