Increasing Demand for Sustainable and Eco-friendly Solutions in Various Industries Drives Growth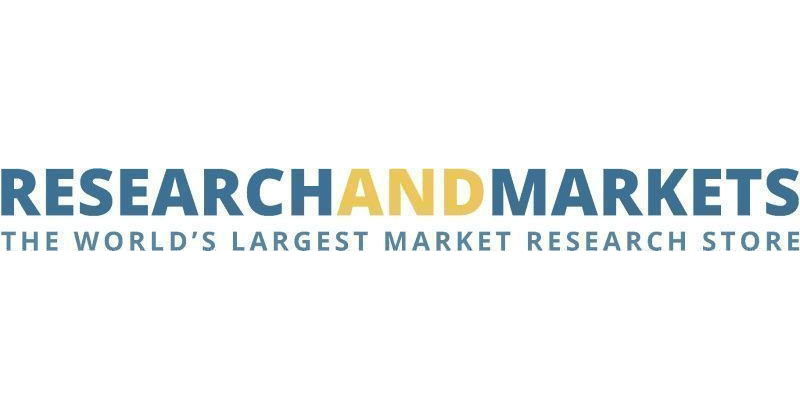 DUBLIN, May 29, 2023 /PRNewswire/ — The "Microbial Products: Technologies, Applications and Global Markets" report has been added to  ResearchAndMarkets.com's offering.
The total global market for microbes and microbial products was worth $229.9 billion in 2021. The 2022 market is projected to exceed $242.0 billion, and the 2027 market is expected to approach $346.3 billion.
This report addresses the global market for microbes and microbial products used in commercial applications from 2021 through 2027. This includes agricultural, healthcare, manufacturing, energy, and environmental applications.
A microbial product refers to any substance produced by microorganisms, such as bacteria, fungi, and algae, that has commercial value. These products have become increasingly popular in various industries due to their eco-friendly nature and ability to provide sustainable solutions.
One of the key drivers of the microbial product market is the increasing demand for sustainable and eco-friendly solutions in various industries, such as agriculture, healthcare, and food and beverage. Microbial products are also used in environmental remediation and biofuels, making them an attractive option for companies looking to reduce their carbon footprint.
Some examples of microbial products in the market include probiotics, enzymes, biopesticides and biofertilizers. Probiotics, for instance, are used in the food and beverage industry to promote gut health and improve digestion. Biopesticides are used in agriculture to control pests and diseases while reducing the use of harmful chemicals. Biofertilizers, on the other hand, enhance plant growth and productivity by providing essential nutrients to the soil.
Overall, the microbial product market is expected to continue to grow in the coming years as more industries adopt sustainable and eco-friendly practices. As the demand for these products increases, so will the research and development of new and innovative microbial products, making this a fascinating and dynamic field to watch.
Report Includes
27 tables
An overview of the global market and technologies for microbial products with special focus on their applications
Estimation of the market size and analyses of global market trends, with data from 2019-2021, estimates for 2022 and projections of compound annual growth rates (CAGRs) through 2027
Highlights of the current and future market potential and quantification of microbial products market based on type, application, and region
Detailed descriptions of probiotics, their types, and recent developments and information on microbial pesticides and biofertilizers and their potential uses
Analysis of underlying technological, environmental, legal/regulatory, and political trends that may influence the size and nature of the market
Market share analysis of the key companies of the industry and coverage of their proprietary technologies, strategic alliances, and other key market strategies
Comprehensive company profiles of the leading players of the industry, including Seres Therapeutics, Enterome Biosciences, Ferring Pharmaceutics, Evelo Biosciences, Finch Therapeutics, Microbiome Therapeutics, and Pylum Biosciences
Key Attributes:
| | |
| --- | --- |
| Report Attribute | Details |
| No. of Pages | 201 |
| Forecast Period | 2022 – 2027 |
| Estimated Market Value (USD) in 2022 | $242 Billion |
| Forecasted Market Value (USD) by 2027 | $346.3 Billion |
| Compound Annual Growth Rate | 7.4 % |
| Regions Covered | Global |
Key Topics Covered:
Chapter 1 Introduction
Chapter 2 Summary and Highlights
Chapter 3 Market and Technology Background
3.1 General Description of Microbes
3.1.1 Definitions
3.1.2 Properties
3.1.3 Occurrence and Production
3.1.4 History
3.2 End Uses and Applications
3.2.1 Agriculture
3.2.2 Healthcare
3.2.3 Manufacturing
3.2.4 Energy
3.2.5 Environment
3.3 Market Size and Segmentation
3.3.1 Market Size and Growth
3.3.2 Market by End Use
Chapter 4 Market for Agricultural Microbes and Microbial Products
4.1 Summary
4.2 Microbial Pesticides
4.2.1 Bacteria
4.2.2 Fungi
4.2.3 Protozoa
4.2.4 Nematodes
4.2.5 Markets
4.3 Microbial Fertilizers
4.3.1 Nitrogen Biofertilizers
4.3.2 Phosphorus Biofertilizers
4.3.3 Compost Treatment
4.3.4 Markets
4.4 Animal Feed Additives
4.4.1 Microbial Animal Feed Additive Types
4.4.2 Markets
Chapter 5 Healthcare Market for Microbes and Microbial Products
5.1 Summary
5.2 Microbial Biopharmaceuticals
5.2.1 Technology
5.2.2 Markets
5.3 Therapeutics
5.3.1 Microbiome: Human and Non-Human
5.3.2 Probiotics
Chapter 6 Manufacturing Market for Microbes and Microbial Products
6.1 Summary
6.2 Food Processing
6.2.1 Technologies
6.3 Enzymes
6.3.1 Technologies
6.3.2 Applications
6.4 Commodity and Specialty Chemicals
6.4.1 Technologies
6.5 Biopolymers
6.5.1 Technologies
6.5.2 Applications
6.5.3 Markets
Chapter 7 Energy Market for Microbes and Microbial Products
7.1 Summary
7.2 Biofuels
7.2.1 Technology
7.2.2 Applications
7.3 Microbially Enhanced Oil Recovery
7.3.1 Technology
7.3.2 Applications
7.4 Microbial Fuel Cells
7.4.1 Technologies
7.4.2 Applications
7.5 Hydrogen Production
7.5.1 Technologies
Chapter 8 Environmental Market for Microbes and Microbial Products
8.1 Summary
8.2 Environmental Monitoring
8.2.1 Technologies
8.2.2 Applications
8.3 Bioremediation
8.3.1 Technologies
8.4 Recycling
8.4.1 Technologies
8.5 Oil Spill and Residue Cleanup
8.5.1 Technologies
8.5.2 Applications
8.6 Wastewater and Sewage Treatment
8.6.1 Technologies
8.6.2 Applications
Chapter 9 Regulation
9.1 U.S.
9.1.1 Department of Agriculture
9.1.2 Environmental Protection Agency
9.1.3 Food and Drug Administration
9.1.4 State-Level Regulations
9.2 European Union
9.2.1 Directive 98/81/Ec on the Contained Use of Genetically Modified Microorganisms
9.2.2 Directive 2001/18/Ec on the Deliberate Release into the Environment of Gmos
9.2.3 Regulation (Ec) No. 1107/2009 on the Placing of Plant Protection Products on the Market
9.2.4 Regulation (Ec) No 726/2004 on Procedures for the Authorization and Supervision of Medicinal Products for Human and Veterinary Use
9.2.5 Regulation 2015/2283 on Microorganisms Intentionally Added to Food
9.3 Japan
9.3.1 Food Sanitation Law
9.3.2 Feed Safety Law
9.4 Other Countries
9.4.1 Brazil
9.4.2 China
9.4.3 India
9.4.4 Russia
9.4.5 African Countries
Chapter 10 Emerging/ Upcoming Technologies
10.1 Synthetic Biology
10.2 Crispr-Cas Technology
10.3 Metabolic Engineering
10.4 High-Throughput Screening
10.5 Nanoparticle Technology
10.6 Microfluidics
10.7 Omics Technologies
Chapter 11 Patent Analysis
Chapter 12 Competitive Landscape
12.1 Overview
12.1.1 Top 5 Companies
12.1.2 Global Company Ranking
Chapter 13 Company Profiles
For more information about this report visit https://www.researchandmarkets.com/r/iw3ckb
About ResearchAndMarkets.com
ResearchAndMarkets.com is the world's leading source for international market research reports and market data. We provide you with the latest data on international and regional markets, key industries, the top companies, new products and the latest trends.
Media Contact:
Research and Markets
Laura Wood, Senior Manager
[email protected]
 
For E.S.T Office Hours Call +1-917-300-0470
For U.S./CAN Toll Free Call +1-800-526-8630
For GMT Office Hours Call +353-1-416-8900
 
U.S. Fax: 646-607-1907
Fax (outside U.S.): +353-1-481-1716
Logo: https://mma.prnewswire.com/media/539438/Research_and_Markets_Logo.jpg
SOURCE Research and Markets