Increase in the Prevalence of Chronic Diseases Drives Growth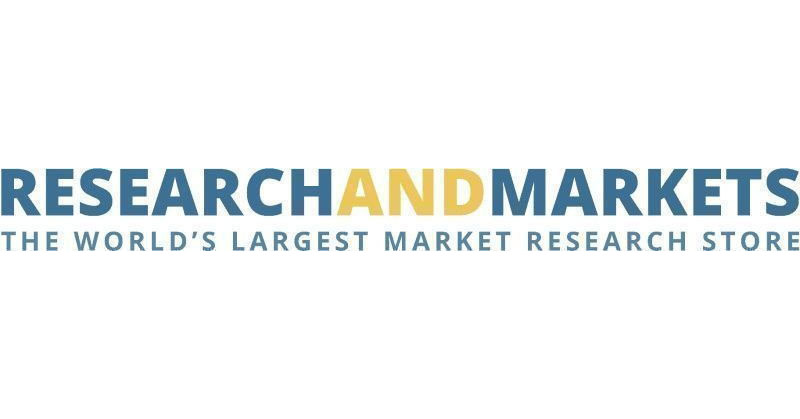 DUBLIN, June 1, 2023 /PRNewswire/ — The "Peptide Therapeutics Global Market Report 2023" report has been added to  ResearchAndMarkets.com's offering.
This report provides strategists, marketers and senior management with the critical information they need to assess the market.
The global peptide therapeutics market grew from $37.26 billion in 2022 to $40.7 billion in 2023 at a compound annual growth rate (CAGR) of 9.2%. The peptide therapeutics market is expected to grow to $58.75 billion in 2027 at a CAGR of 9.6%.
Major players in the peptide therapeutics market are Amgen, Inc., Pfizer, Inc., Bristol-Myers Squibb Company, Sanofi, AstraZeneca plc, Novartis AG, Teva Pharmaceutical Industries Ltd., Bachem Holding AG, Takeda Pharmaceutical Company Limited, Galena Biopharmaceuticals, Arch Biopartners, Arch Biopartners Inc., Novo Nordisk A/S, Circle Pharma Inc., and Corden Pharma GmbH.
Reasons to Purchase
Gain a truly global perspective with the most comprehensive report available on this market covering 50+ geographies.
Understand how the market has been affected by the COVID-19 and how it is responding as the impact of the virus abates.
Assess the

Russia

–

Ukraine

war's impact on agriculture, energy and mineral commodity supply and its direct and indirect impact on the market.
Measure the impact of high global inflation on market growth.
Create regional and country strategies on the basis of local data and analysis.
Identify growth segments for investment.
Outperform competitors using forecast data and the drivers and trends shaping the market.
Understand customers based on the latest market shares.
Benchmark performance against key competitors.
Suitable for supporting your internal and external presentations with reliable high quality data and analysis
Peptide therapeutics refer to a therapeutic approach that uses peptides as medications. Peptides are a distinct family of pharmacological substances that are molecularly situated in between proteins and tiny molecules. Peptides that are found in nature serve a variety of purposes, including those of hormones, growth factors, neurotransmitters, ion channel ligands, and anti-infectives. Consequently, using peptides as treatments offers a way to target a variety of cells and control their response.
The main types of peptide therapeutics are generic and branded. The branded peptide therapeutics are drugs sold under the brand names of large pharma companies that own the patent for these drugs. These are more expensive than generic drugs as they maintain a distinct brand. The peptide therapeutics are administered in several routes such as parenteral, mucosal, oral, and transdermal. They are used for treating cancer, cardiovascular diseases, central nervous systems, metabolic disorders, infections, haematological disorders, gastrointestinal disorders, dermatology, respiratory disorders, and acromegaly.
The peptide therapeutics market research report is one of a series of new reports that provides peptide therapeutics market statistics, including peptide therapeutics industry global market size, regional shares, competitors with a peptide therapeutics market share, detailed peptide therapeutics market segments, market trends and opportunities, and any further data you may need to thrive in the peptide therapeutics industry. This peptide therapeutics market research report delivers a complete perspective of everything you need, with an in-depth analysis of the current and future scenario of the industry.
Technological advancement is a key trend in the peptide therapeutics market. The companies operating in peptide therapeutics are utilizing advanced technologies such as artificial intelligence is to attain higher efficiency in drug development. For instance, in April 2020, Nuratis, an Ireland-based biotech company is utilizing artificial intelligence (AI) technologies to discover therapeutic peptides, extended its research into possible remedies for COVID-19 symptoms. Nuritas employed its AI platform to find peptides that are effective against COVID-19 targets. It took two initiatives to identify COVID-19 peptides: one for antiviral peptides that target how SARS-CoV-2 hijacks cells and the other for peptides that locally lower lung inflammation without inhibiting the immune system as a whole.
In August 2021, Bayer, a Germany-based pharmaceutical company acquired Vividion Therapeutics for an undisclosed amount. Through this acquisition, Bayer will improve its small molecule expertise and reach new markets. The addition of a cutting-edge chemoproteomics platform will improve Bayer's drug discovery capabilities. Vividion Therapeutics, Inc., is a US-based biotechnology company focused on transforming the future of human health by creating highly selective small-molecule medicines that drug traditionally inaccessible targets.
North America was the largest region in the peptide therapeutics market in 2022. Asia-Pacific is expected to be the fastest-growing region in the forecast period. The regions covered in the peptide therapeutics market report are Asia-Pacific, Western Europe, Eastern Europe, North America, South America, Middle East and Africa.
The countries covered in the peptide therapeutics market report are Australia, Brazil, China, France, Germany, India, Indonesia, Japan, Russia, South Korea, UK, and USA.
An increase in the prevalence of chronic diseases is expected to propel the growth of the peptide therapeutics market. Chronic diseases are long-lasting sickness that often cannot be healed, however, it is occasionally curable and controllable. Chronic diseases are increasing due to increasing use to tobacco products, poor nutrition, physical inactivity, excessive use of alcohol and others. The use of peptide therapeutics aids in the prevention and treatment of certain chronic diseases. 
The peptide therapeutics market includes revenues earned by entities by creating drugs to treat a variety of diseases. The market value includes the value of related goods sold by the service provider or included within the service offering. Only goods and services traded between entities or sold to end consumers are included.
The market value is defined as the revenues that enterprises gain from the sale of goods and/or services within the specified market and geography through sales, grants, or donations in terms of the currency (in USD, unless otherwise specified).
The revenues for a specified geography are consumption values that are revenues generated by organizations in the specified geography within the market, irrespective of where they are produced. It does not include revenues from resales along the supply chain, either further along the supply chain or as part of other products.
Key Topics Covered:
1. Executive Summary
2. Peptide Therapeutics Market Characteristics
3. Peptide Therapeutics Market Trends And Strategies
4. Peptide Therapeutics Market – Macro Economic Scenario
4.1 COVID-19 Impact On Peptide Therapeutics Market
4.2 Ukraine-Russia War Impact On Peptide Therapeutics Market
4.3 Impact Of High Inflation On Peptide Therapeutics Market
5. Peptide Therapeutics Market Size And Growth
5.1. Global Peptide Therapeutics Historic Market, 2017-2022, $ Billion
5.1.1. Drivers Of The Market
5.1.2. Restraints On The Market
5.2. Global Peptide Therapeutics Forecast Market, 2022-2027F, 2032F, $ Billion
5.2.1. Drivers Of The Market
5.2.2. Restraints On the Market
6. Peptide Therapeutics Market Segmentation
6.1. Global Peptide Therapeutics Market, Segmentation By Type, Historic and Forecast, 2017-2022, 2022-2027F, 2032F, $ Billion
6.2. Global Peptide Therapeutics Market, Segmentation By Route of Administration , Historic and Forecast, 2017-2022, 2022-2027F, 2032F, $ Billion
Parenteral Route of Administration
Mucosal Route of Administration
Oral Route of Administration
Transdermal of Route Administration
6.3. Global Peptide Therapeutics Market, Segmentation By Application , Historic and Forecast, 2017-2022, 2022-2027F, 2032F, $ Billion
Cancer
Cardiovascular Diseases
Central Nervous Systems
Metabolic Disorders
Infections
Hematological Disorders
Gastrointestinal Disorders
Dermatology
Respiratory Disorders
Acromegaly
Other Applications
7. Peptide Therapeutics Market Regional And Country Analysis
7.1. Global Peptide Therapeutics Market, Split By Region, Historic and Forecast, 2017-2022, 2022-2027F, 2032F, $ Billion
7.2. Global Peptide Therapeutics Market, Split By Country, Historic and Forecast, 2017-2022, 2022-2027F, 2032F, $ Billion
For more information about this report visit https://www.researchandmarkets.com/r/42a1xl
About ResearchAndMarkets.com
ResearchAndMarkets.com is the world's leading source for international market research reports and market data. We provide you with the latest data on international and regional markets, key industries, the top companies, new products and the latest trends.

Media Contact:
Research and Markets
Laura Wood, Senior Manager
[email protected]
For E.S.T Office Hours Call +1-917-300-0470
For U.S./CAN Toll Free Call +1-800-526-8630
For GMT Office Hours Call +353-1-416-8900
U.S. Fax: 646-607-1907
Fax (outside U.S.): +353-1-481-1716
Logo: https://mma.prnewswire.com/media/539438/Research_and_Markets_Logo.jpg
SOURCE Research and Markets