In Toulouse, the CHU answers you for World No Tobacco Day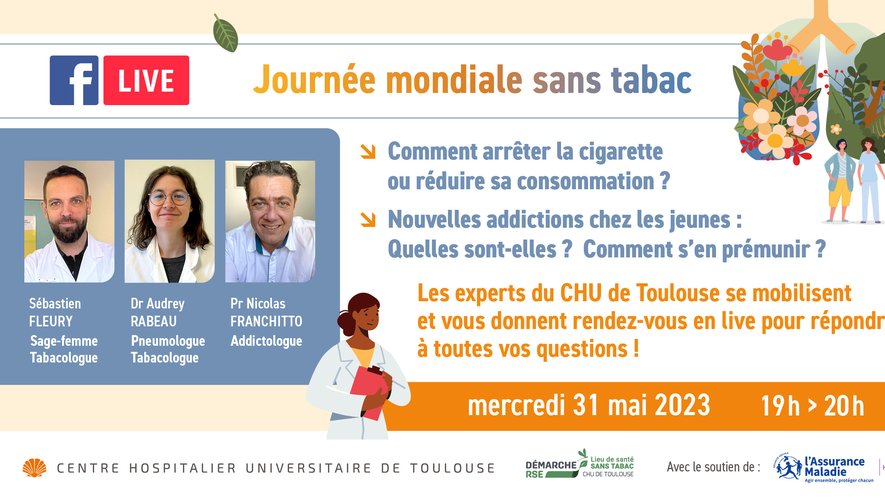 the essential
Occitania has many smokers, so the Toulouse University Hospital is offering a Facebook live on this tobacco-free day to answer your questions on May 31
World No Tobacco Day takes place this Wednesday, like every May 31 since 1987. It was created by the World Health Organization to warn against "the dangers of tobacco" and "its deadly effects".
In Toulouse, various actions are carried out to help smokers reduce their consumption, or even quit smoking. A live on Facebook will be organized from 7 p.m. to 8 p.m. at the Toulouse University Hospital. Two tobacco specialists and an addictologist will be available to answer your questions. They will also be interested in new addictions among young people, and the ways to protect themselves against them.
Read also :
World No Tobacco Day: five apps to (permanently) quit smoking
Every year, 7,300 people die from tobacco in Occitania
According to a report by Public Health France, smoking tobacco causes the death of more than 7,300 people each year in Occitania. The region had nearly 1.2 million smokers on January 1, 2018, one of the highest figures in France. The Minister of Health would consider reimbursement for electronic cigarettes, as is already the case for patches or nicotine gum, because it would help smokers reduce their consumption. But for Loïc Josserand, pulmonologist and president of the Alliance Against Tobacco, "you have to lose the habit of this gesture in order to be able to stop definitively" as he said on France 2.
Read also :
World No Tobacco Day: three podcasts to get motivated… and stay strong
To benefit from free support against tobacco and in relation to professionals, call 39 89