In the United States, Oregon explores the power of "magic" mushrooms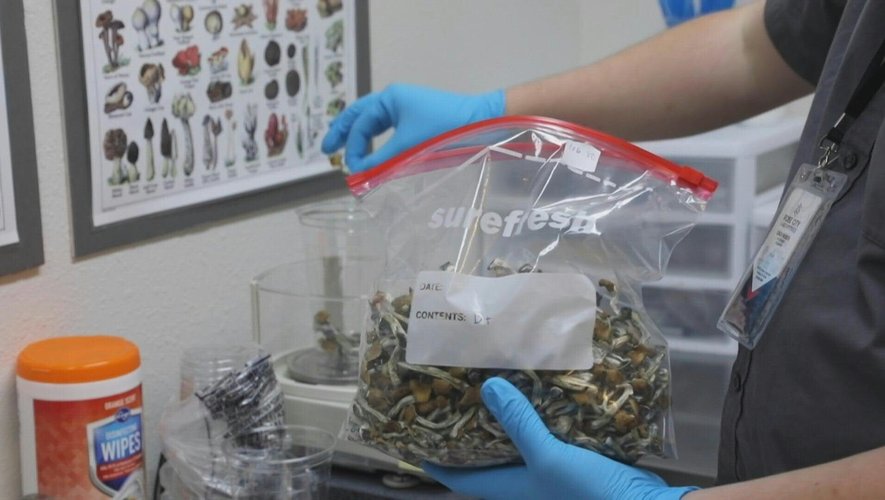 (AFP) – In a Portland laboratory, Tori Armbrust takes 250 grams of hallucinogenic mushrooms out of a simple shopping bag to have their potency tested: anywhere else in the United States, "I would be in big trouble for that, 1000%" , laughs the thirty-something.
But in the northwest of the country, in Oregon where their use has been legal since January 1, this producer is only doing her job. With her recently obtained license, she will be able to sell what the Aztecs called the "flesh of the gods" to centers offering "psychedelic therapy" sessions.
These mushrooms have long been associated with American counterculture escapades. But their active ingredient, psilocybin, is enjoying renewed research interest: the substance shows promise for treating severe depression, certain addictions or post-traumatic stress.
A pioneer in the country, Oregon defies the federal ban still in force in the United States. People over 21 can now access "magic" mushrooms without a medical prescription, but must ingest them under the supervision of a certified supervisor.
The "trip" lasts about six hours and must be followed by at least one introspection session with this "facilitator".
Open to anyone with a baccalaureate and completing a 160-hour apprenticeship, this new profession is attracting certain mental health professionals, such as Tyler Case.
– Alternative –
The 44-year-old therapist has just paid almost $10,000 to train, with the hope of offering an alternative to his many patients with personality disorders, often considered incurable.
Psilocybin "is a tool that can help people (…) who have not found help anywhere else," he told AFP. "We use strong mind-altering drugs all the time, we do things that change how people's brains work. Why not try that too?"
Scientists are still studying how it works, and little is known about its long-term use. But research suggests that psilocybin, along with other psychedelics like LSD or MDMA, increases neural connections and enables brain reformatting, which promotes new behaviors in the face of long-standing issues.
Thanks to her, Tobias Shea got out of a deep depression.
After two deployments to Afghanistan, where he lost some comrades, this US Army veteran suffered from hypervigilance and anxiety, sometimes to the point of being unable to go out to the supermarket.
Psychotherapy and antidepressants "were not effective," says the 40-year-old, who eventually tried hallucinogenic mushrooms.
From his two takes in 2011 and 2013, this jiu-jitsu trainer retains his "rainbow" visions and his "feeling of wonder at the immensity and complexity of the universe".
Assisted by guides, he unpacked "the scary stuff in (his) head". With the key, a lesson that put him back in the saddle: "yes, I had a traumatic experience, but that should not define the way in which I continue to exist."
– Ethical issues –
By legalizing, Oregon also lays down a framework to try to stem the abuses – sexual or power abuse – of certain "gurus" operating in this opaque environment.
The responsibility of practitioners before the law is "a key factor", underlines Elizabeth Nielson, psychologist and founder of Fluence, one of the companies approved to train new supervisors.
The use of psilocybin is authorized in a handful of countries such as Brazil, Nepal or the Bahamas, but this regulatory framework "does not exist (…) elsewhere in the world", she insists.
In his workshops, the trainers insist on the "extreme vulnerability" of the patients during their transcendental journeys.
The students learn in particular to intervene as little as possible so as not to influence them and to sign an ethical contract defining which parts of the body to touch, to reassure in the event of a "bad trip". Give your hand, put it on your shoulder: everything must be scrupulously defined in advance.
The experience already seems to be emulated. In November, voters in Colorado voted to decriminalize hallucinogenic mushrooms and create "care centers". A dozen other states, including New York and California, are considering similar measures.
But beyond the therapeutic promises, another question arises: who will have the means to afford this kind of service?
The $3,500 sessions offered by Oregon's first licensed center, which has just opened, are scandalizing some locals like Don, owner of a fungiculture shop in Portland.
"You can grow it yourself for 40 dollars", indignantly this forties, who refuses to give his surname. "I feel like it's going to be mainly for tourists."