IDEMIA IDENTITY AND SECURITY NORTH AMERICA LAUNCHES NEXT GENERATION HANDHELD DEVICE THAT ENABLES LAW ENFORCEMENT TO IDENTIFY POTENTIAL SUSPECTS IN THE FIELD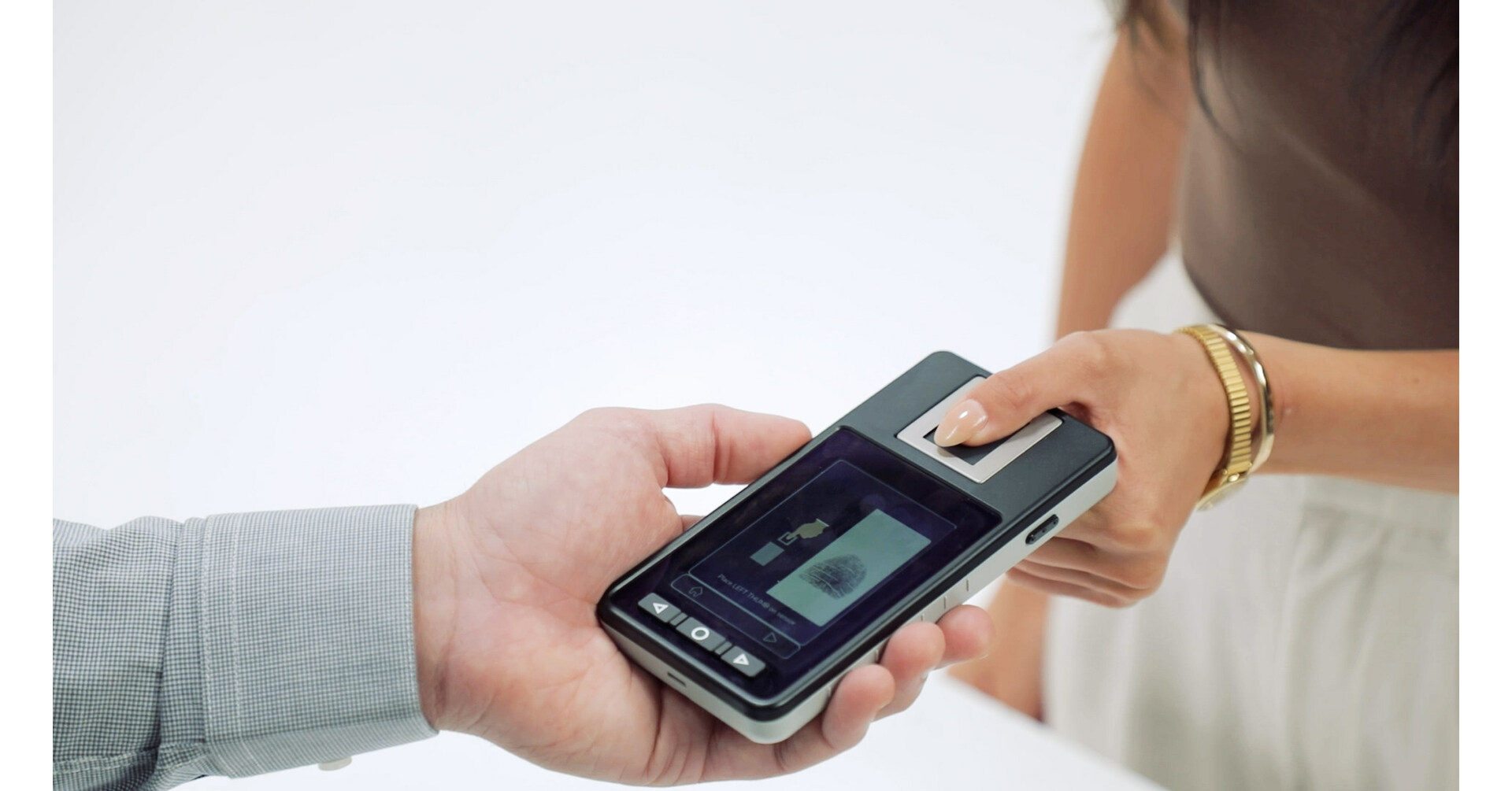 IDent 2.0 captures biometrics and delivers real-time identification on the go.
RESTON, Va., June 22, 2023 /PRNewswire/ — IDEMIA Identity and Security (I&S) North America continues its over 40-year mission to provide law enforcement agencies with innovative biometric identification solutions, with the launch of its newest product, the IDent 2.0, a compact handheld device that captures biometrics of potential suspects and delivers real-time identification in the field. Rapid identification in the field improves operational efficiency and keeps officers safe by providing officers with an easy way to obtain a subject's criminal history and warrant information.
A successor to the popular, IDEMIA MorphoIDent handheld device, this next generation version has been upgraded with a Federal Bureau of Investigation (FBI) certified Fingerprint Acquisition Profile (FAP)-30 optical fingerprint sensor, a larger display area with optional touchscreen, increased battery life, and the addition of a rear facing camera, for suspect photo capture. An improved pairing process makes Bluetooth connection fast and easy with an extended estimated range of 200ft.The IDent 2.0 is designed to capture up to 10 fingerprints, transfer biometric information to the Mobile Connection application and display results from multiple criminal databases. The IDent 2.0 can also be expanded to support the ability to read ISO compliant Mobile IDs. 
"As a long-time partner to the law enforcement community, we strive to continue to develop innovative products and solutions to aid officers in suspect identification and apprehension in a way that is quick, efficient, and safe. The IDent 2.0 checks all those boxes," said Casey Mayfield, Senior Vice President, Justice and Public Safety, IDEMIA Identity and Security North America.   
IDEMIA had partnered with several law enforcement agencies, like the Sacramento County Sherriff's Office to pilot the IDent 2.0. According to Christie Fleeman, Regional Cal-ID Program Manager for Sacramento County, "Keeping our community and officers safe is our top priority. The newly released IDent 2.0 device makes it easier to capture great quality prints for quick identification. The upgrades have made this device extremely easy to use with overwhelmingly positive feedback from the field. With this next generation technology, IDEMIA has really heard the needs of the law enforcement community and produced a product that we will use throughout Sacramento County law enforcement agencies."
To learn more about IDent 2.0 and see a demo, register for Forensic Magazine's live webinar, "How Handheld Tech is Making it Easier to ID in the Field," on Tuesday, July 18 (10:00 a.m. PST/1:00 p.m. EST). To register, visit https://www.forensicmag.com/597365-How-Handheld-Tech-is-Making-it-Easier-to-ID-in-the-Field/.
About IDEMIA Identity and Security (I&S) North America
IDEMIA I&S North America is a leader in identity security and authentication services to governments and private companies, operating in North America. Our mission is to Unlock the World, Make It Safer – helping people access what matters most, more quickly, more safely, and more securely, in both the physical and the digital worlds. Our best-in-class technology helps to authenticate and secure physical and digital transactions. IDEMIA is recognized by the National Institute of Standards (NIST) as a top-ranking participant in the Institute's passenger facilitation simulation testing as well as in its regular Face Recognition Vendor Test (FRVT) rankings, reinforcing the trustworthiness and reliability of IDEMIA's facial recognition solutions for government and consumers alike.
For more information, visit https://na.idemia.com/ and follow @Idemia_NA on Twitter and IDEMIA North America on LinkedIn.
Media contact:
Genevieve de Vera       
IDEMIA
(978) 808-7047 or [email protected]
SOURCE IDEMIA Identity & Security USA LLC