GNC Turns Up the Summer Heat with New GNC AMP Amplified Hydration from GNCX Innovations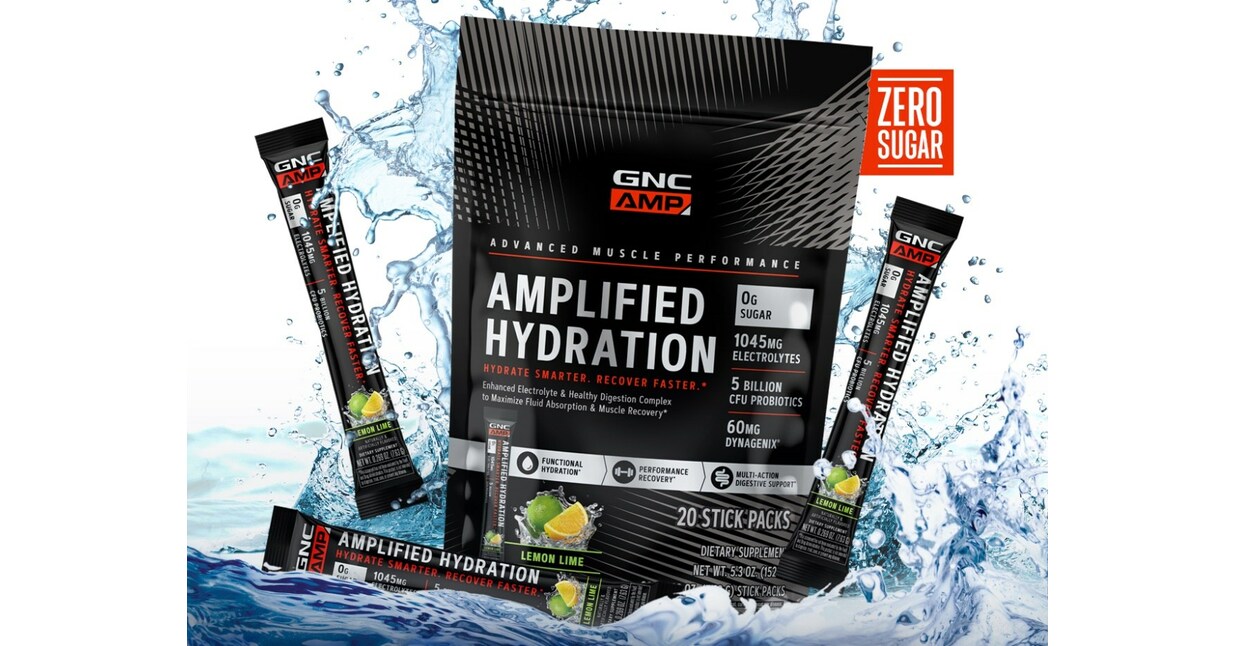 Company also introduces new flavors across its Total Lean® and Beyond Raw® products
PITTSBURGH, May 30, 2023 /PRNewswire/ — As summer rolls in, hydration should be top-of-mind. Whether consumers are hitting a hard workout or vacationing in the sun, hydration enables performance, endurance, and overall wellness. And that's why GNC just dropped its first functional hydration and performance product: GNC AMP Amplified Hydration. This enhanced electrolyte complex is designed to support hydration, recovery and multi-action digestion in stick packs that can be mixed in water. The first drop, now available online and in GNC stores, features seasonal flavors acai berry, tropical punch and lemon lime all of which were created within GNCX Innovations, its in-house innovation incubator creating science-backed products.
"Our new GNC products have the power to drive performance in the gym and dominate days off," said Kevin Maloberti, VP, Merchandising at GNC. "This range of solutions will allow consumers to stay hydrated while also improving performance and recovery because of the science-backed formulation."
GNCX Innovations launched in 2022 and is part of the company's commitment to product and brand innovation in service of consumers' goals. Comprised of GNC experts across Merchandising, Product Design and Development, Science, Marketing and others, the incubator collaborates directly with myGNC Rewards members and PROs to solicit input, test products, and more before going to market.
"GNC AMP Amplified Hydration is the first launch from our groundbreaking GNCX Innovations incubator and was developed with feedback from our most passionate consumers," Maloberti continued. "We're excited to continue to collaborate to deliver products that help to solve consumers' needs.
In addition to GNC AMP Amplified Hydration, GNC is launching other limited time flavors including:
AMP Wheybolic Whey Protein: This classic whey protein powder is now available in a nostalgic, campfire-inspired S'mores flavor.
Total Lean® Lean Shake™ 25: Like Wheybolic, a campfire-inspired S'mores flavor is now available in another great option.
Beyond Raw Concept X in Watermelon Lemonade: Approximately 12-months from initial launch, GNC is unveiling a new summer seasonal flavor in one of the strongest pre-workouts in the portfolio. It's perfect for powering consumers summer fitness routines.
Wondering how you add these products into your routine? Check out some fresh recipes from GNC:
To learn more about GNC, visit www.gnc.com.
About GNC 
GNC is a leading global health and wellness brand that provides high-quality, science-based products and solutions consumers need to live mighty, live fit, and Live Well. 
The brand touches consumers worldwide by providing its products and services through company-owned retail locations, domestic and international franchise locations, digital commerce and strong wholesale and retail partnerships across the globe. GNC's diversified, multi-channel business model has worldwide reach and a well-recognized, trusted brand. By combining exceptional innovation, product development capabilities and an extensive global distribution network, GNC manages a best-in-class product portfolio. www.gnc.com.
SOURCE GNC