Florida Cancer Specialists & Research Institute President & Managing Physician Lucio N. Gordan, MD Evaluates the Impact of Genomic Profiling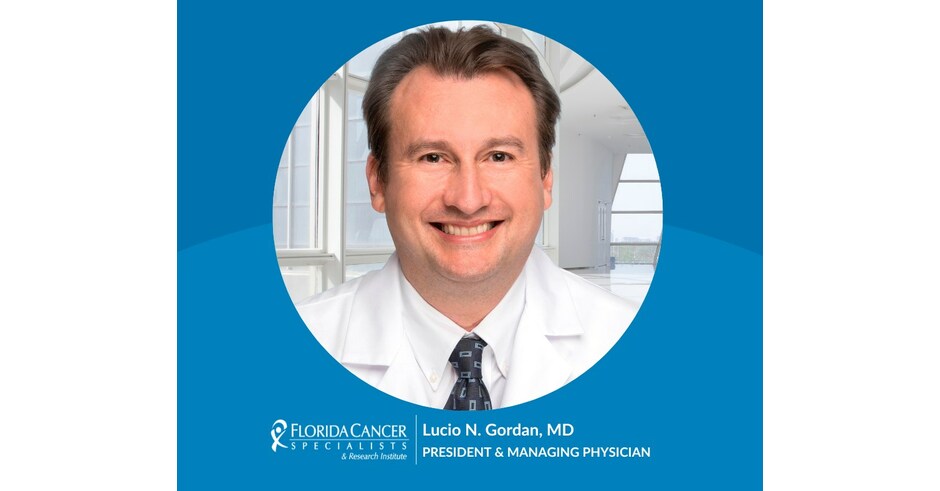 FORT MYERS, Fla., June 1, 2023 /PRNewswire/ — Florida Cancer Specialists & Research Institute, LLC (FCS) President & Managing Physician Lucio N. Gordan, MD, will join an expert panel of precision medicine leaders in Chicago this weekend to discuss the impact of genomic profiling.
The event, Unlocking Precision Medicine: The Transformational Impact of Comprehensive Genomic Profiling, hosted by Illumina, will include a fireside chat with discussion topics covering the current and future state of genomics driving precision oncology efforts, the role of comprehensive testing and biomarkers in driving treatment decisions and how precision oncology fits into larger health systems.
"Genomic profiling has made a profound impact on our practice, our industry, and most importantly, our patients," says Dr. Gordan. "Bringing the science and technology to FCS was mission critical and a steppingstone – one of many – that will steer our understanding and utilization of genomics well into the future."
FCS unveiled its in-house next-generation sequencing (NCS) lab less than two years ago. Following the opening, the statewide practice developed an internal precision oncology team and database to better serve patients through genomic profiling. The team consists of molecular scientists, data and bioinformatics scientists, researchers, and physicians. Together, they collaborate to streamline care designated for specifically identified genomic profiles or mutations.
Turn-around-times for testing in the FCS NGS lab are faster than the current national average. Paired with FCS PRECISE, the practice's proprietary precision oncology platform, patients are getting results and access to targeted treatment options, including clinical trials, faster than ever before. 
"The investments we are making today are propelling us into a future where precision oncology is the standard of care. Patients will receive expedient treatment and as providers, we will have a more economical solution in delivering such high-quality, targeted care," adds Dr. Gordan. "It's very exciting. Those of us who are adopting these methodologies today are truly pioneers of precision oncology, paving the way for the next generation."
Genomic profiling utilizes next-generation sequencing to assess hundreds of genes simultaneously in one test. This allows scientists and physicians to compare hundreds of biomarkers and identify a genetic mutation. Once detected, physicians can determine the appropriate treatment, including clinical trials, designated for that specific genetic alternation. 
About Florida Cancer Specialists & Research Institute, LLC: (FLCancer.com)
Recognized by the American Society of Clinical Oncology (ASCO) with a national Clinical Trials Participation Award, Florida Cancer Specialists & Research Institute (FCS) offers patients access to more clinical trials than any private oncology practice in Florida. The majority of new cancer drugs recently approved for use in the U.S. were studied in clinical trials with Florida Cancer Specialists participation.* Trained in prestigious medical schools and research institutes, our physicians are consistently ranked nationally as Top Doctors by U.S. News & World Report.
Founded in 1984, Florida Cancer Specialists has built a national reputation for excellence that is reflected in exceptional and compassionate patient care, driven by innovative clinical research, cutting-edge technologies and advanced treatments, including targeted therapies, genomic-based treatment, and immunotherapy. Our highest values are embodied by our outstanding team of highly trained and dedicated physicians, clinicians and staff.
*Prior to approval
SOURCE Florida Cancer Specialists & Research Institute