ECRI Announces Recipients of 2023 Alerts Impact Award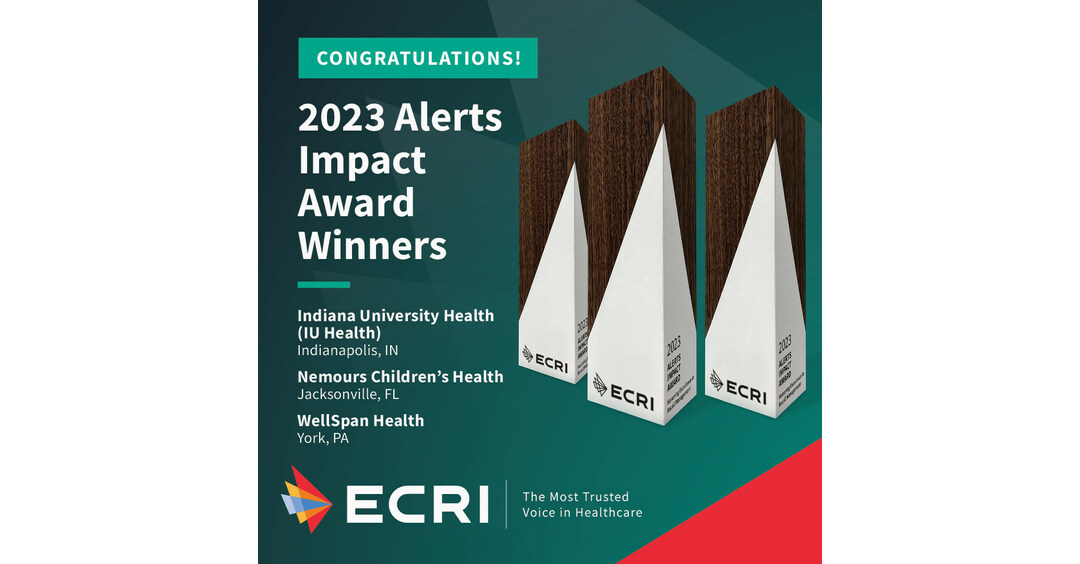 Annual award recognizes ECRI Alerts Workflow members for excellence in recall management
PLYMOUTH MEETING, Pa., May 17, 2023 /PRNewswire/ — ECRI, the nation's largest independent patient safety organization, announces the winners of its 2023 Alerts Impact Award given for excellence in recall management. ECRI presents its annual award to members of its Alerts Workflow solution who have demonstrated robust success in implementing recall management programs throughout their healthcare organizations.
"This year's recipients show incredible resilience and a firm commitment to delivering safer care to patients through proactive and automated alerts workflow processes," said Marcus Schabacker, MD, PhD, president, and CEO of ECRI. "We congratulate them for demonstrating improved outcomes, increased efficiencies, and excellence in safety and compliance."
Winners | Alerts Impact Award for 2023
Indiana University

Health (IU Health)—

Indianapolis, IN


System Approach Increases Compliance
Nemours Children's Health—

Jacksonville, FL


Improving Patient Safety through Effective Alert/Recall Management
WellSpan Health—

York, PA

| 2018, 2019, and 2021 award recipient
Reimagining Alert Response in Outpatient Settings
Additional Finalists | Alerts Impact Award for 2023
Ann & Robert H. Lurie Children's Hospital of Chicago—

Chicago, IL


Process Improvements to Completing Recalls in ECRI Database
Children's Hospital & Medical Center—

Omaha, NE


Decreasing the Time and Manner in Which Recalls Are Addressed
Christiana Care—

Wilmington, DE


Building a Solid Recall Process
"In judging submissions, our team took into account the safety and efficiency outcomes along with the core components that the organizations used to build a successful recall management program," says Deb Dominianni, director, healthcare product alerts, ECRI. "These included strong leadership and policy, interdepartmental collaboration and coverage, program compliance, and program oversight and reporting processes. It is an honor to partner with these organizations and celebrate their successes."
Notable award applicants reported gains in efficiency associated with their management of users and automated assignments, increasing the levels of engagement and compliance across the departments and facilities within the health system network. In many cases, inventories were standardized and automatically matched to recalls, further segregating and prioritizing relevant alerts to save time. Winners reported increases of up to 74% in their rates of user compliance.
ECRI's Alerts Workflow is an enterprise-wide recall management system used by supply chain, clinical engineering, IT, pharmacy, lab, clinical departments, as well as ancillary-care points. The alerts content and related workflow tools enable automated notifications, assignments, and tracking for faster resolution of recalls for medical supplies and equipment. Healthcare providers use these tools to increase their efficiency in managing thousands of medical device and pharmaceutical safety alerts.
ECRI announced the names of the award winners and finalists during their 2023 Alerts Workflow User Group Meeting, held virtually on May 16-17, 2023. 
For more information about the ECRI Alerts Impact Award or ECRI's Alerts Workflow tools, contact ECRI by e-mail at [email protected] or by phone at (610) 825-6000, x5891.
About ECRI
ECRI is an independent, nonprofit organization improving the safety, quality, and cost-effectiveness of care across all healthcare settings. With a focus on technology evaluation and safety, ECRI is respected and trusted by healthcare leaders and agencies worldwide.
For more than fifty years, ECRI has built its reputation on integrity and disciplined rigor, with an unwavering commitment to independence and strict conflict-of-interest rules. ECRI is the only organization worldwide to conduct independent medical device evaluations, with labs located in North America and Asia Pacific. ECRI is designated an Evidence-based Practice Center by the U.S. Agency for Healthcare Research and Quality. ECRI and the Institute for Safe Medication Practices PSO is a federally certified Patient Safety Organization as designated by the U.S. Department of Health and Human Services. The Institute for Safe Medication Practices (ISMP) formally became an ECRI Affiliate in 2020. Visit www.ecri.org.
SOURCE ECRI