Donkey milk cosmetics in the Corbières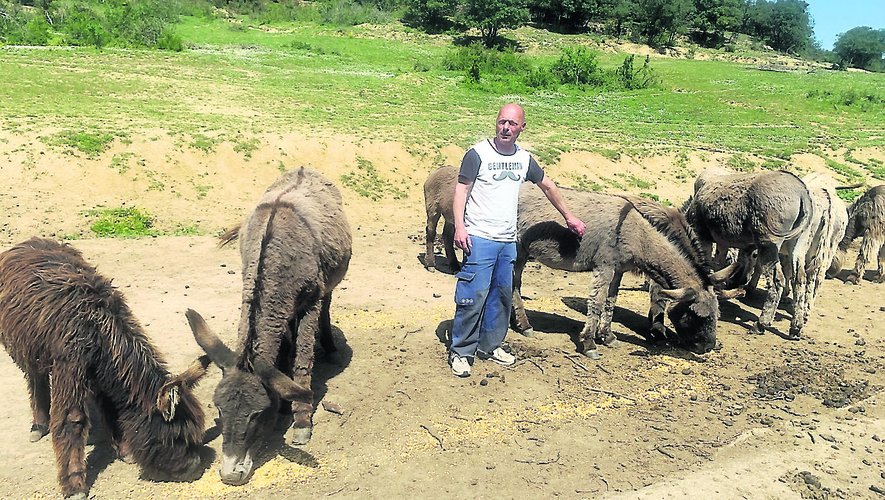 the essential
In these wild Corbières between the Mas des Cours and Fajac en Val to the south east of Carcassonne, Charline and Nicolas de Wagter have built their paradise around a donkey farm.
Him, from Brussels but for almost 50 years in France, landed at the age of 5 in the luggage of his parents wanting a change of air, from the mists of the north to the Mediterranean sun. After many odd jobs and a career as a vineyard worker, he and his wife were looking for a farm to buy. It took them nearly 4 years to find the rare bird by negotiating with a couple who had been living at the Pech d'Aspe estate for ten years in a donkey farm he had created. This was followed by on-the-job training with the former owner, a chemist by profession, in order to learn about donkey breeding and the formulas for developing the range of cosmetics based on this organic donkey's milk.
A personal touch
"Belle lurette" named after the oldest donkey factory aged 28, changed hands and the Wagters of life. For nearly 6 years, the couple has been raising a dozen donkeys and donkeys on just over twenty hectares of scrubland and woods. A completely redone laboratory, a more extensive range of products, Charline and Nicolas have brought their personal touch to develop this production of cosmetics. This is highly regulated, as our Belgian-Aude local attests: "Each product has a file, must go before a toxicologist who validates the formula. Skin tests with the ANSM (National Agency for the Safety of Medicines) and a CPNP notification (Cosmetic Product Notification Portal), as many steps required for the approval of products on the markets". The "Belle lurette" range is made up of 4 soaps, 2 shampoos, 2 face creams made from 50% fresh donkey's milk, 3 body milks made from 40% fresh donkey's milk, a hand cream, hair conditioner, shower gel. Recently, the small company developed a honey soap promoted by the Tourist Office of Carcassonne. Nicolas milks the donkeys every morning and produces the products in the lab three times a week.
Chaotic marketing
He explains: "We work our soaps according to the ancestral technique: cold saponification which makes it possible to preserve all the properties of the oils and to obtain a high quality soap, surgras and rich in glycerin. We incorporate fresh milk in the final phase without the heat in order to preserve all its virtues and vitamins".
If the production is well oiled, the marketing turns out to be more chaotic, as Charline deplores: "We have great difficulty in being referenced in certain distribution circuits. Many are those who make us dangle a collaboration, arguing that we let's do everything from A to Z, from proximity in relation to their businesses. In the end, many have an incoherent speech and do not keep their promises. We want to grow and it is not easy. We are digging our furrow, all alone". Markets, shops, some hotels trust them and appreciate the quality of soaps, milks and other gels. Just like the Tarbes agricultural show or every year, "Belle lurette" is a hit.