CELL WORLD – Aiming at Internationalization, Starting from Regulation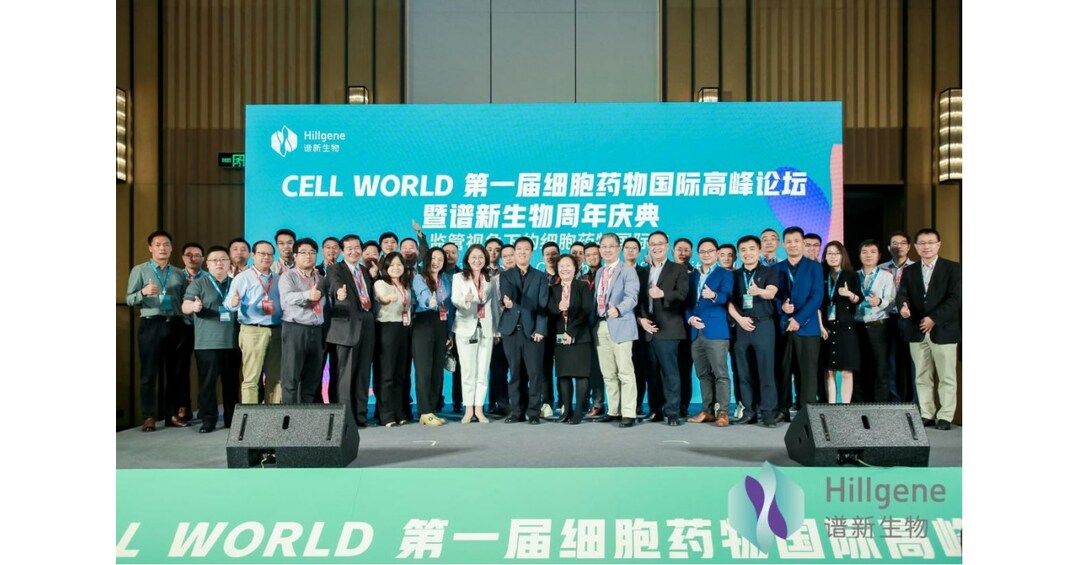 Zhang Dan, the co-founder and co-chairman from Jiangsu Hillgene Biopharma Co., Ltd., served as the host and gave a speech at the opening ceremony of the conference. "This is the 1st summit of CELL WORLD, and Hillgene Biopharma will host this summit in the long term. Each event will focus on a common concern, addressing the challenges faced by the industry and unmet clinical needs, offering a stage-wise solution through the summit. The solution could be an answer in terms of commercialization, regulatory policy or economy, or an answer concerning the above two or more."
Li Hongjian, the founder, chairman, and CEO of Jiangsu Hillgene Biopharma Co., Ltd., delivered the opening speech. "As a leading professional CDMO company focused on cell therapy, since its establishment, Hillgene Biopharma has exceeded a total service order of over RMB 530 million, 100% of which were for cell therapy projects (including 34 new drug projects from academicians' teams), covering advanced therapies such as CAR-T, CAR-NK, and TCR-T. We have successfully filed IND for 8 projects, with 2 registered clinical projects underway.In terms of international footprint, our company has supported 4 projects for FDA & EMA orphan drug designations. I hope this 1st CELL WORLD Global Cell Therapy Summit will further promote the development and innovation of cell therapy industry globally and provide more thoughts and practical examples."
Keynote Speeches
Dr. Fan Xiaohu, founder and CEO of Wondercel Biotech and former Chief Scientist of Legend Biotech, gave an opening keynote report titled "How Do Cell Therapy Products Participate in International Competition".
Zhao Yuan, CTO of Jiangsu Hillgene Biopharma Co., Ltd., expert of the European Medicines Agency (EMA), and former Director of the Gene Therapy Division of the Medicines and Healthcare Products Regulatory Agency (MHRA) in the UK, shared strategies from the perspective of EU regulation on the CMC of cell therapy drugs in her speech titled "CMC Strategy of Cell Therapy Drug from the Perspective of EU Regulation".
Dr. He Xuhua, Director of the Department of Hematopathology at Duke University School of Medicine and Lifetime Professor of Hematologic Diagnosis at MD Anderson Cancer Center in the US, delivered a report titled "Best Oncology Practice for Implementation of CAR-T Therapy in DLBCL and Myeloma – From Novel Data to Multidisciplinary Clinical Care".
Lv Xiaobin, a former senior review expert at the FDA and the chief reviewer of CMC for Novartis' CAR-T drug Kymriah's BLA, shared in his report "Viewing Cell Therapy Drug Registration in the United States from a Review Perspective," the challenges encountered during the drug registration process, and how to combine different tools to overcome these obstacles and gain approval smoothly.
Signing Ceremony for Strategic Cooperation
A signing ceremony for strategic cooperation was held concurrently in this forum. Representatives of Jiangsu Hillgene Biopharma Co., Ltd. successfully signed contracts with Shanghai NK CellTech Co., Ltd., TCRx (Nanjing) Therapeutics Co.Ltd, and Suzhou VDO Biotech Co., Ltd., to jointly promote the efficient progress of cooperative projects and achieve mutual benefits.
Round Table Discussion
The round table discussion, themed "Cell Therapy Clinical Research and Development Strategy Guided by Clinical Demand," was hosted by Dr. Cai Xuejun, Vice President of Global R&D and Head of China R&D Department at Bristol-Myers Squibb. Participants included Dr. Zheng Xiaonan, Executive Vice Chairman and Secretary-General of the China Biopharmaceutical Industry Chain Innovation Transformation Alliance, Dr. Zhu Chouwen, Director of Shanghai Clinical Research Center and President of Shanghai University of Science and Technology Research Hospital, Dr. Zhou Huan, Dean of the Clinical Trial Technology Academy of Anqing Medical College and Director of the Clinical Trial Research Center of The First Affiliated Hospital of Bengbu Medical College, Dr. Tian Xiaopeng, Deputy Chief Physician of Hematology Department of the First Affiliated Hospital of Soochow University, and Dr. Zhou Jiawei, Research Doctor at the GCP Center of Cancer Hospital Chinese Academy of Medical Sciences.
Executive Seminar
The executive seminar, themed "Cell Therapy Development Strategy Aiming for International Success," was chaired by Dr. Zhang Dan. The attendees actively expressed their opinions, having a thorough exchange and in-depth discussion about the challenges in the field of cell therapy.
After the summit, all the attendees took a group photo for memorabilia.
The "CELL WORLD 1st Global Cell Therapy Summit and Hillgene Biopharma Anniversary Celebration" came to a perfect end amid the laughter and joy of the banquet.
We thank all the participants, the organizers, and all the behind-the-scenes staff for their hard work. Hillgene Biopharma will continue to follow closely the development of the biopharmaceutical field, always adhering to the vision of "letting cell therapy write a new chapter of life," focusing on providing cell therapy solutions for the industry, striving for perfection, and committed to pushing more cell therapies to the market to benefit more patients.
Hillgene Biopharma sincerely looks forward to moving ahead with all the participants in the field of cell therapy, and hopes to have more collaborations in the industry to stride towards a bright and splendid future.
SOURCE Hillgene