BUILT EXPANDS PROTEIN-PACKED LINEUP WITH NEW WAYS TO SNACK FOR ANY OCCASION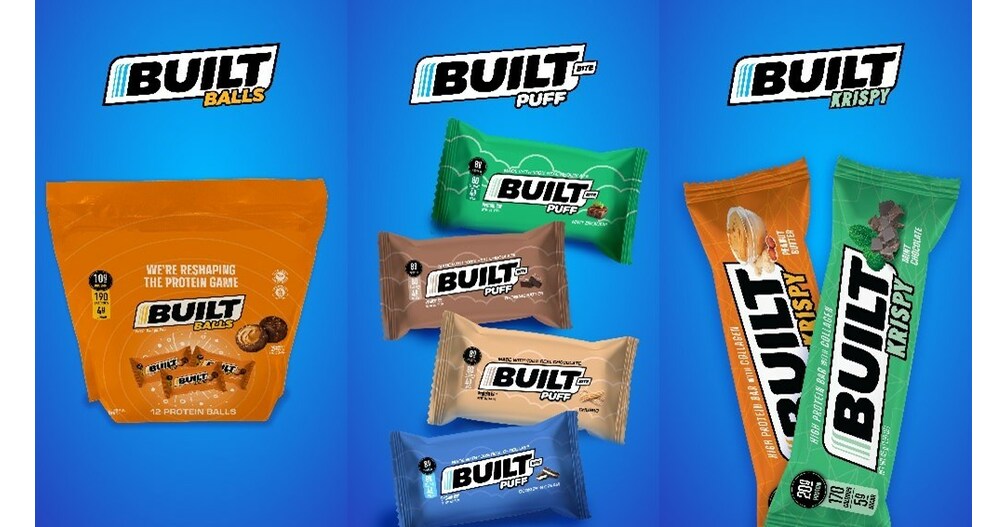 BUILT Bites, BUILT Balls & BUILT Krispy Offer a New Way to Get the Best-Tasting, High Quality Protein On-the-Go
AMERICAN FORK, Utah, May 18, 2023 /PRNewswire/ — BUILT, the maker of the best-tasting, protein-packed snack offerings, announces today the launch of three new healthy indulgent product innovations – BUILT Bites, BUILT Balls and BUILT Krispy. Dedicated to providing the tastiest, high-quality protein that helps consumers better themselves daily, these new snackable varieties combine BUILT™ protein, amazing taste, and balanced macros with a playful experience across texture, flavor, consistency, size, and shape.
Each formulated with rich protein, BUILT Bites, BUILT Balls and BUILT Krispy provide consumers the nutrients needed to thrive and become the best version of themselves. Acting as the foundation of who we are down to our DNA, benefits of protein include building and repairing muscle tissue, promoting smoother skin and silkier hair, improving gut health and overall maximizing your mind and body. From fitness enthusiasts to those looking for healthier snack alternatives, BUILT's healthy indulgent suite of snacks can be easily incorporated into any lifestyle.
"Here at BUILT, we know that protein is one of the most important building blocks of life making up who we are, and therefore we are always thinking of new, creative ways to help consumers integrate BUILT Protein™ into their daily lives," said Jim Lucero, CMO of BUILT. "2023 is BUILT's biggest year yet. From availability expansion to creative additions to our product lineup, we'll be offering consumers tons of new ways to enjoy BUILT Protein™ and we're thrilled to bring our loyal brand fans and new customers along on this journey with us."
As a trailblazer in the cross-section of the protein and healthy snack industries, BUILT is expanding its offerings to continue to deliver the healthiest and tastiest protein options for every customer and occasion. The newly launched formats include:
BUILT Bites: Featuring a complete protein blend of whey and collagen, this bite-sized version of the popular BUILT Puffs has a fluffy, cloud-like texture at the core with a decadent chocolate dipped exterior. Available in fan-favorite flavors like Brownie Batter, Churro, Cookies & Cream, and Mint Brownie, this perfect on-the-go snack packs 8 grams of protein in each delectable bite.
BUILT Balls: Reshaping the protein game, these portable snacks offer a balance of whey and collagen protein in a ball format with a brownie-like texture and soft, cream-filled center. Kicking off with a Peanut Butter flavor, BUILT Balls are a convenient and tasty option to maintain a healthy macro profile, especially for those "on-the-go" moments.
BUILT Krispy: Leveraging BUILT's optimized protein formula, this crispy concoction of high-quality protein sources like hydrolyzed collagen and whey protein isolate offers 20 grams of protein in two rich flavors, Peanut Butter Chocolate and Mint Chocolate, with a texture reminiscent of a classic candy treat.
"This new wave of innovation further demonstrates BUILT's ability to be exceptionally nimble with implementing new ideas and creative concepts to best meet the needs of all different kinds of snackers," said Nick Greer, Co-Founder and CEO of BUILT. "Like every product from BUILT, we intentionally created these unique varieties with our consumers in mind, working to give them delicious, healthy offerings that fit their active, on-the-go lifestyles."
BUILT Bites, BUILT Balls and BUILT Krispy are all now available for purchase on built.com. Existing fan-favorite BUILT products including BUILT Puffs and BUILT Bars can also be found across local and national retailers such as Walmart, GNC and more, with plans for future retail expansion, so be sure to follow the brand on Instagram, TikTok, Facebook, and Twitter for the latest updates.
About BUILT 
Founded in 2018, BUILT has always been centered around one mission: Deliver the tastiest healthy indulgent snack options to help you become the best version of yourself. From their early start in a small garage in Utah to their nationwide distribution today, BUILT has made this goal into a reality through their delicious, protein-packed snacks that come in a wide variety of flavors and formats.
From fitness enthusiasts to everyday snack lovers, BUILT has become a fan-favorite for everybody looking for a healthy, flavorful snack that offers balanced macros. BUILT delivers the protein every body needs to thrive thanks to specially optimized BUILT Protein™ and a vast array of mouthwatering flavors that taste so good you'll forget they're healthy. Try one today and experience the BUILT difference for yourself!
SOURCE BUILT